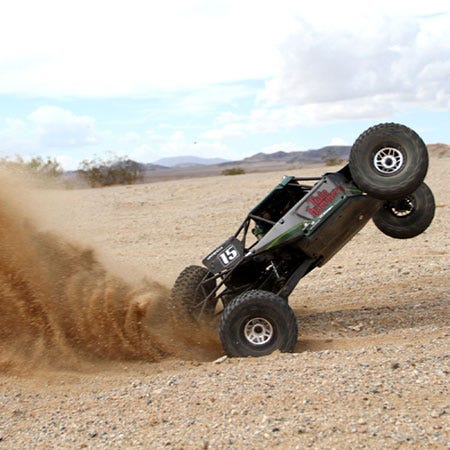 The Vaterra Twin Hammers is one gutsy rock crawler.  Named after the off-road trail in California's Johnson Valley, the Twin Hammers is an unstoppable RC machine.
Mike was able to preview the Twin Hammers in a video on Modelflight's YouTube channel.  You can watch this video below:
http://www.youtube.com/watch?v=04SGjTKovjU
As Mike describes, one of the key features fo the Vaterra Twin Hammers is its 4-link rear suspension.  This enables you to clamber over rocky obstacles without any difficulty.
Additionally, we have recently added a demo video of the Twin Hammers, so you can see it in action:
http://www.youtube.com/watch?v=0fHlzqsNxK4
This video clearly shows what this rock crawler is made of.  You would have seen around the 1 minute mark of the video that the Twin Hammers comes with two-speed transmission.  Using the Spektrum DX3E transmitter, you can shift this speed as you are driving.  This enables you to use low speed for rock crawling and high speed for powering across flat surfaces.
The Twin Hammers is designed to handle the elements.  Its electronics are waterproof and its adjustable aluminium oil-filled shocks let you take on the terrain with ease.
This RC car is powered by a Dynamite brushed Tazer 12T power system.  It comes Ready-To-Run, with a Spektrum DX3E 2.4GHz transmitter.  You will also receive a powerful  2S 7.4V 2000mAh LiPo battery.
The Twin Hammers is a fantastic addition to Modelflight's range of RC cars.  It combines both the versatility of an off-road buggy, with the strength of a heavy-duty rock crawler.  It is cars like the Twin Hammers that make us very excited about the arrival of Vaterra.  If you cannot wait to get your hands on one, you will be pleased to know that they are now available from Modelflight at the excellent price of $499.99 with FREE Delivery in Australia.