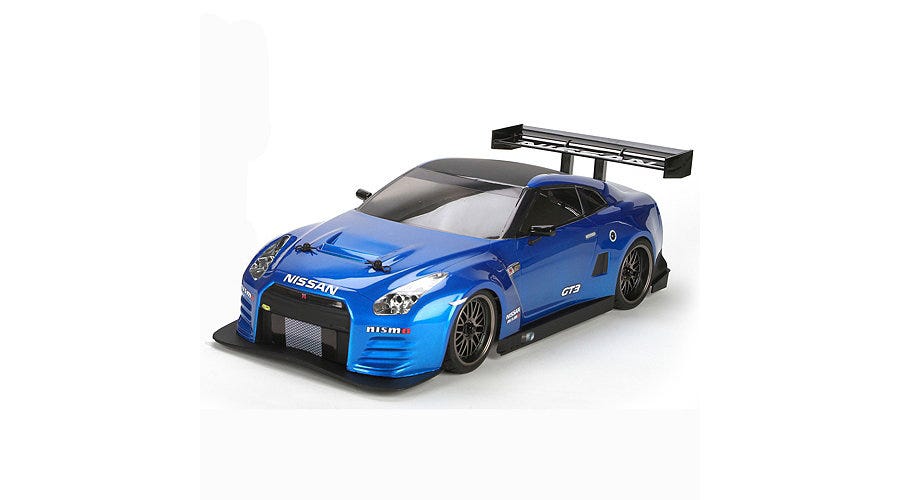 Vaterra are well known for their high-quality RC cars. From rock crawlers to street drifters, the attention to detail is evident across their range. Today on the Modelflight Blog, we are going to focus on the best Vaterra on-road RC cars. These reviews will cover classic muscle machines to sleek street racers. The four cars in particular we are going to review are the Nissan 2012 GTR GT3, the 2012 Nissan GTR, the 1969 Chevrolet Camaro and the 2012 Chevrolet Camaro. Each of these models are great beginner RC cars, but will also appeal to any driver who appreciates scale design and performance. Let's start with the Nissan GT3.
Vaterra 2012 Nissan GTR GT3
Featuring an officially-licensed Nissan GT-R Nismo GT3 body, this remote control car sets the standard for appearance alone. The 1/10 2012 Nissan GTR GT3 is underpinned by Vaterra's V100-C chassis and comes with a built-in front splitter and rear diffuser (similar to those seen on full-scale racers). You will find that this RC car has neutral handling out of the box, but there are many options available for you to tune the handling to suit your driving style. It comes ready-to-run with a Spektrum DX2E transmitter, Dynamite 1800mAh NiMH battery and charger all included in the box. We were so impressed with the Vaterra Nissan GT3, that we thought it ranked among the best RC cars at Modelflight, as shown in the video below:
Vaterra 2012 Nissan GTR
Another remote control car with serious street cred, the Vaterra 2012 Nissan GTR comes with some great features. Similar to the GTR GT3, this 1/10-scale RC car has an officially-licensed body from Nissan and comes ready-to-run with a Spektrum DX2E transmitter. It comes with a V100-S chassis with shaft-driven 4WD for excellent on-road suspension. Vaterra have given this Nissan RC car thick rear tyres so you will have better grip on the road. It also features quality details such as clear headlights, chrome exhaust tips and side view mirrors. It's this attention to performance and style that makes the Vaterra Nissan GTR an excellent on-road RC car.
Vaterra 1969 Chevrolet Camaro
A classic American muscle car, the 1/10-scale 1969 Chevrolet Camaro has been expertly recreated in RC form with this Vaterra model. Similar to the Nissan 2012 GTR, this remote control car is centred on the V100-S chassis and comes ready-to-run with a Spektrum DX2E transmitter and Dynamite 1800mAh NiMH battery. The Camaro's body is very detailed and it comes with low-profile tyres and large diameter wheels. It's shaft-driven 4WD gives you great traction on paved surfaces and sharp drift control when you are sliding across loose surfaces. The Vaterra Camaro delivers both looks and results.
Vaterra 2012 Chevrolet Camaro
Like its 1969 counterpart, the 1/10-scale Vaterra 2012 Camaro excels in its appearance and performance. It is similar to the aforementioned remote control cars because of its solid V100-S chassis and ready-to-run setup complete with a Spektrum DX2E transmitter and Dynamite 1800mAh NiMH battery. With its officially-licensed Chevrolet body, though, this car really captures the modern look and feel of the full-scale Camaro ZL1. Needless to say, it has the on-road performance to match. Offering shaft-driven 4WD and thick rear tyres, you will notice how the 2012 Camaro handles the street with great traction and grip. If you love to go drifting, this is your car.
In the video below, Mike reviews both the 1969 and 2012 Vaterra Camaro RC cars:
Looking For An RC Drift Car?
The four Vaterra on-road RC cars we have reviewed can easily be modified for drifting. All you need to do is add a set of drift tyres. For example, the Thunder Tiger Slick Drift Tyres are a good choice and are available with black mounts or chrome mounts. In order to provide suitable clearance for the drift rims, and allow enough offset, we would recommend the use of a single washer on each wheel hex to provide enough distance between the brake caliper and rim. There are packs of Vaterra washers available, which will be suitable for this. You may also want to equip your car with the Thunder Tiger Drift Car LED Lighting Kit for nighttime drifting! Thunder Tiger also offer drift circuit corner discs so you can set up your own track.
We hope this post has informed you about the some of the best Vaterra models availble. If you are looking where to buy on-road RC cars, Modelflight has a great range available, complete with all the spare parts you may need. Of course, if you have any questions about the cars we have reviewed, feel free to leave us a comment below, or you can visit our website to find out more.