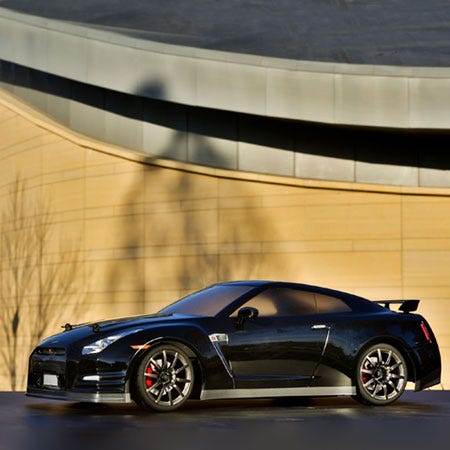 We hope you have enjoyed our series of blog posts on the new RC cars from
Vaterra
.  In this entry, we focus on the final car in Vaterra's new line-up and, suffice to say, she is a beauty! The
Vaterra Nissan GTR RC car
is an amazing recreation of the full-scale street warrior.  This sleek and accurately-detailed car reminds us of
Vaterra's RC Camaros
.  What's more, the GTR performs just as well as its American RC counterparts. Underpinned by Vaterra's versatile V100-S chassis, this RC's body is officially licensed by Nissan and features intricate scale details.  From its realistic exhaust, to its mirrors and headlights, every inch of Vaterra's Nissan GTR looks like full-scale version. We mentioned that this car performs as good as it looks and we have the footage to prove it.  A recent addition to our
demo videos
, we would like to share with you this clip featuring the Vaterra Nissan GTR in action: http://www.youtube.com/watch?v=hH1MHnWQRic To say this car is awesome would be an understatement.  With its shaft-driven 4WD, sealed differentials and low CG, you too will be able to drift corners with the best of them.  Additionally, the electronics in The Vaterra Nissan are waterproof, so you will not have to worry about the outdoor elements when cruising around the circuits. The Nissan GTR RC car comes ready-to-run with a Spektrum DX2E transmitter.  Inside the box, you will also receive a Dynamite 6-cell 7.2V 1800mAh Ni-MH battery.
This amazing Vaterra RC car is a sight to behold.  In looks and performance, it is a force to be reckoned with.  The Nissan GTR is available for pre-order from
Modelflight
 at the superb price of $299.99 and FREE Delivery.