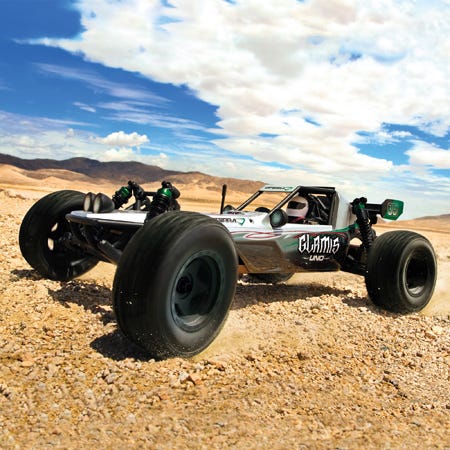 Continuing our posts on the new range of
Vaterra
cars,
Modelflight
is pleased to introduce the
Glamis Uno
.  This 1/8th-scale RC buggy is named after the remo
te corner of southern California's desert.  The Glamis is the ultimate location for high-horsepower crossings of sandy dunes.
It is only fitting then that the Vaterra Glamis is a thrilling car to drive.  Powered by a whopping 4500Kv brushess power system, the speed and acceleration in this RC car is something to behold. Modelflight was fortunate to gain early access to the Glamis Uno.  As part of our
review videos
, we filmed Mike talking about this new RC buggy for our
YouTube Channel
.  This review video is embedded below: http://www.youtube.com/watch?v=IlrxdkxJZ4g As Mike described, this dune buggy comes with many great features, including 4-wheel independent suspension, a shock-absorbing slipper clutch and beadlock wheels.  All these attributes (and more) give the Vaterra Glamis incredible capability when it comes to tackling the outdoor terrain.  This is clearly evident in the demo video we recently uploaded, one of many RC
demo videos
on our YouTube channel.  This Vaterra Glamis demo is embedded below: http://www.youtube.com/watch?v=gwXJp_P5sZI For the adventurous driver, the Vaterra Glamis is a dream come true.  Similar to the
Twin Hammers
, it is powered by a 4500Kv brushless power system, giving you jaw-dropping speed and and acceleration.  This RC buggy comes ready-to-run with a Spektrum 2.4GHz radio system included.  You will also receive a Dynamite 2S 7.4V 3000mAh LiPo battery.  Given that its electronics are waterproof, you will be able to drive at your peak, regardless of the conditions outside. The Glamis Uno from Vaterra is a truly powerful
RC car
.  If you can't get enough of off-road, rugged driving, you won't have to wait very long to experience this amazing buggy.  The Glamis Uno is available now from Modelflight at the fantastic price of $499.99 with FREE Delivery in Australia.