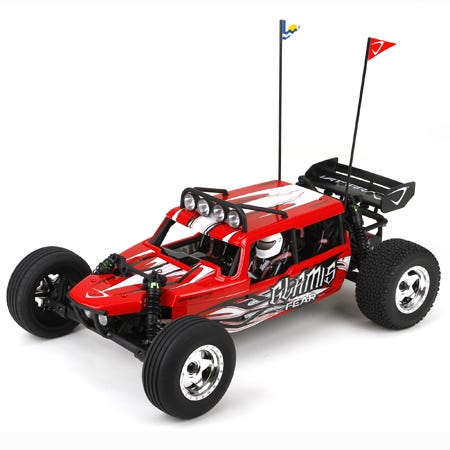 Vaterra have just added another prize to their collection of
RC cars
with the release of the
Glamis Fear
. This
RC buggy
 is modelled on the sand rails that take on the dunes of Glamis in southern California. At the core of the Glamis Fear is a Viscous Torque Vectoring Differential that prevents wheel spin on loose surfaces when you are hitting the corners hard or powering the throttle. Irrespective of the surface condition, you will find that this Vaterra buggy's smooth actuation and consistent feel will allow you to drive with confidence. This electric RC buggy comes fully-sealed and can be fine tuned with various weights of silicone oil. Underpinned by an extruded aluminium chassis, the Glamis Fear is a tough and durable remote control car. With its oil-filled shocks and waterproof electronics, you will be able blast across sand, rocks and mud without hesitation. Matt recently created this Glamis Fear unboxing and demo video, which can be seen below and on 
Modelflight's YouTube channel
: The Glamis Fear comes ready-to-run with a Spektrum 2.4GHz radio system featuring a
DX2L transmitter
and an
SR200WP waterproof receiver
. You will notice how this 1/8th remote control car has interference-free performance and extended range. This Vaterra RC car also features a Dynamite 3300Kv brushless motor and a 3S LiPo-compatible ESC, to give you the power and speed you require to handle the terrain.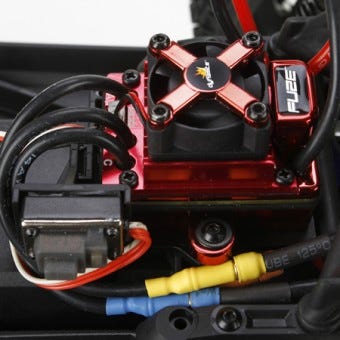 Additionally, Vaterra have added other features to enhance the overall quality of the Glamis Fear. The bottom load battery tray gives you easy access to change the batteries. This off-road remote control car is designed for easy maintenance, so you will be spending more time bashing across the trails and less time at the workbench. The Glamis Fear is a high-performance off-road machine that can handle the elements in its stride. If you are a big fan of heavy-hitting RC driving, the Glamis Fear is the RC buggy you have been waiting for. It is coming soon to
Modelflight
, so visit our page today to learn more about the
Vaterra Glamis Fear
.