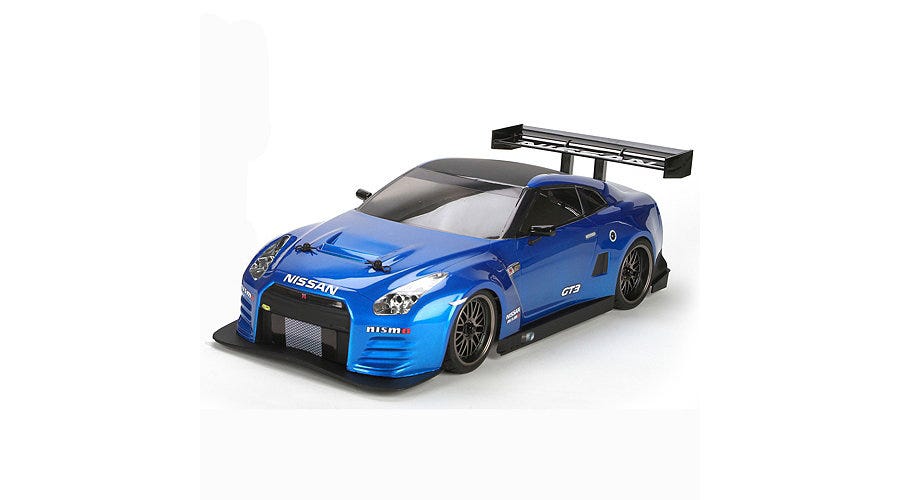 Vaterra
 are known for their excellent
RC cars
 and their new
2012 Nissan GTR GT3
 is one of the hottest models to emerge from their garage. This car is modelled on the full-size Nissan GTR; a 545hp, twin-turbocharged street machine. Even without that level of super power, this 1/10-scale vehicle certainly commands attention. With its officially licensed Nissan GTR Nismo GT3 body and low profile tyres on large diameter wheels, this on-road RC car really looks the part.
The Vaterra 2012 Nissan GTR has a shaft-driven 4-wheel drivetrain and comes with waterproof electronics. It is powered by a Dynamite 15-turn brushed motor and a 6-cell 7.2V 1800mAh NiMH battery, also from Dynamite. Because this is a RTR car, you will also receive a
DX2E 2.4GHz transmitter
from
Spektrum
, with batteries included. Vaterra have also included a Dynamite 2A NiMH AC Peak Charger and a LiPo-ready Electronic Speed Control. Essentiallly, everything you need to hit the road in this car is included in the box.
The attention to detail that Vaterra are renowned for is evident in this Nissan RC car. This vehicle features sealed gear boxes, differentials and drive shaft tunnel. The battery straps are also adjustable, should you wish to upgrade your GTR's battery. Vaterra have also included universal body mounts. Underpinning the Vaterra 2012 Nissan GTR is the V100-C chassis. This chassis has a built-in front splitter and rear diffuser (similar to those seen on full-scale racers. You will also notice the car's double wishbone suspension. In terms of driving, the Nissan GTR GT3 has neutral handling, but there are many tuning options available, allowing you to modify the car to suit your driving style. If you can't get enough of on-road RC cars, the Vaterra 2012 Nissan GTR GT3 is a must-have. This car is suitable for beginners and will be coming soon to
Modelflight
.