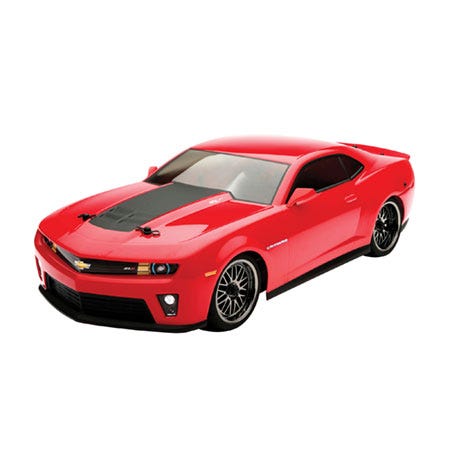 Everything about this vehicle suggests brute force.  The
Vaterra 2012 Camaro
 is a striking addition to Modelflight's range of
RC cars
.  Following on from their
1969 Camaro RS
, Vaterra's RC recreation of Chevrolet's 2012 model embodies the same spirit of the RS, but with a modern cutting edge.
Modelflight
 was fortunate enough to get a sneak peek of the 2012 Camaro.  As such, we managed to film a
review video
with Mike.  This video can be seen on
Modelflight's YouTube channel
.  However, we have also embedded the video below.  Mike's review also features s the 1969 Camaro.  You can read more about this RC car in our
Vaterra 1969 Camaro blog post
.  For now, though, enjoy this review video: http://www.youtube.com/watch?v=uBXqyo-OMpo As you can see, the Vaterra 2012 Camaro is a bold RC car.  With its versatile V100-S chassis, shaft-driven 4WD and sealed differentials, the Camaro is a high-performance street machine.  In order to show you the potential of this RC car, we have also added a
demo video
to our YouTube channel.  This video is embedded below: http://www.youtube.com/watch?feature=player_embedded&v=2fneXKgEVfc As you can see,  the 2012 Camaro is a true performer.  This RC car comes ready-to-run, with an included Spektrum DX2E 2.4GHz transmitter.  Inside the box, you will also receive a Dynamite 6-cell 7.2V 1800mAh Ni-MH battery.  The electronics within the car are waterproof, so you will not have to worry about the conditions outside when driving.
Vaterra
.  The
2012 Camaro RC car
can now be pre-ordered from Modelflight at the excellent price of $299.99 with FREE Delivery in Australia.