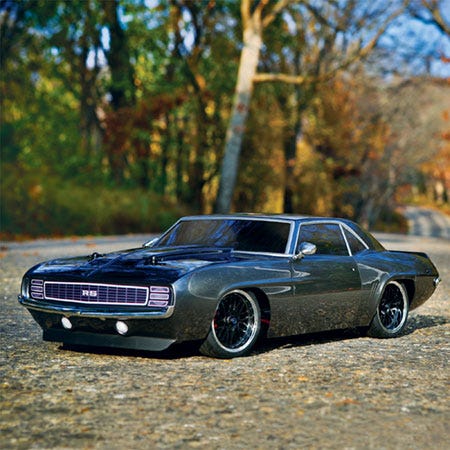 Feast your eyes on the
Vaterra 1969 Camaro
RC car!  
Vaterra
 have brilliantly recreated Chevrolet's classic.  The scale detail of this muscle car is extraordinary and its performance is equal.  On the outside, the Vaterra Camaro has a menacing appeal.  Its sleek body, low-profile tyres and large-diameter wheels give it a striking appearance.  Powering this beast is a superior Dynamite power system.  Combined with its shaft-driven 4WD, the Camaro RS gives you jaw-dropping performance. On
Modelflight's YouTube channel
, we recently added a new clip to our collection of
review videos
.  In this film, Mike talks about Vaterra's 1969 Camaro, along with their RC equivalent of the
2012 Camaro
.  This review video is embedded below: http://www.youtube.com/watch?v=uBXqyo-OMpo As Mike describes, the Vaterra 1969 Camaro is an outstanding scale RC car.  Centred on a V100-S chassis, the Camaro RS is an icon of the streets.  With its sealed differentials, low CG and double wishbone suspension, it has the capability to stream across a track with style.  Of course, no review video would be complete without a demo.  So Modelflight have made another addition to our
demonstration videos
 on YouTube.  Our demo video of the Vaterra 1969 Camaro really shows off its true power.  We have embedded the video below for your viewing pleasure: http://www.youtube.com/watch?v=gW8EL3axMIg This demo video proves just how jaw-dropping the Camaro RS is. This RC car comes ready-to-run, with a Spektrum DX2E transmitter.  In the box, you will also receive a Dynamite 6-cell 7.2V 1800mAH Ni-MH battery, giving the Camaro the power it needs to outpace all others.
This amazing Vaterra car can now be pre-ordered through
Modelflight
 for the fantastic price of $299.99 with FREE Delivery.  Get in quickly though, as these RC cars are likely to sell as fast as a full-scale Camaro!