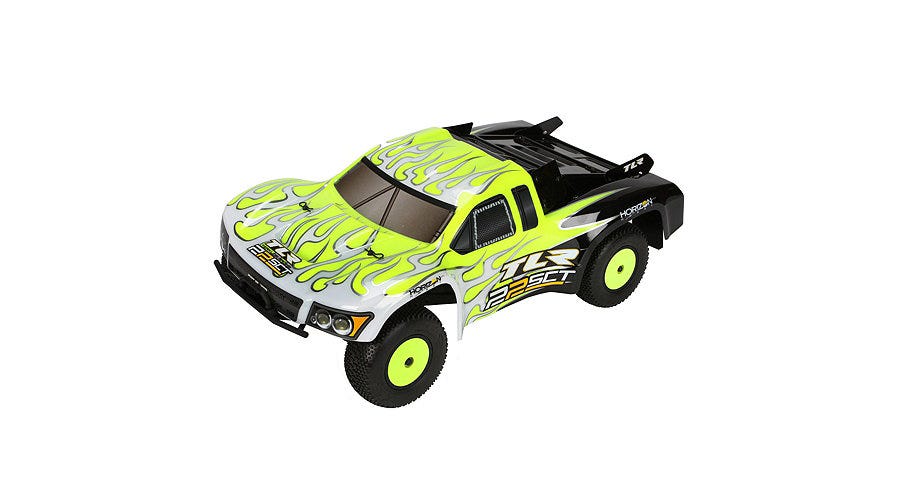 Modelflight is very pleased to announce the launch of a brand new short-course truck from Team Losi Racing. The 22SCT Ready-To-Complete (RTC) takes the 22 Platform to a whole new level. The new RTC completion level means that the 22SCT requires no building, electronic installations or detailing. All you need to complete this RC truck is a battery and charger.
If you always wanted a race-quality RC car, but never had the time to build one, this is for you! This RTC vehicle is factory-assembled and tuned to exact specifications. This 22SCT is set to a neutral configuration, so it can be adapted to hundreds of tuning settings and options.
The TLR 22SCT comes with a powerful 17.5T sensored brushless motor and ESC with LiPo cut-off. This Dynamite ESC comes with programmable timing and non-timing functions. To accomodate this timing gear ratio, the 22SCT comes with a spare pinion gear. The DX2L transmitter that is included with this RC truck features Spektrum's 2.4GHz DSM technology. It offers independent travel dials, a throttle-limiting switch and a steering dual-rate knob. The silicone-filled viscious differential is essentially maintenance-free, giving you more run time and increasing the overall durability of the drivetrain.
TLR's 22SCT is equipped with an extra-high torque digital servo that yields 140 oz-in of torque and superb full-range speed. Utilising full ball bearings and metal gears, this servo offers enhanced precision and durability. Additionally, the 22SCT has the largest shock bore in its class, giving the RC truck excellent handling over bumps and better jump recovery.
No doubt you are as excited as we are about this new release. The Ready-To-Complete completion level is an exciting advancement in RC. Make sure you visit Modelflight today to pre-order this exciting new car.