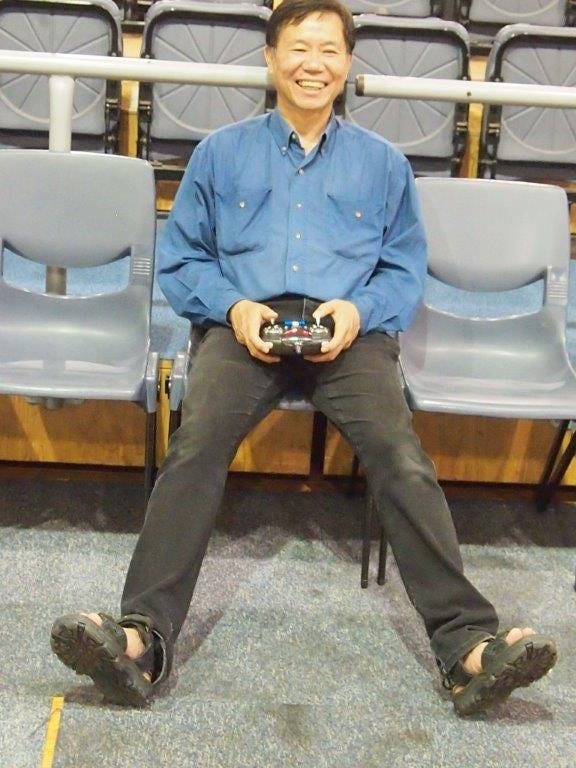 Many years ago, The Late Max Starick designed and built a light, but fairly basic little aircraft. It was, sort of, a balsa stick with an extremely light covered wing and tailplane assembly that only relied on two moving surfaces. A rudder and an elevator and it was powered by a loop of rubber that was connected to the propeller. It could really only be flown indoor, as any breath of wind would fly it off course, often violently  so an area was sort that was normally used as an aircraft hanger. The Starick model was called a "Hangar Rat."
Literally dozens of these little "rats" were built and those who flew them were usually under the guidance and assistance of The Late Leo O'Reilly who organised that, after trying several venues, we settled on the Recreation Hall at Blackwood. In many ways, history repeats itself as many Hanger Rats were quite often assembled on the counter of Leo's model shop, Model Flight in the Southern Suburbs. Few of we fliers these days would not be flying today without the guidance of Leo.
Back in those historic days and quite similarly to today, if  insufficient numbers turned up to fly, the hire fee short-fall for the venue was always covered by Mr O'Reilly.
Did I say "history repeats itself?" Now you may realise why my story this month has brought back old, but strong memories. Recently, dear friends, our flying numbers have been a long way from "paying the rent."  Mike O'Reilly has not complained to me of the short fall these days but I am well aware that if it was not for Model Flight's generosity, our Indoor Flying at the Netball Stadium would come to a sudden halt. Sad but true!
This is why I am appealing  -  no not because of my good looks - but appealing to you to help bring some of our "gang" back to our monthly indoor flying meetings. We do need about a dozen eager flying members to cover our costs and lately we have been a way off that number.  OK - thats my bitchin' for now.
My first picture for this month is of Robert. He is great copy because of his "uniform" which advertises, not only his model but also his radio, his batteries and anything else that he can attach and, on top of it all, is an infectious smile and a bright and happy nature that endears him to all. This month he was flying one of the tiny  quads and, because of its two squarish soft rubber floats, I gave it the tag of the "Duck Foot Quad." He was having a few quite small flying control problems and after letting Michael breath some magic into it, it was flying and hovering in perfect control by Robert.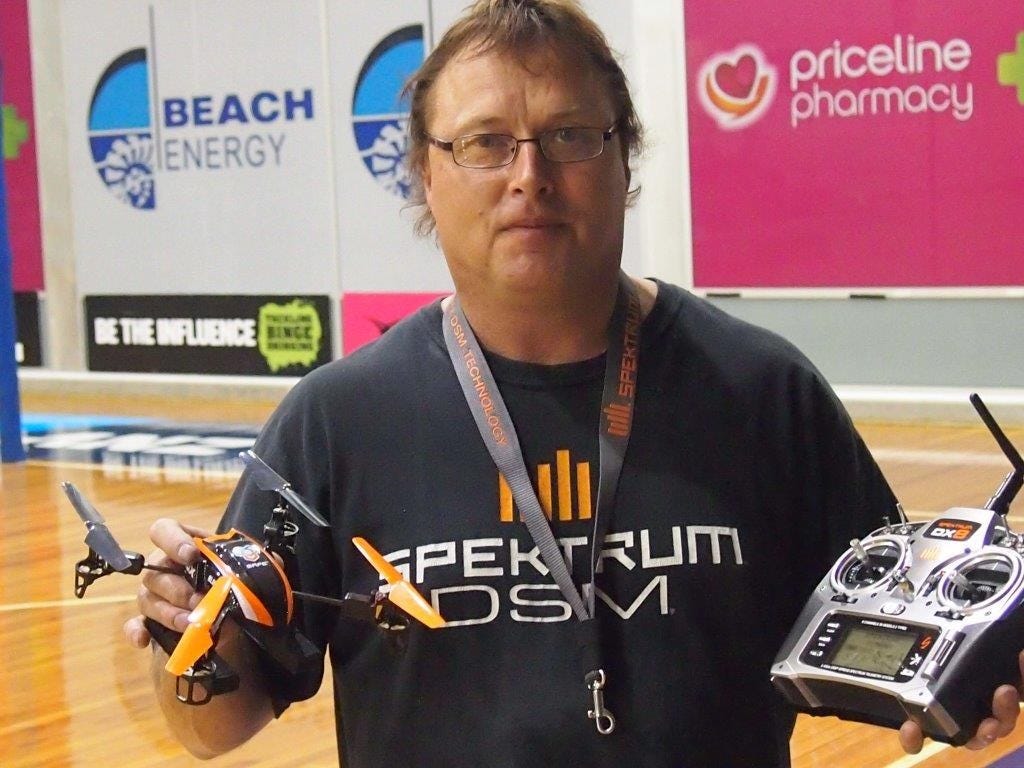 This has always been one of the advantages of our Indoor Flying Group - there is always someone there who is willing to give assistance to newcomers or skilled fliers who may need just a little bit of magic to improve their model and their  evening.
Then I snapped this unknown gentleman whom, I think was visiting our venue for the first time. A well-known motel in Melbourne once had the motto, "The Picture Of  Perfect Relaxation."  This guy brought back those memories. Perhaps not the best attitude whilst flying - but - gollee he looked comfortable.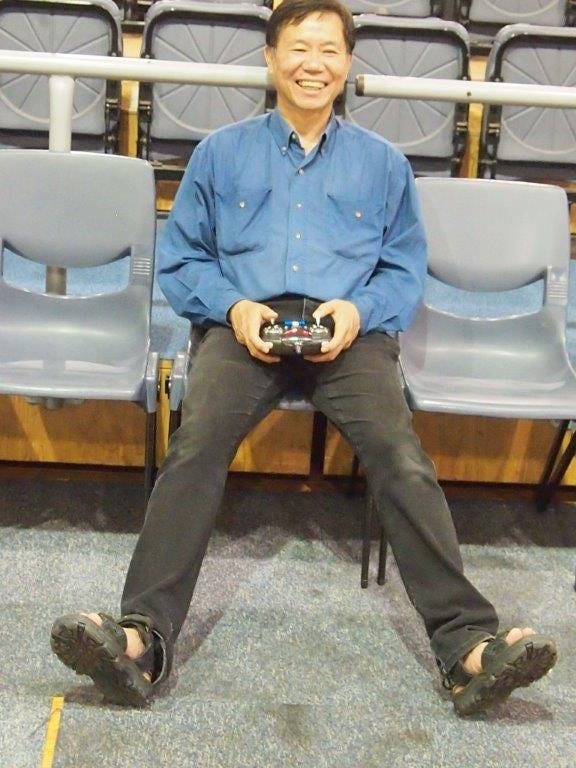 One of these days we will organise a   v e r y   long ladder and make an effort to retrieve two models that are relaxing high up in the rafters. That is - the last count was two.
Michael was demonstrating one of the latest delightful models to grace the shelves at Model Flight. Its official title is the UMX  AS3Xtra and is yet another excellent model. With its major colour of green and lots of  "see-thru" covering and I am sure that Shop Manager Bradley would have no problems in interesting you in this latest from E-Flight.
In my rather limited number of pix for this edition, I intend including a picture of a friend of mine. His name is Mark, he is a retired police officer and a fellow member of the Sporting car Club of  S.A.  a number of  fellow members of that organisation often show up at "Indoor" but Mark is  more regular and, I am sure, will one night front up with his own model. I am tipping a Cub but we'll see.
Thank you for reading my monthly epistle, dear friends. I hope that prior to next Month's meet, which is on the 17th April, I hope you can entice some of our "old friends" back to the venue - the Netball SA Stadium at Railway Terrace Mile End. If you fly, it will still only cost you ten dollars (despite Netball upping our rent) and we will be in attendance there from 8.30p.m. to 10.30p.m.
In the role of "The Phoenix" I do hope you will join me.