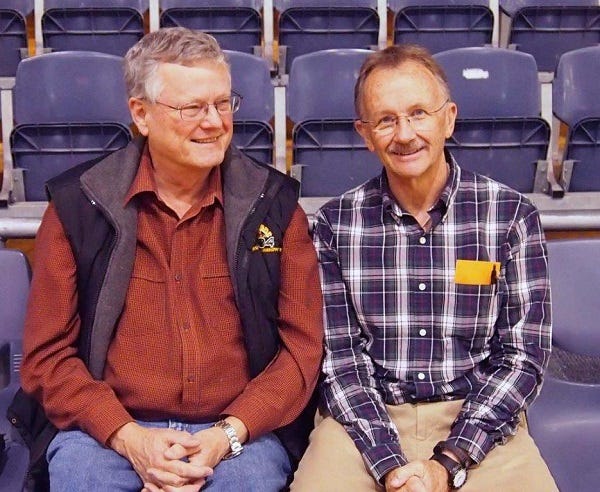 On the occasion of our second Indoor flying night at the Netball Stadium at Mile End, where those interested ONLY pay ten dollars if they fly, there was just a slight improvement in numbers and with their executive at the stadium raising our rental a wee bit, we really do need a more lively response to our flying numbers. For those who were not able to be there, I must tell you that we had  the entire stadium at our disposal and what a difference it makes, rather than being pinned down on one of the lesser courts.
I open this month's episode with a picture of two very important people in today's Modelling World. On the left of the picture is one of Australia's leading and most  capable model builders, who is also the brains behind the model hovercraft building campaign, Bob McEwin, and on the right of the picture, a gentleman who is known to most, if not all of you, as the Managing Director of Model Flight, Michael O'Reilly.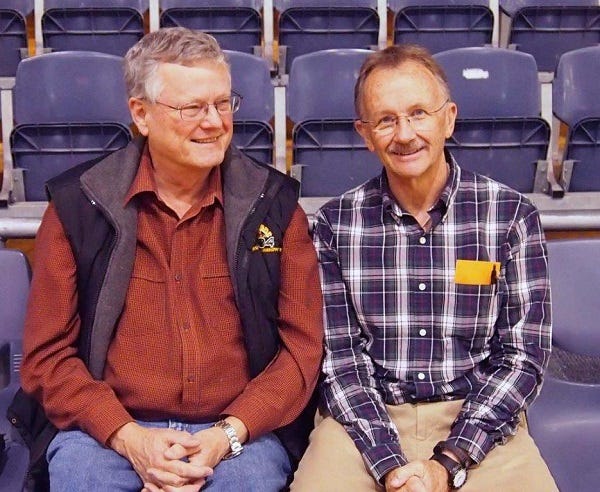 Michael has just returned from the World Model Fair, an enormous function that has been held in Nuremburg, Germany for a number of years and which usually results in an input of the very latest and most exciting models added to the Model Flight shelves. Keep watching this space.
Just touching on the Hovercraft campaign, the three models that have been demonstrated during the last three Indoor Meetings have been far too noisy for such a confined space and Bob is working on some multi-bladed fans for the two very powerful motors in each craft. As he explained, the propeller tips are doing a million miles an hour and that is the cause of the excessive sound. With the multi-blade props, he hopes to quieten the models considerably.
For those of us who have been associated with Richard Tapp for a number of years, it was a pleasant surprise for us to see him visit ETSA Park and, his enormous photographic skills will no doubt have some great shots of the nights activities popping up around the traps    His camera skills are superseded by few among us.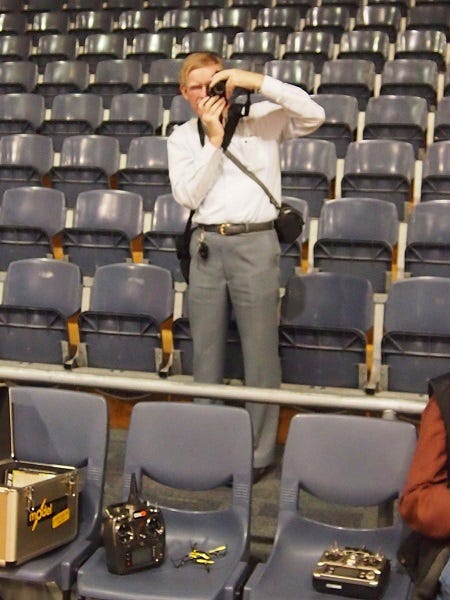 In my next picky, don't be misled by the lonely appearance of Ian Smedman for, believe me, the Great Dane was not far away - more likely than not recharging some batteries at the time. They are rarely separated and they are two of our most regular fliers.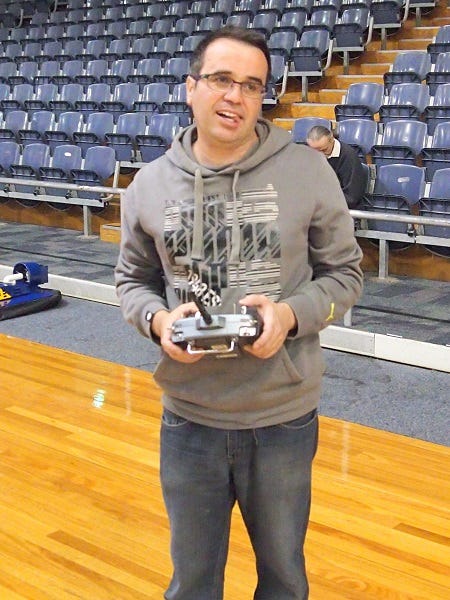 I believe that even a Mount Gambier kindergarten pupil could work out that our next flier is Mark the Cabby. I wish we all wore name tags as does he. The unfortunate part about Mark was, and please let me elucidate.  When we were, in the main, able to go home to bed at the end of a busy night's flying, Mark had to turn then to his source of income, his taxi, and earn some money so that he can buy some more indoor flying models. Poor boy. He does enjoy his flying though, and is rarely off the floor throughout the night unless, like Dane, he too is recharging his batteries.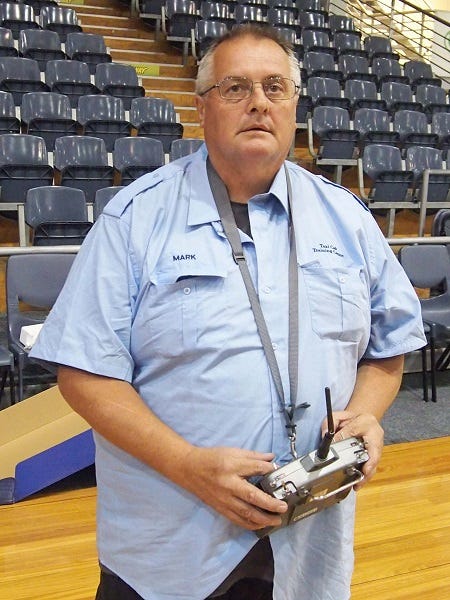 My excuse, busy flying my Hovercraft, is the rather lacklustre reason for me not naming our final picture subject other than to say that he was rarely seen sitting out a flying session for his quad-copter. These little quads are becoming one of the most popular indoor machines these days. But, having said that (don't you just hate that phrase - tis as bad as those who should know better, leaving the first "l" out of vulnerable which I wish they wouldn't) we were fortunate in seeing one of the latest "drone" type quads - a beautifully constructed model (from China, of course) with inbuilt camera etc. More on that at its next appearance.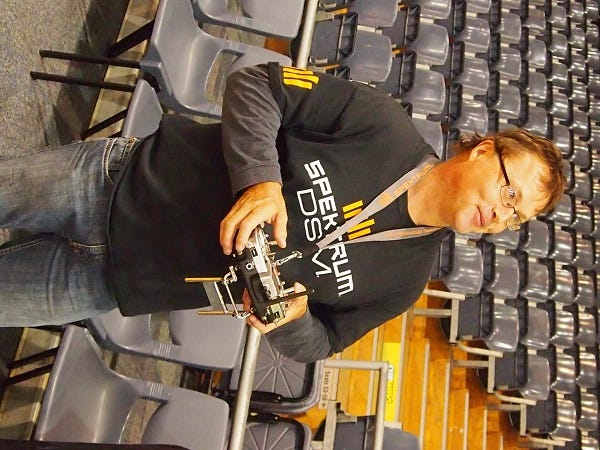 Hoping you can join us on March 20th. Only ten dollars.