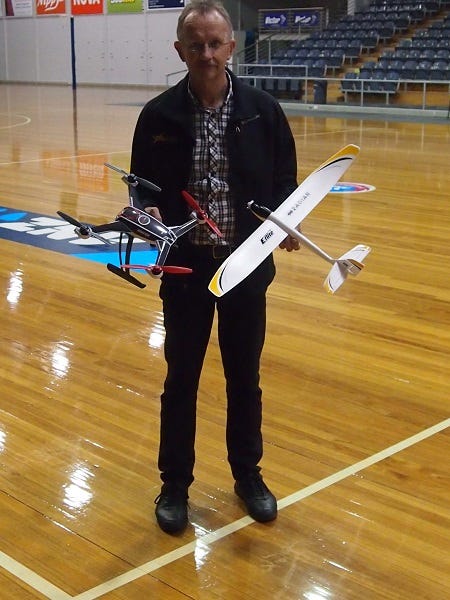 On the surface, the situation looked a little brighter than it has been at ETSA Park over the past two months and I am opening my story this month with a picky of a trio who are usually the life of the party. They are from left to right: Matthew Chapple, Mike Holmes and J.J.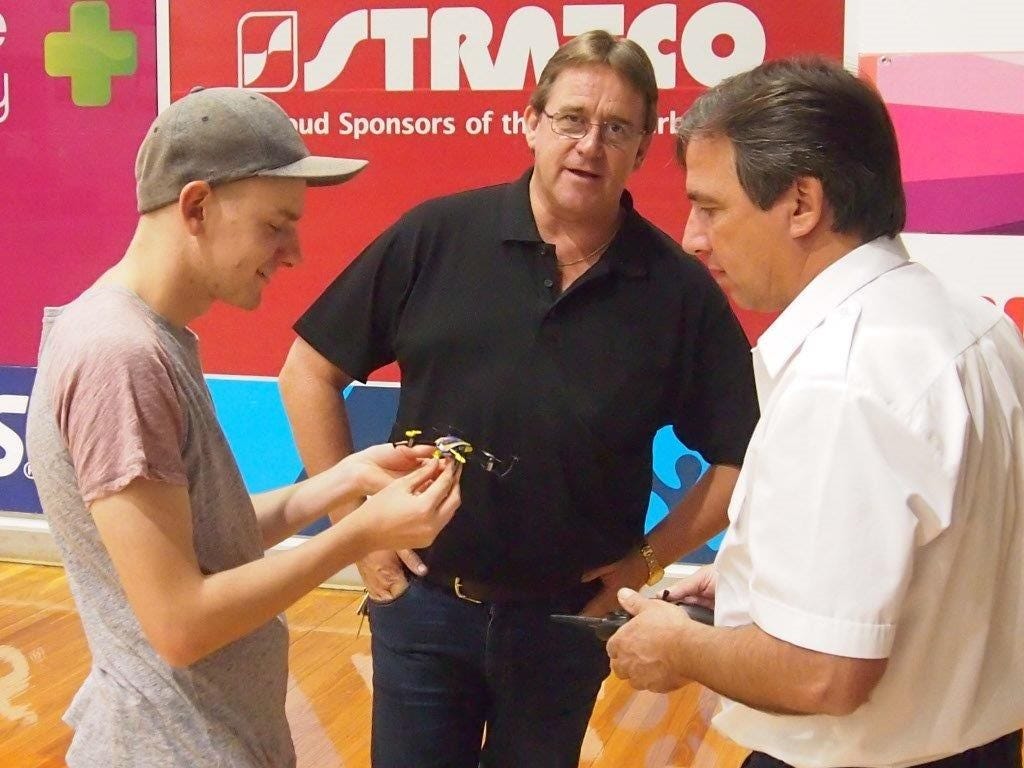 Their antics are usually well worth taking the time out from flying to see them in action. They are all brilliant fliers and no doubt most of you have witnessed their flying at fields throughout the State.  It is not surprising to see David getting all "up close and personal" with the tenth scale Griffon hovercraft for a little later in the evening he took the controls and had no problems with hovering or flying the interesting machine.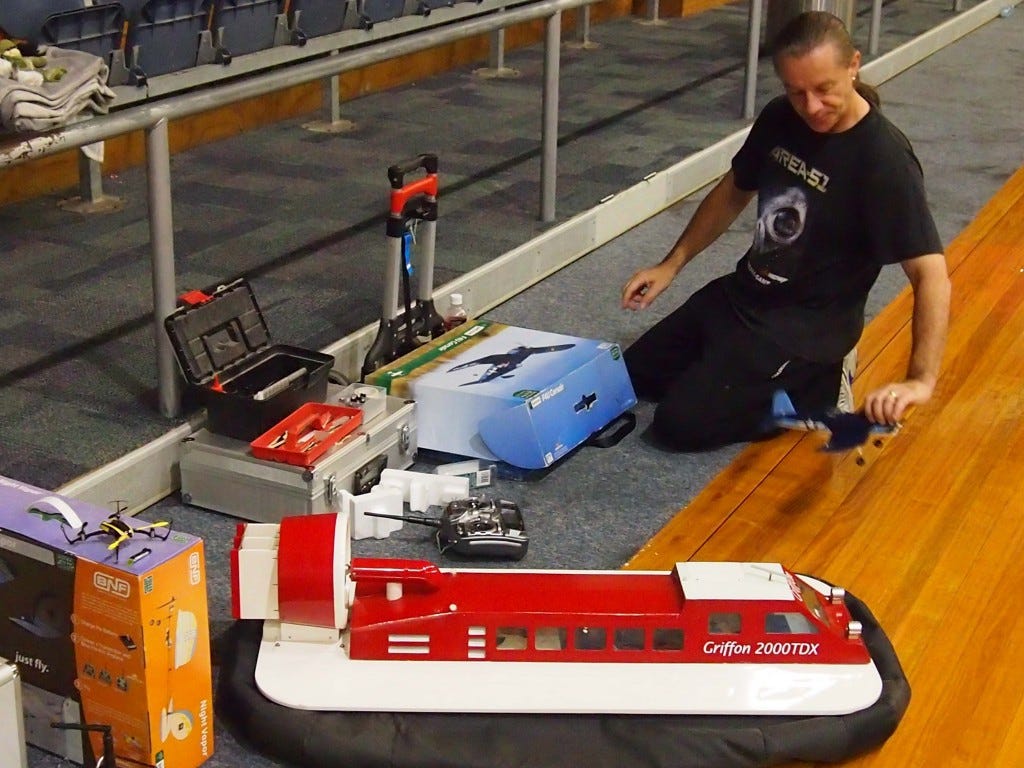 A number of the regulars tried their skills with the unusual hoverer and found that they all agreed - IT DOES TAKE PRACTICE.
Even though Matty Chapple is one of the State's leading model fliers (as well as full size) he never seems to wipe the smile of satisfaction from his face when in action. Of course, if truth were to be known, he could well have been in danger of attack from either of the two other gentlemen in my opening pix.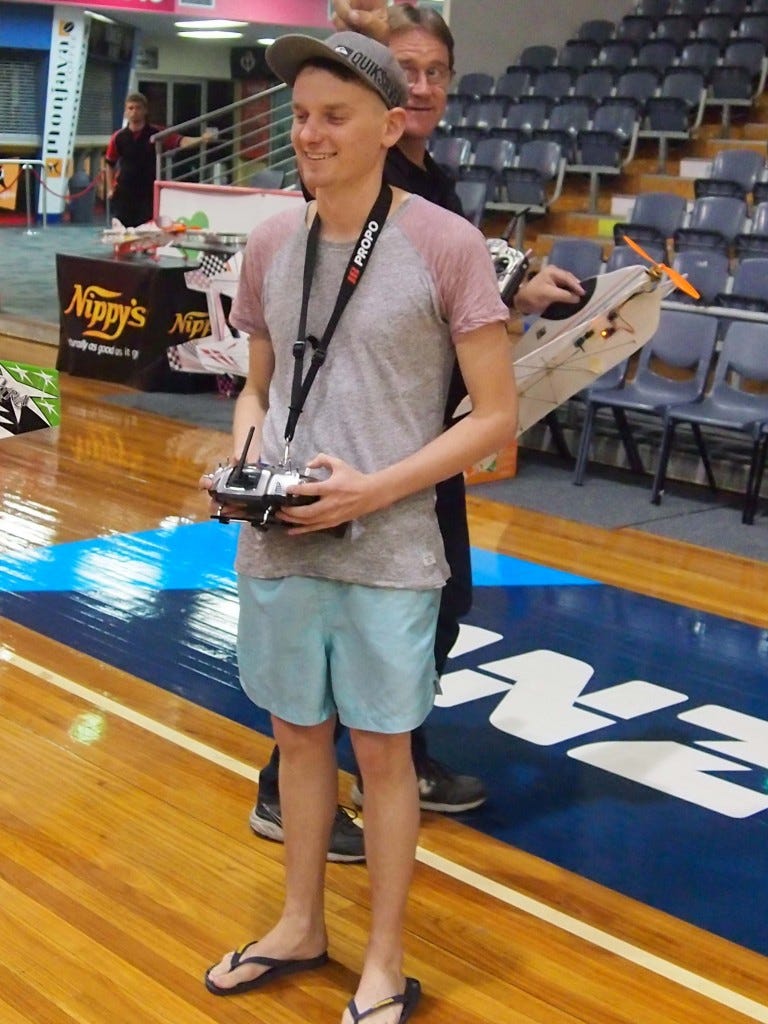 David produced, and flew, a delightful little Tiger Moth throughout the evening and, having explained that he built it 4 years ago and has flown it often, it is still a very attractive model and one that puts on a beaut flying display in his hands.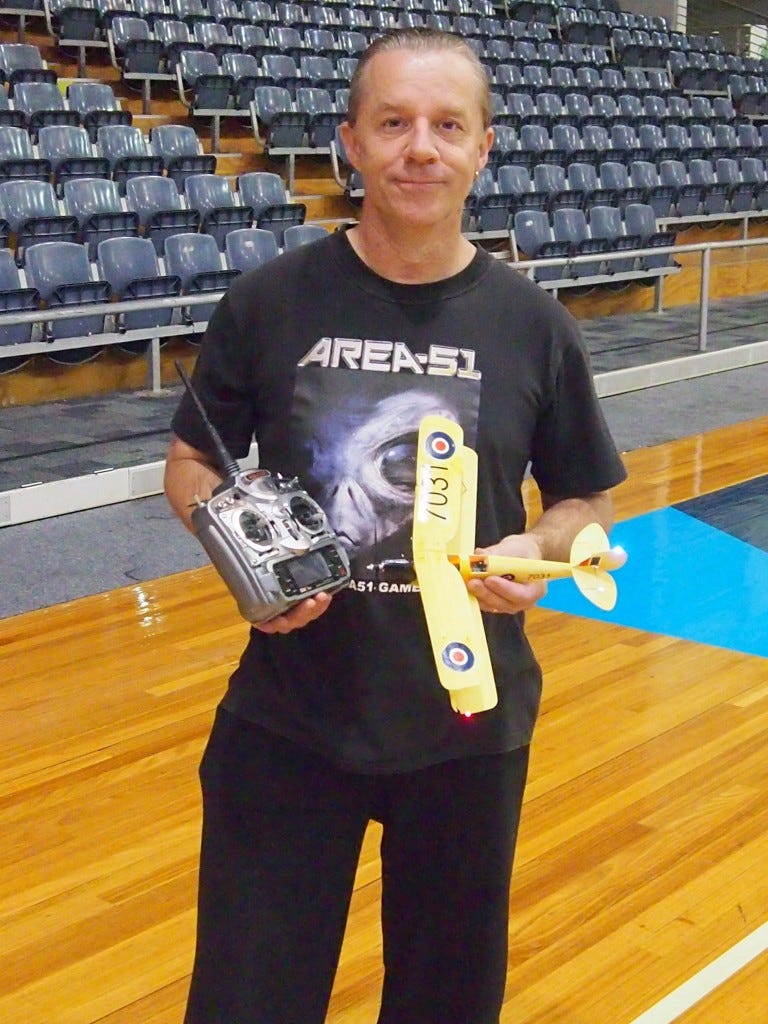 In my final picture for this month you will be aware that Michael O'Reilly is quite fondly caressing a brand new model which was making its public debut in our presence.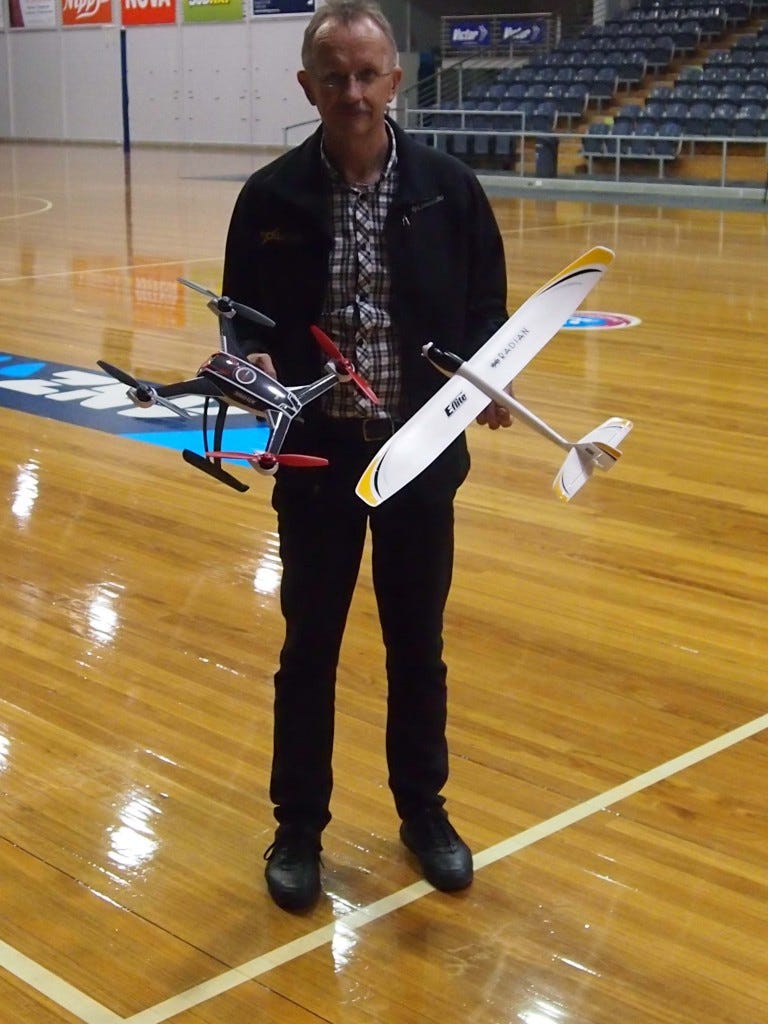 I am going to suggest that you visit Model Flight's Goodwood Road store and ask Store Manager, Bradley or his assistant, Klaus to take one off the shelf and let you have a good look at the fascinating little motor powered glider.
It is called, yes I'm serious, a Radian. A lot of field and slope fliers will be well aware of the larger model Radian and its history as a magnificent flying model and it's many successes at club level competition. SSL fliers Greg and Robert and many more of that club's competitors will attest to the success of the Radian with its beautifully curved wing and great foam construction.  With the inclusion of an electric motor and prop this smaller replica emulates the actions of its bigger brother, particularly in the calm air of the ETSA Park Netball SA Stadium. This is where you will find us on the third Thursday night of each month throughout the year where, for just ten dollars, you can fly your little hearts out from 7.30p.m. until 9.30p.m.
Now that last paragraph should be sufficient to animate those afore mentioned club members, who could now be seen in their droves picking up their little Radian from Brad or Klaus. All other interested people, yes you dear readers, should join the throng whilst there is time. From the Phoenix, cheers till we meet once more at the Indoor Flying Venue.