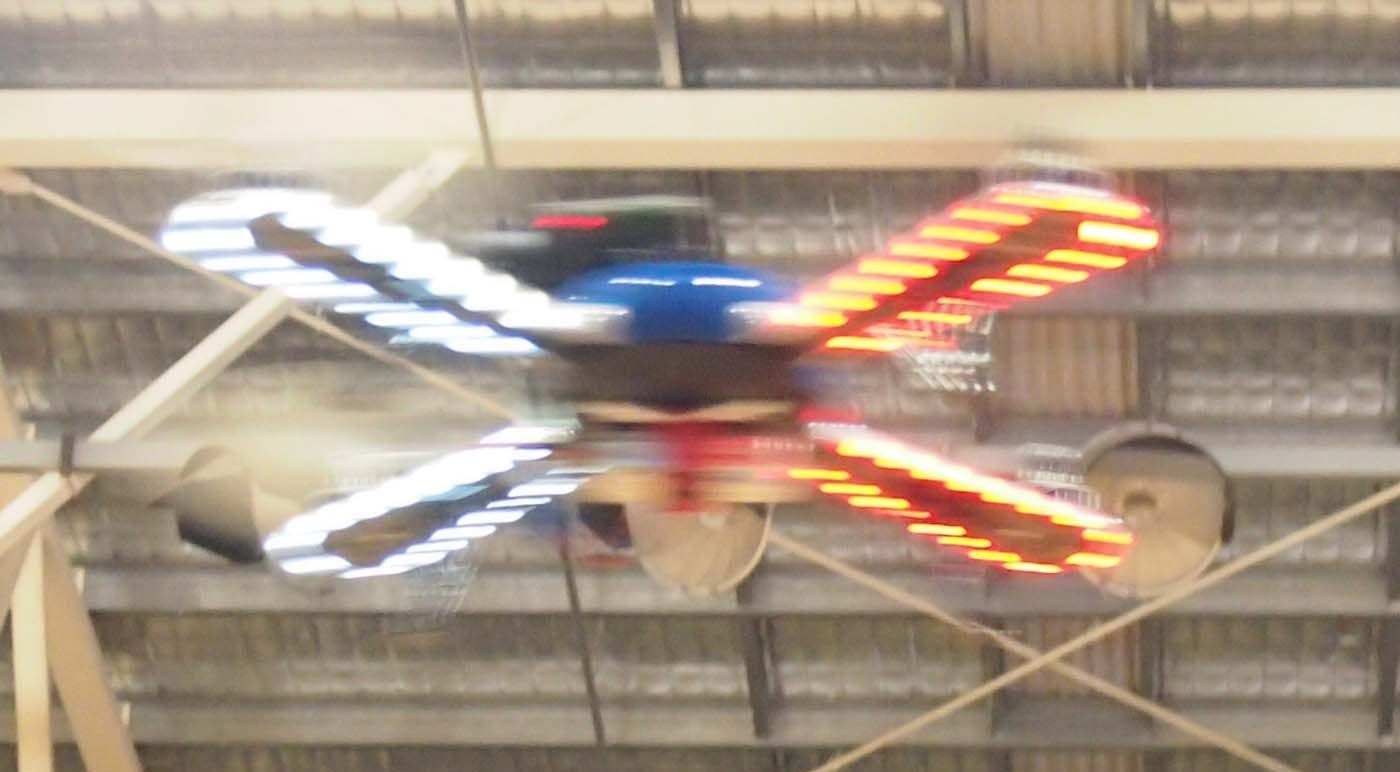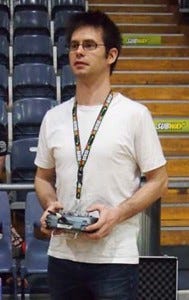 Well dear readers, although our final indoor gathering for 2012 began fairly quietly at ETSA Netball Stadium perhaps due to it being a quite languid evening and our fliers being a little loath to leave their air-conditioning,  for some unknown reason, we seemed to have a larger-than-normal group of young people and due to our friend Chuck T. having more than just a mop of hair on his head, he showed excellent forethought and a great relationship with the littlies.  However, more on that shortly – firstly let me mention our latest dad (in our midst of course) and I speak of Michael whose lovely wife presented him with a young gentleman and, no doubt, a future flier at ETSA Park.  At just five weeks, I believe that he already has excellent control and touch of his joy stick and we look forward to bigger and better things from the young man. Whilst I could not show you a photo of the baby, my first shot is of the proud dad. We all join in, Michael, in congratulating you and your wife on the happy new addition to your family. Keep it up, we need the extra numbers.
My next picture is attached to a rather tepid article. Mike O'Reilly brought his magnificent
quadcopter
along again tonight and whilst I gave it full coverage and pix last month,  if your eyesight is a tad better than mine, you might just be able to see the tiny camera mounted atop and, I might add that we wait in awe for the story on the photographic results.
Picture 3 shows a general view of those in attendance and the general relaxed atmosphere that is usually noticeable on most nights – it is one large happy family. Tonight, a number of them brought along their children. Soon after it was pointed out to them that they must stay behind the rail this fantastic group of littlies soon had some sort of ball-game (too heavy for me) that they were playing inside a human square made of legs.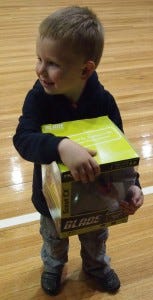 This was where Chuck T showed amazing afore-thought in bringing along a model heli, for which he had no further use, and made it the prize for a kiddies raffle  You see that Chuck was ably aided by Michael O'Reilly in issuing the children each with a numbered ticket. This is where even poor eyesight will notice the eager and excited looks on their faces as they wait for the results. I now ask you to look at our winner – a little fellow, not much larger than the box in which was his
helicopter
, but with a huge smile on his face that made it all worth while. Well done Chuckie – great idea.
Of course folks, there WAS some usual flying done throughout the night and Ian Smedman has just landed his tiny
model T28 Trojan
at his feet after a session of extremely fast flying. lt was an enjoyable evening – made even more exciting by the various activities of the young people who, with school holidays on, may even get their dads to return them to the house of indoor flying. The move has not been finalized friends, but it is expected that we will return to flying under similar arrangements in 2013 as the wonderful year that has just concluded. That means that indoor at Netball SA Stadium (ETSA Park) will be on again on
Thursday 17th January 2013
and, once again, flying from 8.30 to 10.30p.m Your intrepid Phoenix looks forward to seeing you all then.