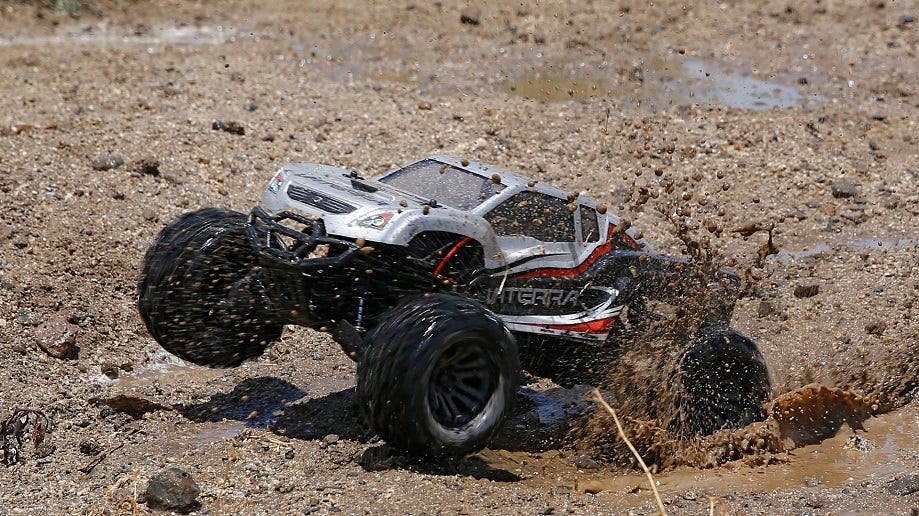 Venture Off-Road With These RC Cars and Trucks
Whether you like to go bashing through the bush, crawling over rocks or speeding full pelt across the harshest terrain, driving off-road remote control cars is a thrilling experience. If you are looking for a new off-road RC car (or searching for your first one), we have put together this list of the twelve best off-road RC cars to help you find what you are looking for. Let's begin with a new release from ARRMA.
ARRMA Kraton BLX Powered by a 2050Kv motor, the Kraton is one wild beast! This 1/8-scale RC truck comes ready-to-run with strong aluminium parts and waterproof electronics. The Kraton is the perfect choice for the driver who knows no boundaries.

Carisma GT16MT RC Monster Truck
 On a smaller scale, the 1/16-scale
GT16MT
from
Carisma
offers all the off-road fun of an RC monster truck in a mini size. It has a 370-size brushless motor, oil-filled shocks and high traction tyres. If you are a beginner driver, this is a great place to start.

Carisma M10DT Volkswagen Beetle
 An off-road version of the car that everyone loves, the
M10DT
from Carisma is a great replica of the Beetle. This RC car features a water-resistant servo and ESC and a 540-sized motor. It will certainly turn heads when you are out driving!

Carisma M40S Volkswagen Touareg
 Another great Volkswagen RC car from Carisma, the
M40S Touareg
is inspired by the full-scale vehicle that took on the Paris-Dakar Rally. Beyond its brilliant exterior, the M40S has a 2.4GHz two-channel radio system pre-installed and durable off-road tyres. If a rally race gets your heart racing, this is the car for you.

Carisma GT10DT Desert Racer
 The last Carisma car we wanted to show you is their
GT10DT Desert Racer
. This car has a stellar appearance and is powered by a brushless motor and ESC. It is underpinned by an off-road chassis and comes ready-to-run with a 2.4GHz radio system.

ECX Ruckus
 ECX are renowned for their beginner RC cars and trucks and the
Ruckus
is no different. This 1/10-scale monster truck is tonnes of fun, coming with a reliable Spektrum radio setup and a pre-installed Dynamite 15T motor. Several hop-ups are available for the Ruckus, so you can modify this beast to your heart's content!

Losi LST XXL 2
 The biggest RC truck in our review, the
LST XXL 2
from Losi means business. This brute of a car has a .31 cubic gasoline engine and is equipped with Active Vehicle Control (AVC) Technology, which helps maintain the car's control at top speeds. Heavy hitting, unstoppable and gutsy, the LST XXL 2 is an off-road dominator.

Losi RC Night Crawler
 If your idea of off-road fun involves some adventurous rock crawling, you have to check out Losi's
Night Crawler
. One of the original RC rock crawlers, this well-built machine is fully equipped to tackle any obstacle in its way. With 4" aluminium shocks and rock claw tyres, the Night Crawler in action is amazing to watch. Best of all, with LED lights on the front and rear of the vehicle, you will be able to crawl at night without any troubles!

Vaterra Slickrock
 Another exciting rock crawler, the
Slickrock
from Vaterra is much smaller than the Night Crawler, but is still a formidable off-road contender. It is equipped with multi-link suspension with long travel shocks, enabling you to overcome the most uneven terrain. This 1/18-scale RC truck should not be underestimated!

Vaterra Halix
 One of our favourite RC monster trucks, the
Halix
from Vaterra is also equipped with AVC technology. It is smaller than the LST XXL 2, but is a great choice if you are looking for a mid-range RC truck. Powered by a 3300Kv motor, the Vaterra Halix can reach speeds of 88km/h! That said, AVC will ensure you maintain tight control over the vehicle at all times. The Halix is a thriller for the driver and his/her audience!

Vaterra Twin Hammers
 Named after two famous off-road trails in the valleys of California, the
Twin Hammers
is the quintesstial off-road RC truck. It comes with a 4WD chassis and long-travel suspension. Another great feature is the Hammers' two-speed-transmission, which allows you to switch gears depending on whether you are crawling over rocks or running flat-out across the flat surface.

Vaterra Ascender Chevrolet K5 Blazer
 If there ever was a classic off-road RC car, this would be it. The
Vaterra Ascender
is modelled on Chevrolet's much-loved 1986 K5 Blazer 4WD. It comes with four-length adjustable wheelbase and strong CV front shafts that allow for up to 45 degrees of steering angle. If you love going off-road in style, the Ascender is a must-have!
Our Recommendations for Off-Road RC Cars
We have covered quite a few off-road RC cars in this blog post, so let's look at some of our key recommendations, depending on the type of driver you are. If you are looking for an RC monster truck, we would highly recommend the Vaterra Halix. With AVC Technology, it is very easy to drive and will appeal to all skill levels. If you want a rock crawler, the Losi Night Crawler is a reliable choice. We love the LED lights and crawling during the evening hours is lots of fun! Finally, if you want a general, all-round off-road RC car, the ARRMA Kraton is well-equipped for any outdoor adventure.
We hope this blog post has helped you in your search for a new off-road RC car. If you have any questions about the cars we have covered, please do not hesitate to contact Modelflight, or you can leave us a comment below. Until then, we wish you all the very best for your next off-road adventure!