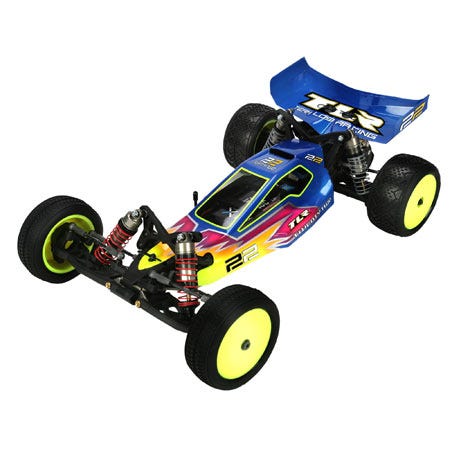 Team Losi Racing is back in the 1/10-scale electric game with a vengeance with the debut of their new 2WD buggy. Dubbed the 22, it marks a totally new direction in terms of design, features, tuning, materials and more from previous designs. Perhaps the most innovative new feature on this new platform is the ability to reconfigure it from a traditional rear motor configuration to a mid-motor configuration, totally altering how the car handles and jumps. The best part is that you'll be able to make the switch without having to purchase any additional components. It's quite literally like having two different vehicles in one box.
The 
22
RC Buggy
has a number of other outstanding and innovative features that, while unavailable or expensive options on other chassis, come as standard equipment on the 22. All-new top-filled shocks grace the four corners of the 22 and have been modeled after the ones found on the larger 
8IGHT 2.0 Race Roller
. Their larger 12mm diameter and thick, titanium-nitride-coated shock shafts provide the 22 with a plush suspension that is incredibly smooth. Speaking of titanium nitride all the hinge pins feature the gold sheen that it is noted for. The 22 also omits a traditional bellcrank system, instead opting for a unique slider rack that has nearly friction-free operation. And a car is nothing without a sturdy backbone and the 22 has just that thanks to the 2.5mm thick precision-machined 7075-T6 aluminum chassis plate. That's right, I said aluminum. Come along with us as we share the details with you on what is sure to be the pinnacle of
1/10-scale buggy
performance in the 
Team Losi Racing 22
.