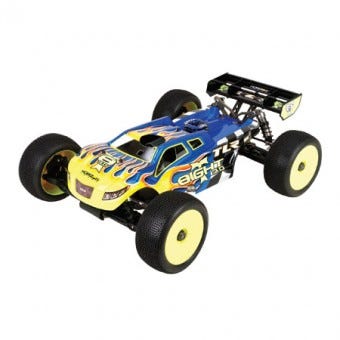 This is one exciting addition to Modelflight's range of RC trucks. The Team Losi 8IGHT-T 3.0 is underpinned by the same features that made the 8IGHT 3.0 buggy the ROAR National Champion. In this blog post, we will be taking a closer look at some of the characteristics that make the 8IGHT-T such a solid performer, beginning with the suspension geometry.
Improved Suspension Geometry
You will find that the new 8IGHT-T truggy has neutral handling and is easy to drive fast. This is thanks to the refined suspension geometry, featuring 15-degree, non-inclined caster blocks. By raising the spindle in this RC truck, you can absorb bumps with less dog bone plunge. TLR have also redesigned the front arms to improve the front wheel clearance and steering throw. You will also find that the camber and shock locations on the shock towers have been optimised to make tuning quick and easy.
16mm Shocks and Tapered Springs
The 8IGHT-T truggy comes with large bore shocks which come with machined-tapered pistons and shock bushings for increased precision. The tapered springs increase the spring-to-arm clearance and gives you a progressive rate that keeps the ride plush over rough sections of the track while still giving you plenty of bottoming resistance for landing large jumps. Additionally, the volume bladders are larger and come with improved durability.
Optional Parts Included 
Another great feature of this remote control truck is that it comes with a wide collection of optional parts, such as lightweight outdrives, a lightweight spur gear, adjustable hinge pin braces, a hard-anodised flywheel, an aluminium servo saver tap, aluminium rear bearing inserts and more.
As you can see, there is a lot to look forward to with this RC truggy. It is coming soon to Modelflight, so if you are keen to learn more, visit our page on the Team Losi 8IGHT-T 3.0 today.