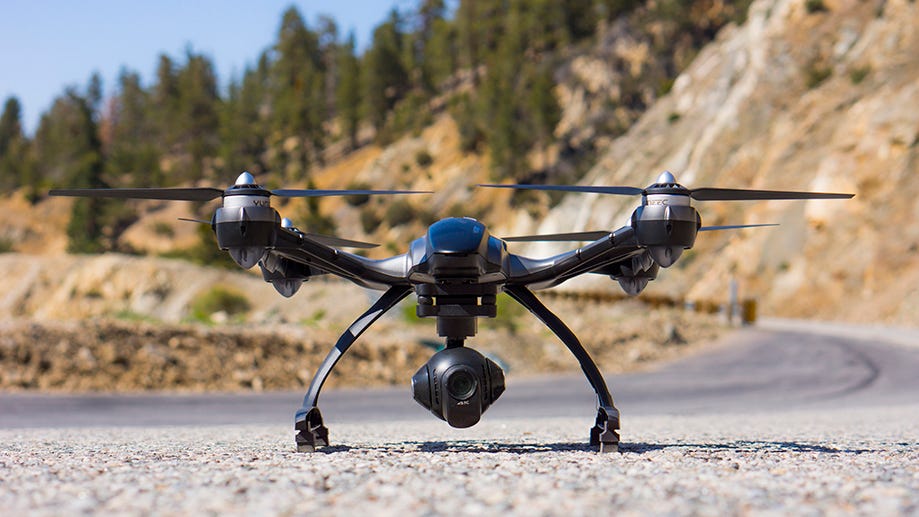 Click here for an updated version of this article.
Whether you are capturing an exciting sports match or photographing a beautiful scene from above, aerial photography and filming is a fantastic hobby. Thankfully, with recent developments in cameras and remote control technology, aerial filming and photography has never been easier. Modelflight is proud to offer a range of products to help our customers get started in this hobby and in this blog post, we would like to talk about various options for getting started in aerial photography and filming, beginning with a general discussion about drones.
Drones, Quadcopters and Flying Cameras
As you can imagine, probably the most important key to success in aerial photography and filming is stability. When you are up in the air trying to capture the best photo or film clip, the last thing you want is a camera that gets knocked around in the wind! Ideally, your choice of camera transportation will give you the control you need when you are in the sky. Flying drones are an excellent choice in this regard. Because of their quad-blade design, drones (also known as quadcopters) offer more stability than what you could normally achieve with a two-blade remote control helicopter. For this same reason, drones are also very easy to fly. Even if you have never flown a remote control model before, you will find that learning the controls of a drone will be quite straightforward. In the following sections, we will be discussing some of the drones that we recommend for aerial photography and filming.
Dromida Kodo

For a child or any budding aerial videographer, the Dromida Kodo is a great place to start. This mini drone comes with a built-in camera that can shoot 1280x960 JPEG files and 720 x 480 AVI files, which are then stored on a 2GB memory card included in the box. The Kodo is quite a cheap quadcopter, yet still offers quality performance.
Blade 180QX

Here's a quadrotor drone that featured in our original aerial photography post and still deserves a mention. The Blade 180QX comes with the EFC-721 RC quadcopter camera from E-Flite. This HD camera can be used with confidence, given the Sensor-Assisted Flight Envelope (SAFE) Technology built into the drone. SAFE ensures that the 180QX maintains its stability in the air, even when conditions get a little windy. The 180QX remains an innovative drone from Blade and definitely worth considering.
Blade Glimpse

A new addition from Blade, the Glimpse is a really high-tech flying drone. The Glimpse has a pre-installed HD video camera which can capture 1280x720p video and 1 megapixel photos. The exciting thing about the Glimpse is that it offers live first-person view (FPV) video functionality with a range of 24m (80ft). You can stream 480p video in real time to your iOS or Android device over a 5.8GHz WiFi downlink through the free Glimpse app. Furthermore, multiple devices can view this footage simultaneously, thanks to the Team View function within the app. If you have always dreamed about getting an iPhone drone, the Glimpse is the place to start!
Parrot AR Drone 2

Whenever people think about aerial filming and photography, they usually think about the Parrot Drone 2.0 and rightfully so. The Parrot AR is a stellar quadcopter, with front and vertical HD cameras that can record MPEG-4 videos and store them on your device via Wi-Fi or through a USB. The cool thing is that you can operate the AR Parrot with your iOS or Android device. Simply tilt your smartphone/tablet forwards or backwards and away she goes! The Parrot AR Drone range is excellent, giving you a solid connection for up to 6m. Furthermore, the Parrot AR Drone 2.0 battery can give you run times of up to 12 minutes. This iPad drone is definitely a favourite for aerial photographers!
Blade 350 QX3

The 350 QX was Blade's original RC drone with a camera. The QX3 is the third version of this popular model and it certainly has a lot to offer. If you want a drone for GoPro cameras, this is an excellent choice. It comes with a pre-installed mount designed especially to accommodate small cameras. What's more, the QX3 features the renowned SAFE Technology, as seen in the 180QX. The QX3 is great value for money, coming in around the Parrot AR Drone price. However, if you are looking for something more, there is an Aerial Photography (AP) Combo version of this remote control drone with camera. This AP version comes with a 16 megapixel, 1080p/60 CGO2 camera, which is mounted on a three-axis brushless gimbal. This QX3 really is the all-in-one package.
Blade Chroma

In terms of quadrotor helicopters, this is Blade's finest. The Chroma comes with the new CGO3 camera, which allows you to capture 4K videos at 30fps or 1080p videos at 120fps. With the included 3S 5400mAh LiPo battery, you will be able to enjoy flight times around 30 minutes. This makes the Chroma one of the longest-flying drones available. Controlling this aerial filming genius is an ST-10 transmitter, which comes with a 5.5" touchscreen built in. On this screen, you can view your aerial footage in real-time, through a Wi-Fi downlink. Complete with three different flight modes, the Blade Chroma is a great investment.
Yuneec Q500 4K

True to form, we saved the best for last! The Yuneec Typhoon Q500 4K is one of the most amazing drones we have seen. Just like the Chroma, the Q500 comes with a CGO3 camera, allowing you to capture excellent aerial footage and 12 megapixel photos. The drone also features a "Watch Me" function. Once activated, this will allow the camera to maintain a focus directly on you. There is also a "Follow Me" function, where the drone will always follow the person holding the controlling transmitter. You can only imagine the aerial filming possibilities with these flight functions! Additionally, with the free CGO3 app, available for iOS devices, you will be able to control the Q500 camera from your smart device. It is like having a drone iPhone at your fingertips! Aerial filming and photography does not get any better than this drone with a 4K camera.
Conclusion
We hope this blog post has given you some ideas about the range of aerial photography and filming quadcopters that are available. We have endeavoured to show you models to suit a variety of skill levels and budgets, so we trust you will find something that will appeal to you. We have a broad range of drones for sale at Modelflight, so be sure to check out our website for more details about any of the models that we have covered. Our YouTube channel also has plenty of drone reviews and demonstrations. Aerial filming and photography is an amazing hobby and one that is ever-evolving. Indeed, we will probably have to update this blog post again next year! Until then, please feel free to leave any questions or comments below. Safe travels from Modelflight.