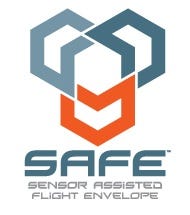 So, an
RC plane
or
RC heli
comes with SAFE Technology. That all sounds good, but what exactly is SAFE Technology? SAFE is an abbreviation of Sensor-Assisted Flight Envelope and it is designed to improve the flight control of your model. SAFE Technology has been custom-tuned to suit fixed and rotary wing aircraft. This new technology incorporates multi-axis sensors and software, making the plane or heli easier to fly. Models with SAFE technology have a range of progressive performance options, so you
can easily adjust the degree of security and flight control. For example, if you are a beginner, you can increase the strength of the SAFE technology so that you have an easier learning experience. If your skills are more advanced, you can lower the degree of the SAFE technology, while still enjoying the outstanding control and protection benefits it offers. Some examples of how SAFE Technology can help you include:
Self-levelling and stabilising
Banking and pitch limiting
"Panic" features to return a model to level flight
As a way to illustrate SAFE technology in operation, Matt put together a video on
Modelflight's YouTube channel
. In this video, you see a series of demos that show how this technology works in the
Blade Nano QX
. The video can be seen below: Rest assured, there is no setting up required for SAFE technology. SAFE-enabled models come with the technology ready-to-use and optimised, so you will be able to experience the benefits in no time. SAFE Technology is currently available in the
E-Flite Apprentice S 15e RTF RC plane
and the
Blade Nano QX RC heli
. So if you are ready to experience the benefits of this new RC technology, visit
Modelflight
today to find out more.