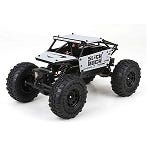 Rock crawling is fast becoming one of the more popular means of driving RC trucks. It's easy to see why. The challenge of scrambling over large obstacles in your path makes rock crawling a really enjoyable activity for drivers of all ages and skill levels. At Modelflight, we are pleased to offer a range of RC cars and trucks that will cater to the rock crawler within you. In this blog post, we wanted to talk about that range of vehicles, covering cars and trucks from both Losi and Vaterra.
Losi Night Crawler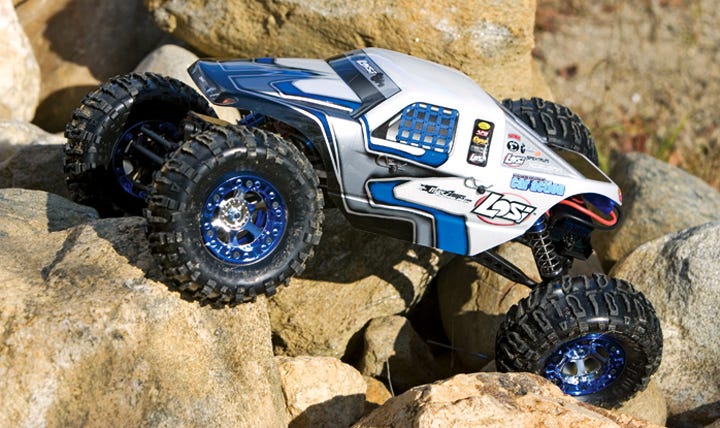 Let's start with one of the original rock crawlers - the Losi Night Crawler. This 1/10-scale RC truck was built for crawling, as you can probably tell from the above image. It comes equipped 4" adjustable aluminium shocks, which give you very smooth operation and excellent suspension articulation. You will also notice the wheels on the Night Crawler, which consist of three-piece 2.2 beadlock chrome wheels with 12mm hexes. The tyres used are National Champion 2.2 Losi Rock Claws; perfect for the tight grip you will need when overcoming the obstacles in your way. What's more, the truck comes with LED lights on the front and rear of the vehicle, so it can live up to its name! Daytime or nightime, the Losi Night Crawler is a thrill to drive.
Vaterra Twin Hammers and Slickrock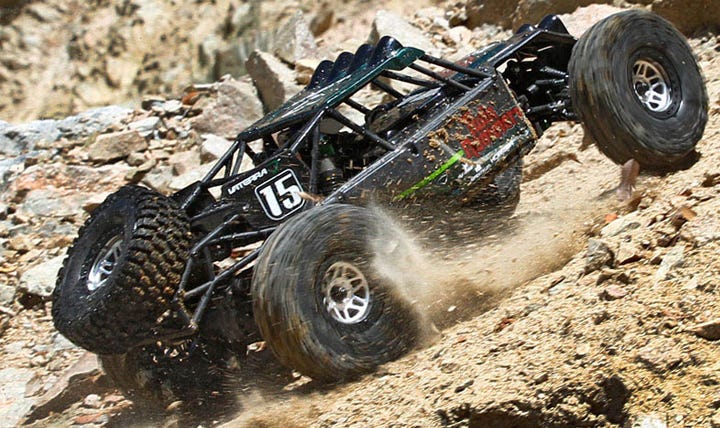 The next rock crawler we wanted to talk about is the Vaterra Twin Hammers. This vehicle was inspired by two off-road trails in California's Mojave Desert, the Jackhammer and the Sledgehammer, collectively known as "The Twin Hammers". It's only fitting that this truck is a real heavy-hitter! What makes the Twin Hammers unique is that it includes a two-speed function, whereby you can shift the truck's transmission as you drive to suit off-road buggy driving or rock crawling. The truck has been built to perform well in both settings. The Twin Hammers that you see pictured above is the ready-to-run version. Vaterra, however, have also created a Twin Hammers kit, giving you the opportunity to take this proven platform and build a rock crawler to your own specifications. Irrespective of your choice, you will find this Vaterra truck has all the features you need for extreme driving.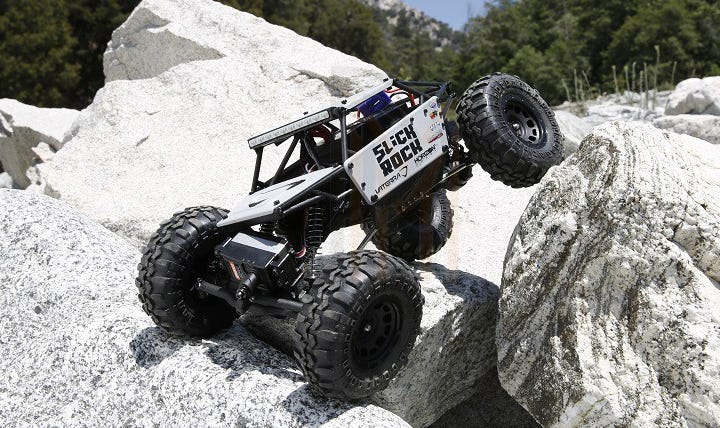 If you are looking for something a bit smaller (but smooth nevertheless), the Vaterra Slickrock is for you. This 1/18-scale truck comes with multi-link suspension with long-travel shocks. At the core of this vehicle is a large steering servo that would normally be seen in 1/10-scale trucks. This waterproof servo is designed to give you more torque as you take on the rocky terrain. It also puts extra weight on the front axle to give you better traction. The wheels on this rock crawler feature licensed TSL SX Super Swamper tyres. These tyres have a tread pattern and compound that gives you great grip at almost any angle. Big rocks or small, the compact Slickrock is one mean machine!
RC Chevrolet Blazer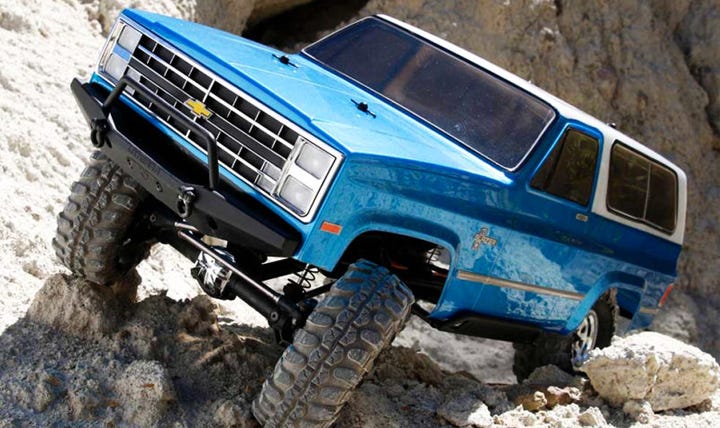 The final rock crawler we wanted to discuss was inspired by one of the most popular 4WD trucks of all time. The Vaterra 1986 Chevrolet K-5 Blazer was built for great off-road fun. Similar to the Twin Hammers, this rock crawler comes in a kit form, so you have the chance to build a Blazer just the way you want it. This crawler utilises Vaterra's new Ascender stamped-steel ladder-frame chassis. This chassis has an adjustable wheelbase with four lengths to choose from (314, 302, 290 and 278mm). It also comes with a 3-link panhard bar front suspension and 4-link rear suspension. The CV front shafts allow up to 45 degrees of steering angle. This is certainly one adventurous RC truck. If you love off-road driving (and scale RC cars), you cannot go past the Vaterra Blazer.
We hope this rock crawler compendium has given you a good overview of the off-road vehicles available at Modelflight. Rock crawling is tonnes of fun, so irrespective of whether you are new to this form of driving or a seasoned pro, we hope we can help you onwards and upwards!