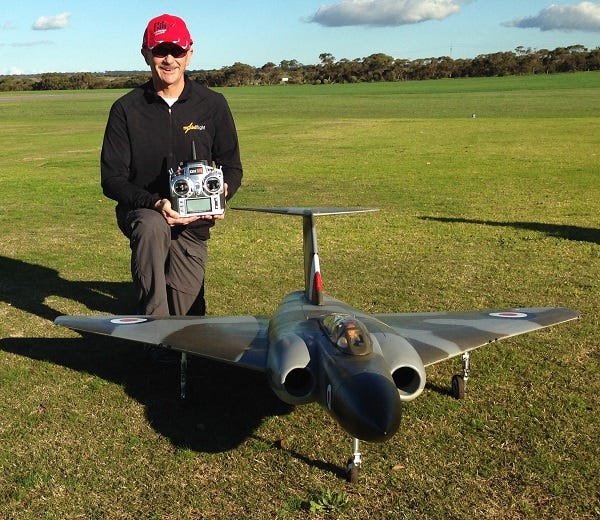 This is a special guest post from Mike O'Reilly, who was invited to attend the July 2014 Jet Meeting.
On Saturday 26th July Todd Morris on behalf of the JASA organised a local jet meeting at the AMA field at Monarto. Sunny skies and light winds blessed an enthusiastic group of pilots who attended. The field was in perfect condition for the testing of some new jets. Greg Leigh had his Ripmax Excalibur there and had dialled it in on his new Spektrum DX18 Gen 2 transmitter. He had also fitted the Spektrum telemetry system with the JetCat sensor, airspeed sensor and battery monitoring. It was fantastic to hear this data from the transmitter whilst flying.
[caption id="attachment_6593" align="aligncenter" width="600"]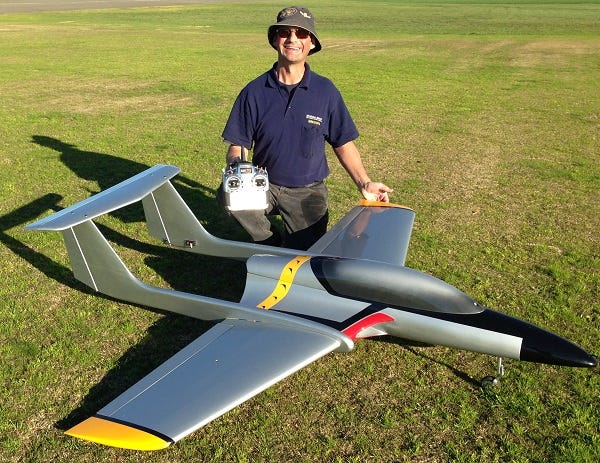 Greg Leigh with his new Ripmax Excalibur and Spektrum DX18 Gen 2[/caption]
Over 15 years ago my late father Leo, got a Gloster Javelin kit from his friend Mick Reeves in the UK. Doug Bungey did an awesome job on the build with pop rivets and weathering adding a very realistic touch to this classic 1950's jet. It came very close to being finished and flown at the 2001 Jet World Masters but since then has hung in and sat around our warehouse. Over the last 3 years Dave Whitten, Vin Pike and more recently Greg Leigh have replaced all the internals and it now has a G-Booster 130 turbine, Spektrum AR12120 receiver, JR DS8411 servos and new retracts. Saturday saw it finally take to the air on its maiden flight and it proved to be an absolute dream to fly. The G-Booster provided plenty of power for the 15.4 kg model and the basically delta platform was super stable and had a great 'locked in' feel. I look forward to getting more stick time on this 'old' jet in the coming months. I used the new Spektrum DX18 Gen 2 with voice alerts and it was great. It told me what rates I was using, what flap setting I had, how much flight time remained and more. This is great info to receive whilst flying a complex model like a turbine jet. Awesome stuff.
[caption id="attachment_6592" align="aligncenter" width="600"]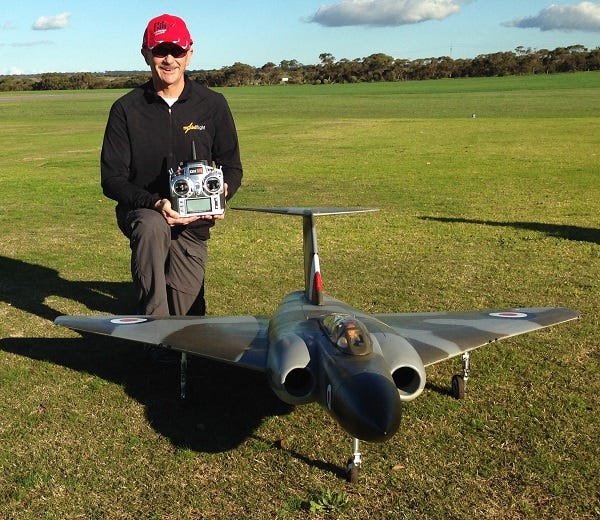 Mike with Gloster Javelin and DX18 Gen 2[/caption]
Some other photos from the event can be seen below:
[caption id="attachment_6594" align="aligncenter" width="600"]
Mike with Sebart Avanti jet. This jet was controlled by a Spektrum DX18 Gen 2 and was equipped with a SPMAR12120 receiver, JR DS8411HV servos and a JetCat RX100 turbine[/caption]
[caption id="attachment_6595" align="aligncenter" width="600"]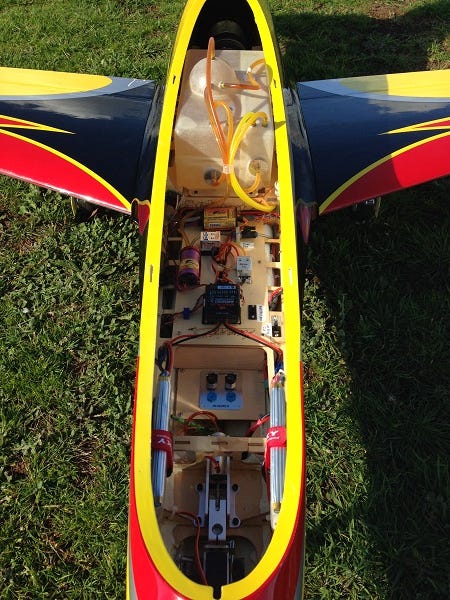 Sebart Avanti internals showing SPMAR12120 receiver[/caption]
[caption id="attachment_6597" align="aligncenter" width="462"]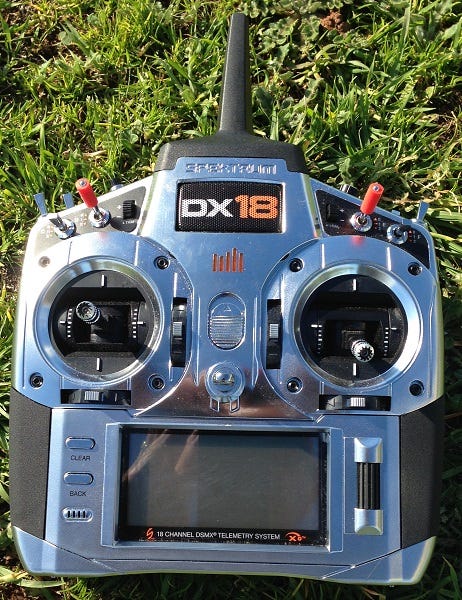 The Spektrum DX18 Gen 2 transmitter we used for the first time[/caption]
[caption id="attachment_6600" align="aligncenter" width="600"]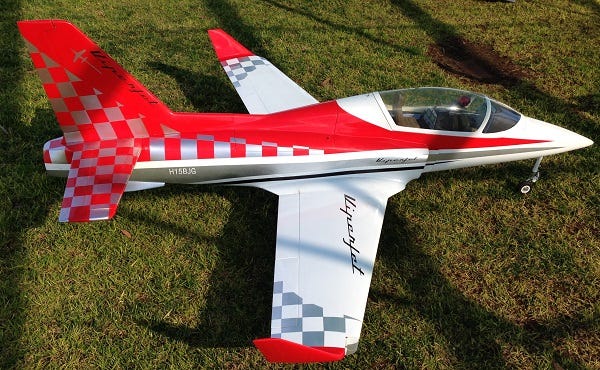 Mark Robinson's Skymaster ViperJet[/caption]
[caption id="attachment_6601" align="aligncenter" width="511"]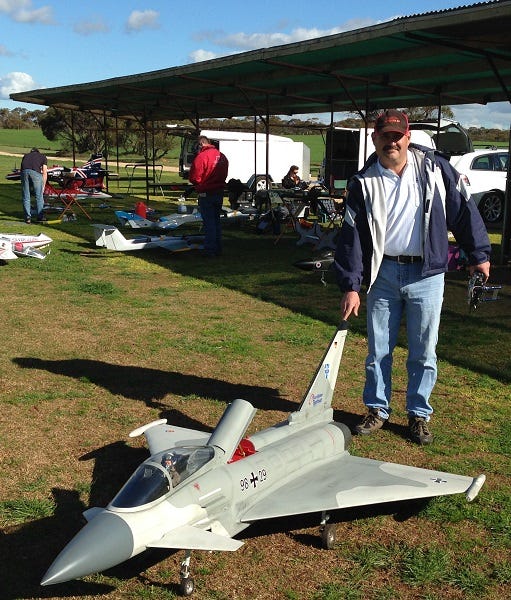 Todd Morris with his CARF Eurosport with JR DX9 radio[/caption]
[caption id="attachment_6605" align="aligncenter" width="585"]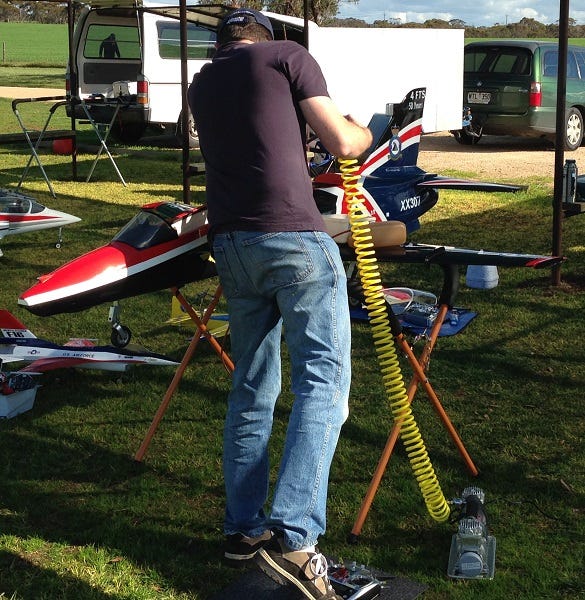 Greg pumping air into the retract system on his BAE Hawk[/caption]