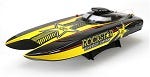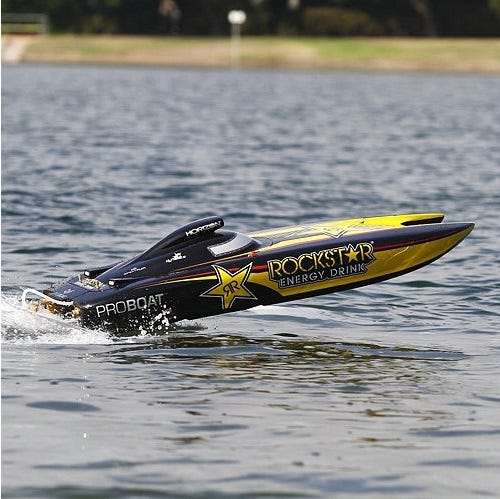 Pro Boat Creates A Star
We have always been proud of the range of boats available at Modelflight, but this new one from Pro Boat is something else entirely. The Rockstar is a massive 48-inch catamaran; a similar style to that seen in the Miss Geico and Blackjack. By far, this is the largest RC boat we have ever seen and with its 26cc gas engine, you are able to clock up speeds of up to 65km/h. Best of all, the engine comes with the R.O.S.S. starter system, so you can get the boat running in a matter of seconds with the push of a button on the included Spektrum DX2E transmitter (and stop it just as quickly when you are done).
This boat comes with a large-scale servo, which gives you over 270 oz-in of torque. And it has an appearance to match! The boat features a hand-laid, lightweight fibreglass hull which has been finished with an officially-licensed Rockstar trim scheme that will clearly stand out. The boat comes with a removable composite radio tray, allowing you perform maintenance easily and access the radio and receiver components.
Rockstar Performance
In terms of performance, this boat has plenty to offer. It has a durable inline rudder that allows the boat to turn both directions with great precision. You will also notice that the wide hull of the Rockstar gives you better stability during turns and when negotiating rougher waters. There is also a centrifugal clutch which prevents the propeller from spinning while the engine is idle.
The Rockstar is one impressive catamaran. If you are looking for one of the fastest and most powerful RC boats available, this is it! This Pro Boat is a Rockstar in every sense of the word. If you think you can handle it, visit Modelflight today to find out more.
Learn more about the Pro Boat Rockstar.