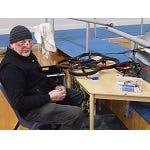 Our last Indoor night at the Netball Stadium had a couple of surprises.
Firstly, we were missing a number of usual fliers and secondly, after just ten minutes we had the entire stadium at our disposal until Hugh, the Duty Manager decided that he should save some of the huge expense that is entailed through having the big lights on throughout the stadium.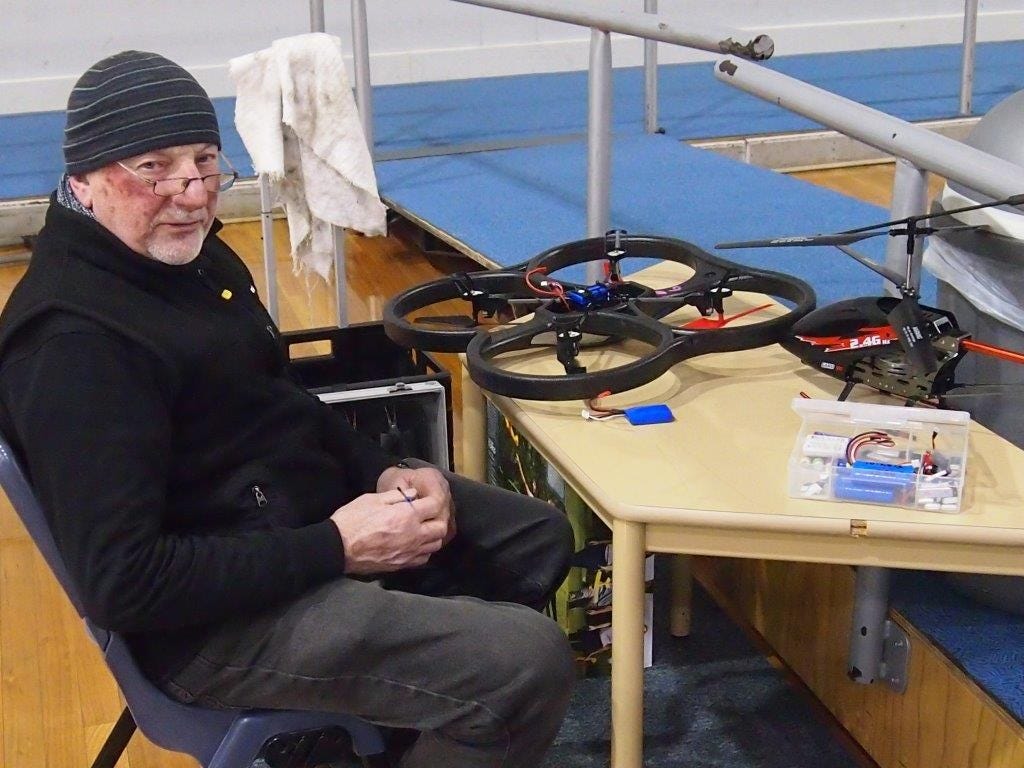 My first picture this month is of Anthony Steele who, each month, makes the utmost use of whatever flying time is available and you see him, setting up some of his models, prior to his night's flying. His models are always magnificently presented with multi coloured L.E.D.'s adorning them and making quite a spectacular use of his air time.
We had 2 Cubs in action on this night and we all learnt something - adding paint to the upper side of the wing may change its colour scheme and perhaps make it more attractive, but the extra weight actually causes it to fly slower.
I think I should mention here that when we are allotted Court 2 or 3, please chaps will you remain on that court.  As we were made aware on this night, the Manager could decide to off-switch the lights on all other courts, other than our allotted one and then we are left - "up that well known stream in a wire-netting canoe and without a paddle."  Then it is hard to keep one's head above the water.
One of the Cubs found itself stuck quite high up on a wall  and we saw the brilliant ingenuity of J.J. - he strolled over, sized up the situation and quietly removed the padding from the nearest goal upright and quite casually eased the model from the wall and let it flutter into the arms of its owner. Well done J.J.  Incidently dear fliers, both present and missing, J.J. was the only member of "Crack Corner" in attendance on this night so it will be nice to see the other three on the 16th of October when we revert to our flying time, which we maintain now for the remainder of the year of 7.30-9.30p.m.
I shan't be collecting the subs for a while as our illustrious leader and Mentor has returned from a lengthy sojourn overseas and I must warn you all - do not be surprised if his speech appears a bit drawly as a considerable amount of time spent by he and his lovely wife, Janine, was in touring through the deep south of America. Or even much worse, having visited "Graceland." home of the great Elvis Presley, he might break forth with a rendition of one of Elvis's favourites.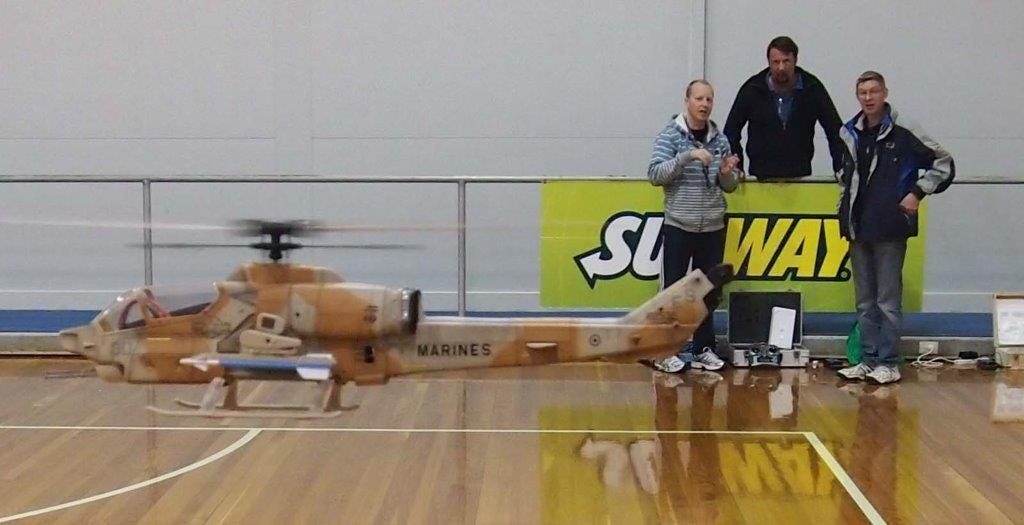 My final picture for this month is of one of the longest model Helies that I recall seeing and what a delightful flier it was, hovering perfectly.
Until next month when we will once again enjoy communion lasting from 7.30p.m. to 9.30p.m. letting us arrive home at a much more reasonable time,  enjoy the onset of some much warmer nights and our particular breed of fraternisation.
La Fenice