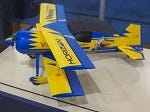 INDOOR AT ETSA IN NOVEMBER 2014
Although our numbers were down, yet again, those who came to fly were gifted with the entire Stadium space for at least the last hour of our allotted time. Whilst I am not telling you a lot about the fliers, I am concentrating this month, more on the boxes of models with which Mike O'Reilly armed himself this month. They made quite a picture when the boxes were opened to reveal such models as a B-17G Flying Fortress.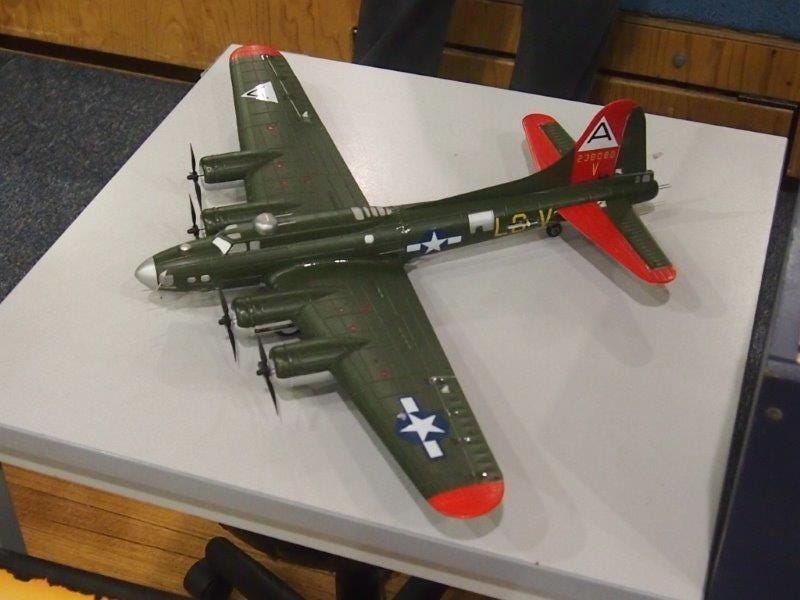 To stir up your memory after such a long break, "Enola Gay" was the Fortress that dropped the first Atomic bomb on, what was one of Japan's  really beautiful cities, Hiroshima. What devastation - I visited the city a short time after and the relic buildings were adorned with pictures taken during that dreadful time. One just had to wonder how they could restore such a mess.
When I tell you that Mike's model is an intermediate ultra-micro model with excellent scale detail, complete with 4 motors, you will understand why it was only on "static" demonstration this night  Another delightful aircraft in his fleet on this night was another Horizon model by Eflite called the UMX Spacewalker -  a nostalgic slow flyer trimmed in the attractive combination of red/white. My  photo of Mike was taken whilst he was enjoying flying this attractive model and during this exercise his usual form showed how to get full use of the battery pack.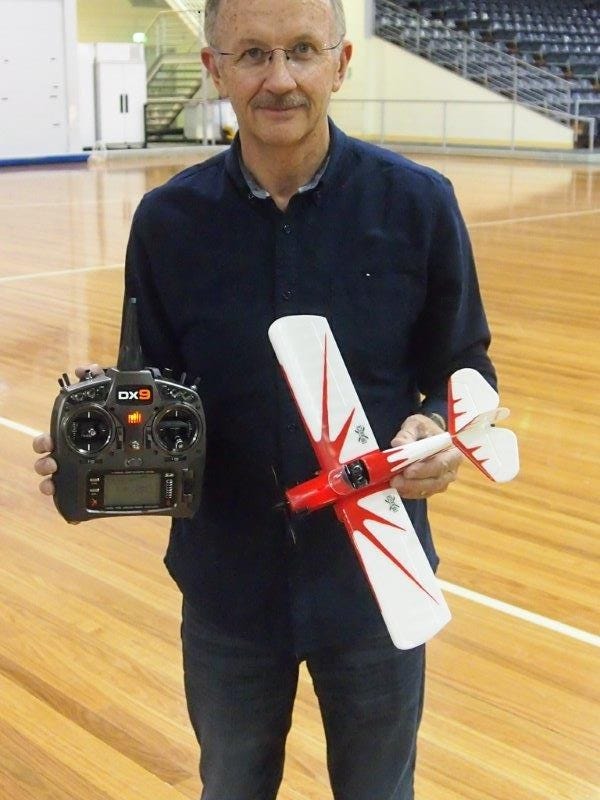 Before I get involved in his squadron of small, large and largest Quads, I must speak of another delightful looking aircraft, again by Eflite out of Horizon, the Viking.
This is trimmed in  a sight catching yellow/blue combination and is a biplane known as the Viking 12" 280 and whilst said to have 3D Performance with exceptional control it is also described as an advanced aerobatic Park Flyer.  Again we had to hide our disappointment at not seeing it fly.
What we did see in action was his squadron of Quads and the baby, the very small black and yellow model we did see in the air. as well as the intermediate and the largest, the 350.
I am forced to mention "me-ol-mate" Bob McKewin - he will thrash me over not recalling if his name has an "I" or an "A" cos his name is Scottish, of which he is rightly proud, whilst the other spelling puts it "over the border" and without looking at the directory, I am pretty sure it has an "A." Sorry mate but the important part of this story is that you see him in full concentration flying his quite small helicopter.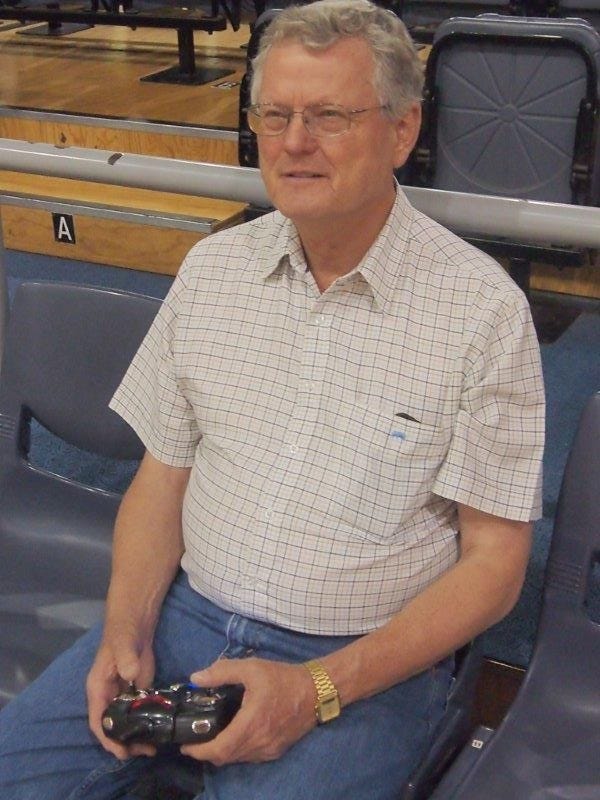 To show its small dimensions, my picture shows it sitting in Bob's outstretched hand.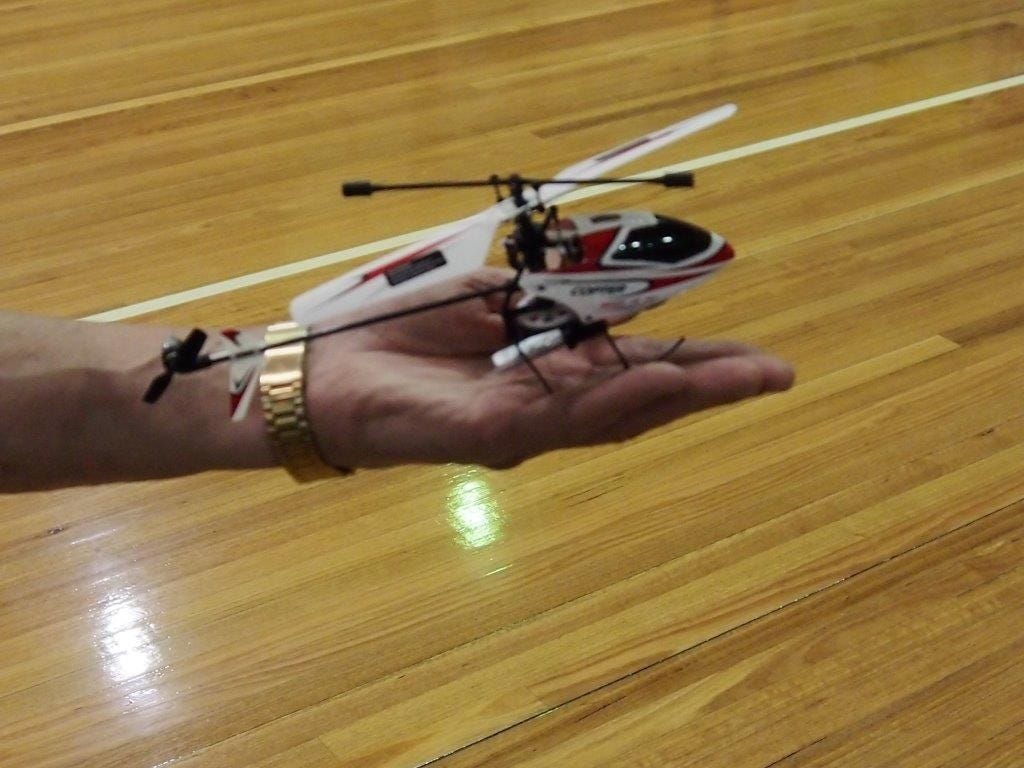 He could almost be thought to be a Rundle Mall Busker. As one of its flights was undertaken in my hands, I can say that it is a delightfully steady flier and a real joy to fly.
T'was a real shame that I cut the top off both Bob and Mike's head and so I rely on Ben. the very capable Webmaster to perhaps give them both a wig.* My excuse is that I was concentrating on Mike's DX9 Transmitter, being one of the latest on the market and, like all his models on show this month, can be seen at the Modelflight shop on Goodwood Road and that is just a few doors along Goodwood Road  after crossing the railway line in a Southerly direction.
It was a pleasure to welcome Dennis back to our midst after a much too long absence. He is a flier of immense skill and, although his models are large in numbers, he seemed to enjoy himself flying other peoples models and using other people's cameras. Tut Tut!
Now dear friends, our schedule is out for 2015 and, basically it is quite similar to 2014. At least we maintain the 7.30-9.30 time slot but a couple of the Thursday nights have been changed from being the 3rd in the month. Keep  reading these pages for up-to-date times for your convenience.
For our last month in 2014, we will meet on the 18th December, flying from 7.30-9.30 and on that night, I shall pass on my Christmas Greetings to each of you.
La Felice
*Webmaster's Note: Apologies to Phoenix for not being able to find wigs for Bob and Mike that would do them justice.