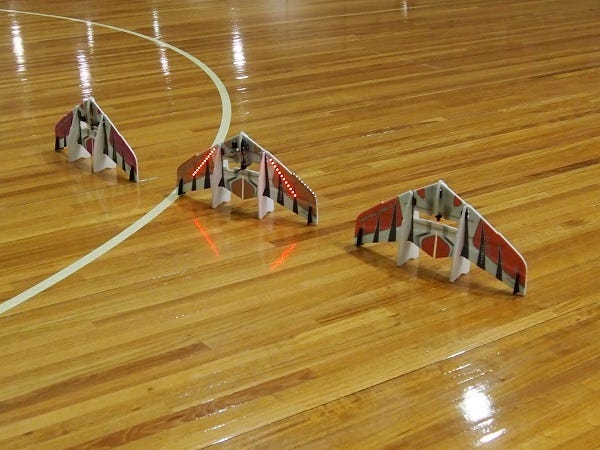 INDOOR IN THE MERRY MONTH OF MAY
Well dear readers, life for we mere mortals has had its share of "ups" and "downs" over the last few months. The weather, always a common topic has, fortunately been mainly on the "up"  with we here in Adelaide notching up some sort of a record for the number of consecutive days over 22 degrees. Scott the golfer has had several "downs" among his many "ups" but still manages to be popular. Rolf Harris could well have done with a few more "downs" but dont let us mosey along that path and probably one of the most important "ups" to us is that our flying numbers were up to such a height that for the first time this year, we managed to pay the rent to the Netball Stadium. My first picture features a group of fine looking gentlemen, mainly making their first visit to our Indoor Flying and what a welcome they were. I can only hope that they return.
[caption id="attachment_6251" align="aligncenter" width="600"]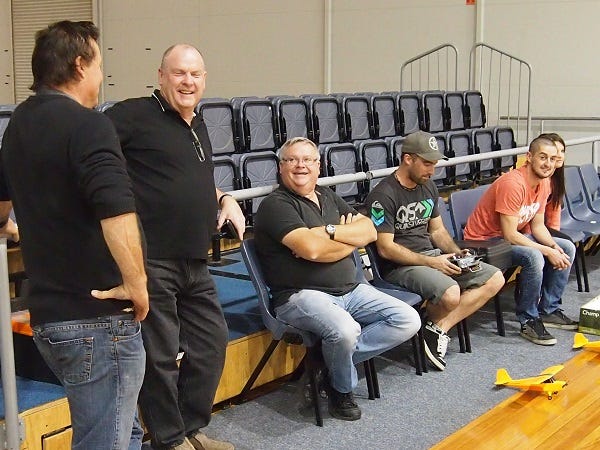 Newcomers[/caption]
As most of you would be aware by now, because we are flying at the earlier time of 7.30p.m. to 9.30p.m. We have been relocated from the fairly spacious Court One to a slightly smaller Court Two and, despite a couple of murmurs prior even to commencing flying, by the end of the night all had enjoyed a fairly full night. The Sefangs, both father and son, seen here, appeared to enjoy their fill of entertainment and were ready to be homeward bound by 9.30p.m. Mike has made wonderful inroads and successes in being his dad's instructor and we noticed that Mike was able to spend much more time with his own models.
[caption id="attachment_6252" align="aligncenter" width="600"]
The Seafangs[/caption]
Even though we had only been on Court Two for a few minutes, cracks appeared everywhere but even so they caused little concern and when three of them were stood on their tails they looked like this.
[caption id="attachment_6254" align="aligncenter" width="600"]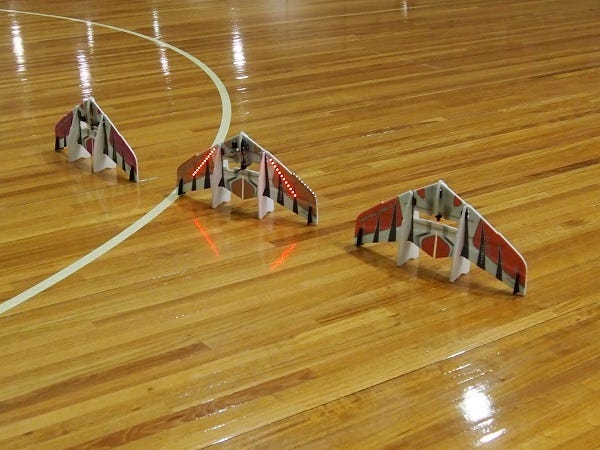 These are their Cracks[/caption]
We were in for an enormous surprise and I do not hesitate to say that if these three "Cracks" (yes that is their name) had been in the hands of other fliers, they would not be suitable for Indoor entertainment. They were race-speed fast.  You have a close-up of J.J.'s craft in my next shot and you will notice that the propeller is mounted in the slot towards the rear of the craft. (It is quite dangerous writing about these aircraft - what a dreadful name - I was about to say this is a picture of  J..J. and his crack - see what I mean?) As it turned out though, they could not have been in more capable hands and here you will notice Chappy filming the actions of Mike Holmes and J..J. as they put these exciting models through their paces.
[caption id="attachment_6256" align="aligncenter" width="600"]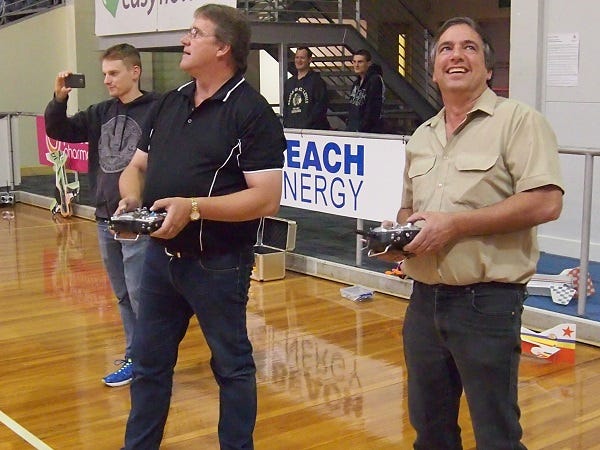 Chappie, Mike and JJ[/caption]
They  really were some of the most exciting exhibitions of flying that I have seen in many a month.  Someone at the stadium had left quite a long string of streamers hanging from one of the big lights and, ofcourse, that was like a red rag to a bull and did not take long for J.J. to entertain us with some streamer cutting until every bit of ribbon had been cut and floated to the floor. He was ofcourse aided and abeted by his fellow partners in crime but, to his credit, J.J. was on hands and knees picking up every piece of streamer leaving the stadium as immaculate as when we arrived. Thanks John. My final shot this month is of Mike Holmes with a close up of his "Crack." There, I've said it.
[caption id="attachment_6255" align="aligncenter" width="450"]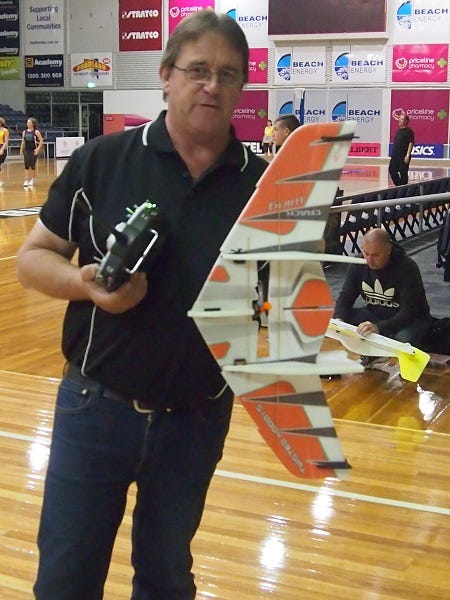 Mike and his Crack[/caption]
With that parting shot I'm out of here. Please remember that we will meet for communion once again on 19th June at the new flying time of 7.30p.m. to 9.30p.m. It will still only cost you ten bucks.