INDOOR FLYING IN MAY
We had a reasonable number of fliers attend our meeting for May and, as usual Mike arrived with some new models with the emphasis on an electronic marvel of modern day inventions. My first pix is of the "receiver" which is mounted on his DX9 Transmitter and it receives pictures from the camera on his Drone or Quad. I think that you will agree with my name of "The Spider" when looking at the next shot of the quad in flight.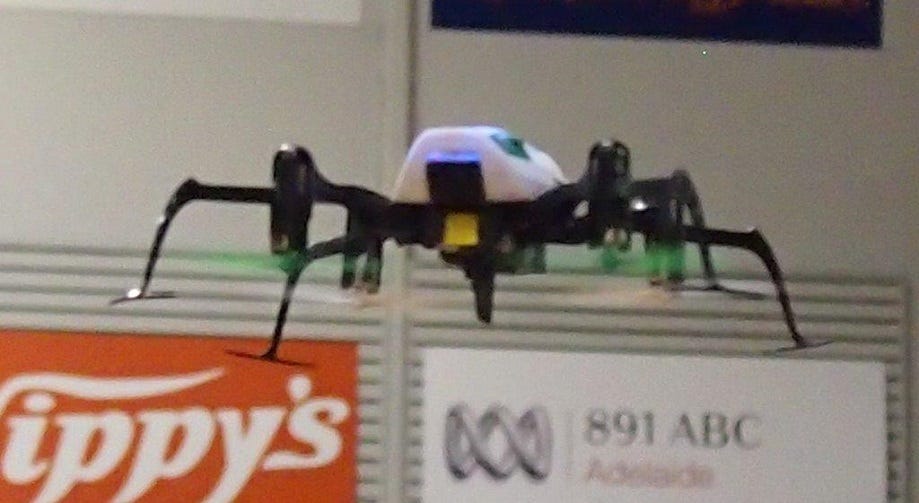 The camera is mounted just behind the little yellow square and the quality of the reception was magnificent.
We welcomed a very happy young gentleman, Mark, who must have been enjoying himself because of the smile that seemed to be an added or permanent fixture right in the centre of his rather prominent beard. Mark arrived with two foam models - one being a twin-engined curved or scalloped wing aircraft of quite attractive appearance. His other 'plane, seen in the picture beneath his beard was a ducted-fan model which flew very nicely, although one could not help notice a fair amount of repair to its nose.
During the evening Mike gave several very attractive and active demonstrations of an E-flite model of the PT-17 from Horizon. A very attractive bi-plane and, in Mike's skilled fingers, it was a delight to watch. It is a new model to Adelaide so, if interested, I suggest that you pop in to see Brad at Model Flight's Goodwood Road Store.
It is always a pleasure to share our evening with the larger (in numbers that is) members of the Jacobsen family and, on this night, Tom the father was joined by Jarrad and Shaun, the sons. In this picture they are heavily involved in studying Mikes pictures??
Whilst there, you might find interest in the latest to arrive, The Blade 200 SR-X and, although the picture doesn't show it, the motor is mounted on the tail which means that there is no long drive shaft running inside the boom This, in a similar manner to which we witnessed the UMX PT-17, we got much satisfaction in the flying demonstrations of the Heli.
Finally, dear friends, with the chill of Winter already upon us, my final picture shows the latest in hand warmers that are also available from Model Flight. These very attractive JR gloves come with the "flying fingers" bare so as not to interfere with your soft touch.
I look forward to renewing our acquaintance on Thursday, June 11th, between 7.30 and 9.30PM when once again I shall enjoy the company of our fellow fliers.
La Fenice