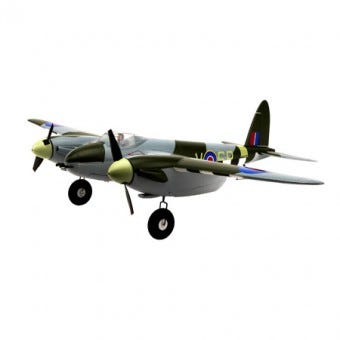 If you have an appreciation for scale warbirds, this new release from ParkZone is sure to capture your attention. The
Mosquito Mk VI
has just been announced and it has many noteworthy features. This is the first twin-motor park flyer from ParkZone and, in keeping with their traditions, ParkZone have ensured that this plane delivers smooth and predictable flight characteristics. The dual motors have been mounted so that their counter-rotating props and thrust angles smooth out the effects of abrupt power changes. This makes this model R/C plane as fun and as relaxing to fly as any other single-motor ParkZone model. The motors in question are 370-size, 1300Kv brushless motors, both of which are powered by a single 3S 2000-2200mAh LiPo pack (sold separately). Even if you add the optional flap servos and electric retracts (sold separately), you will find that this economical power system delivers more than enough performance for sport aerobatics and fast strafing runs. You will also find that the flight times are just as long as any single-motor
ParkZone warbird
. As we have alluded to, the Mosquito RC plane can accomodate functional flaps and retracts. All that you will require are two
ParkZone SV-80 servos
for the flaps and a set of
E-Flite 10-15 size main electric retrcts
. This model aircraft has been designed with these components in mind, so the installation will be easy. Another great feature of this model plane is its numerous scale details.
ParkZone
 have given the aircraft the trim scheme and markings of a Mosquito Mk VI that flew with the 464 Squadron of the Royal Australian Air Force. The invasion stripes partially cover the squadron code letters on the fuselage; similar to how they appeared on the full-scale version. Other details include machine guns in the nose, cannon ports in the chin, engine exhausts and a painted pilot figure.
Modelflight
is very excited about this new release. If you are keen to find out more, visit our website today to be notified about the Mosquito's arrival.
Click here
to be notified about the arrival of the ParkZone Mosquito Mk VI RC Plane.