Hot off the release of their UM P-51D Mustang, ParkZone have released another (and slightly larger) warbird - the Focke-Wulf 190A-8. If you are a fan of scale RC planes, take note. The Parkzone Focke Wulf showcases intricate details that make it look like the full-size version flown during World War II. We were fortunate enough to get a sneak preview of this new ParkZone plane and we put together two videos for Modelflight's YouTube channel. In the first video, Matt unboxes and reviews the Focke Wulf:
As you can see, ParkZone have done exceptionally well with the scale detail of this RC plane. With a functional engine fan, panel lines, pilot and cockpit details, the Parkzone Focke Wulf 190 is an impressive model. Even the trim scheme reflects that which appeared on the full-scale plane flown by World War II ace, Kurt Buhligen.
ParkZone have created both a BNF and PNP version of the Focke-Wulf. As such, there will be some assembly required (less than one hour though).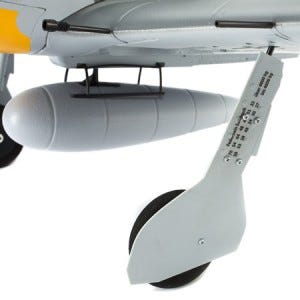 With a powerful 15-size 950Kv brushless outrunner motor installed, you this RC plane has the performance to match its appearance. In order to complete the Parkzone Focke Wulf, you will require a 4+ channel DSM2 or DSMX transmitter. We would recommend a 6+ channel transmitter, such as the
Spektrum DX6i
, so you can operate the optional tank release and retract system. We would also suggest the use of the
2200mAh 3S 30C LiPo battery from E-Flite
 and the
ParkZone LiPo charger
. The FW 190A-8 is another exciting release from ParkZone. If you cannot wait to experience this RC plane in all its glory, visit
Modelflight
today.