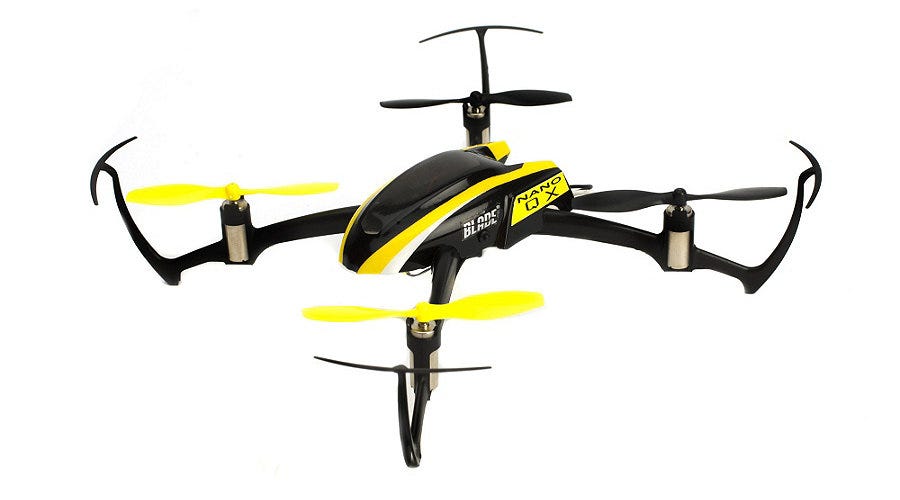 Modelflight
are pleased to announce the latest
RC quadcopter
 from
Blade
, the
Nano QX
. This is one small heli, but it is big on features. The Blade Nano QX features the latest flying innovation: Sensor-Assisted Flight Envelope (SAFE). SAFE is sophisticated flight control software that allows the Nano QX to keep itself stable while in "stability mode". This means that the quadcopter will always stay in control and in an upright fashion. If you experience any difficulties, you can just let go of the controls and the SAFE technology will bring the Blade Nano QX back to a hover all by itself.
On Modelflight's YouTube channel, Matt was able to put together an unboxing and review video for the Nano QX (both the RTF and BNF versions). You can watch this video below:
As you can see, this RC heli has much to offer. With two different colour schemes included in the box, the Nano QX has a striking appearance. Additionally, the new USB battery charger from E-flite makes charging the heli's battery very convenient.
In order to give you an idea of what it's like to fly the Blade Nano QX, we have also uploaded a demo video below: As the video shows, the Blade Nano QX's SAFE technology allows it to maintain stability. It is very easy to fly this quadcopter, making it great if you are a beginner pilot. If you have more intermediate skills, though, you have the option of turning off the SAFE technology, thus switching the Nano QX to "agility mode". This gives you faster flying speeds and more manoeuvrability.
The Nano QX is a very exciting release from Blade Helis. Whether you are a beginner or intermediate pilot, you are certain to enjoy the fun that this RC quadcopter can offer. With the new SAFE system, this model is at the cutting edge of RC technology. Visit Modelflight today to find out more.