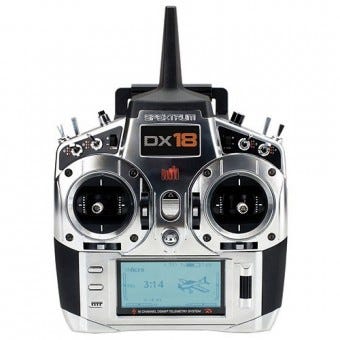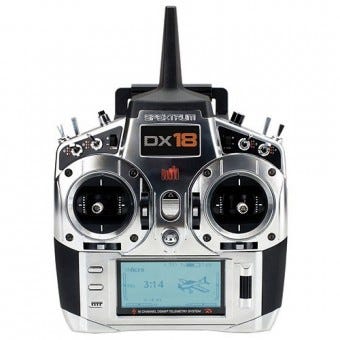 For the professional model pilot, the news does not get better than this. Building upon the solid foundation set by the original DX18 transmitter, Spektrum will be upgrading this class-leading RC radio in 2014. The new Spektrum DX18 comes with everything you require for high level control, and then some.
For example, the new DX18 comes with programmable voice alerts. Originally introduced with the DX9 transmitter (and recently added to the new Spektrum DX6), this is an outstanding feature for an 18-channel radio. The alerts will allow you to keep a tab on all the important functions without the need for you to take your eyes off your model. These alerts can be programmed to call out the flight mode you have chosen or report telemetry information when required. If an alarm goes off during flight, there is no need to look at your display anymore - the DX18 will tell you.
You will notice that the new Spektrum DX18 has a broad range of sailplane programming features, including ten available flight modes, five wing types, three tail types, two motor types and flap delay with elevator compensation. You even have the option of adjusting individual servo characteristics (such as end points, travel and centre) for all 18 channels.
What's more, the new DX18 transmitter comes with a built-in sequencer, allowing you to program a sequence of switch-activated events with time delays between these events. For example, by flipping the gear switch, you can have an auxiliary channel open the landing gear doors, then have the retract channel lower the landing gear, before the auxiliary channel finally closes the gear doors after the gear is extended.
Complete with an extraordinary 250 model memory, the 2014 Spektrum DX18 is a valuable asset for pilots. It will be coming soon to Modelflight, so visit our website today to find out more.
Click here to read more about the new Spektrum DX18.