TLR have just announced their latest RC buggy, the 22-4. The culmination of 2 years of testing, refining and attention to detail, the new TLR 22-4 comes with many cutting-edge features. Every component of this TLR buggy has been designed, or chosen, by some of the best engineers and drivers in the world. It is underpinned by a 2.5mm hard-anodized aluminium 7075 chassis and comes with a sealed 3-belt drivetrain with modular covers.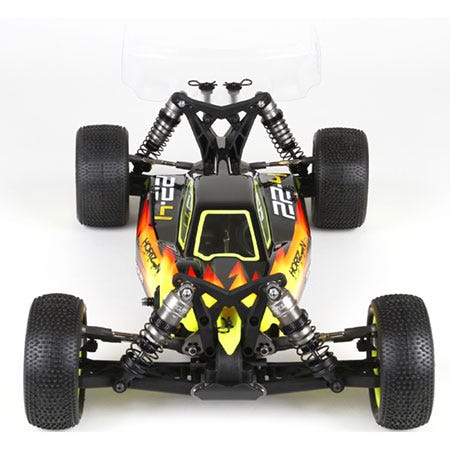 Team Losi Racing have given the 22-4 buggy a centralised forward motor mount and Gen II hard-anodized, big bore 12mm emulsion shocks. It features an adjustable steering ackerman and HDS slipper clutch. This RC car is also equipped with ball differentials that come with tungsten carbide balls. Some of the other features include universal driveshafts, a compact one-piece wing mount and full ball bearings.
The TLR 22 4WD comes with an integrated battery restraint system and an updated mid-cab body and wing. You also have the option of using a front one-way clicker or full-time 4WD. The 22-4 buggy comes with front and rear camber blocks included and titanium carbon nitrade (Ti-CN) hinge pins. There are also aluminium rear toe plates and spindle carriers included. The rear anti-squat is also adjustable.
Whether you are club racer or are seeking a championship title, you will find that the new 22-4 ranks among TLR's best RC cars. Because it comes in kit form, you have the chance to customise the RC buggy to your specifications. On our product page for the 22 4WD, you will find some suggestions of products you can use to complete the model.
We are very excited about the release of this new 1/10-scale buggy. It is coming very soon to Modelflight, so visit our website today to be notified when it is in stock.
Click here to be notified about the arrival of this TLR RC car.