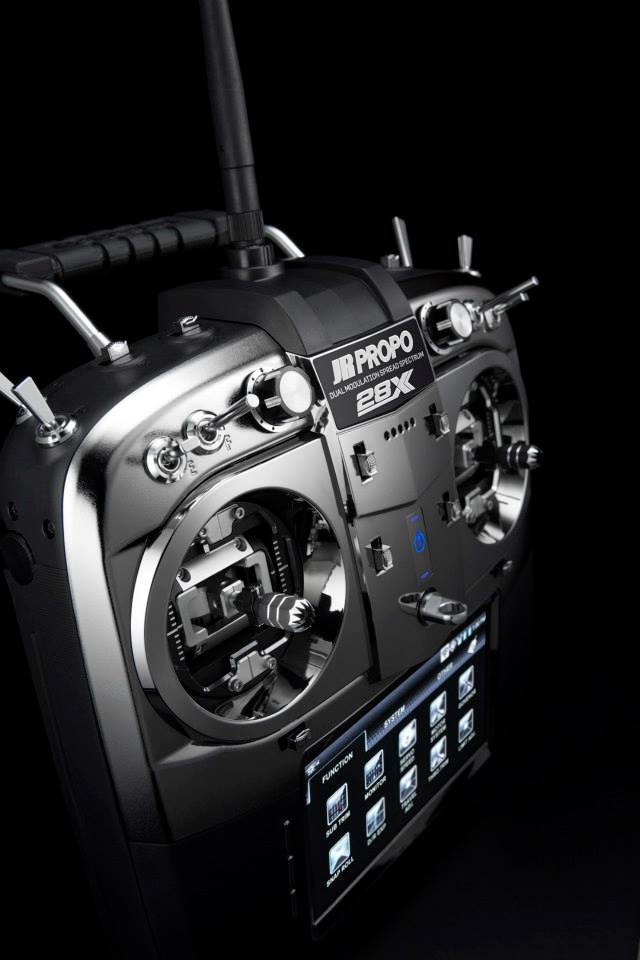 JR 28X Radio
JR just introduced at the AMA Expo the new JR 28X radio to replace the legendary JR 12X.
We are pleased to announce that samples of this new transmitter will be on display at the Monarto Jet Action event from May 30-31 and the LSF Glider Tournament from June 6 to June 9 at Jerilderie, New South Wales.
Here are some of the exciting features:
Android OS: New interface with the Android OS and a TFT colour touch screen.
Dual CPU: The 28X is very reliable with the dual CPU system. One is for control the transmitter and the other one is for user interface provided by the Android OS. All the critical functions will not be affected if Android OS failed.
USB host controller: The Radio 28X has an integrated USB host port. USB devices can be connected to this port for seamless data interface.
Audio device: The 28X can play music and provides voice alerts such warning and information from Telemetry sensors.
SD card: SD card can be used to transfer model data, pictures, sounds, and telemetry log. It can also be used for firmware updates. The flight log data can be used on the Flight Log Viewer (will be available at JR site.)
Colour LCD: A new 4.3" (480px by 272px) WQVGA-TFT resistant touch screen. The interface is multi-language.
Vibrator: Users can be worn by vibrations which configurable in the settings.
Full metal gimbals: A new full metal gimbals has been designed for this RC radio, mounted on Aluminium die-casting inner frame (ADC12). This luxurious mechanism provides extremely solid and precise feeling at all position.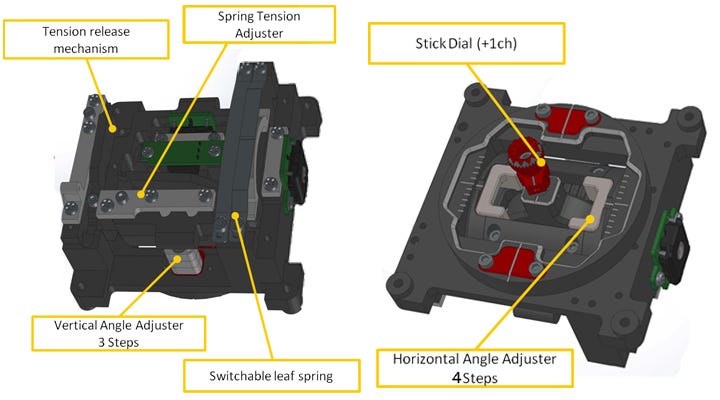 Stick dial: A stick dial has been added on both sticks. Two additional channels can be assigned to them.
Ultra resolution: The stick resolution is 65,536-frames which promises the best control ever. (16 times higher than the XG11)
Long lasting power: The JR 28X comes complete with a LiFe 3200 mA battery. (Made in Japan Panasonic/Sanyo)
Detachable antenna: The antenna can be removed when the Radio JR 28X is not in used.
Switch module replaceable: Both of the shoulder switch blocks are replaceable to the options switch module of the pilots choosing.
Interchangeable switches: All the switches can be interchanged for 2-position switch, 3-position switch, momentary switch, button and rotary type of the pilots choosing.
Flight mode: 15 flight modes have been prepared for all Acro/Heli/Sailplane modes.
Customisable flight mode: Each flight mode can be fully customised including the stick positions.
Curve adjustment by trim switch: Trim input switches can be used for curve adjustment during flight.
Curve adjustment 2: The entire curve can be increased/decreased using the trim input switch while the curve shape does not change.
Wing types: Many varied pre-settings help as a wizard during the set-up: 4 flaps, 4 ailerons, 2 spoilers, 4 engines, etc.
Rich delay functions: Delay feature can be used at almost all setting functions.
Gear sequencer: The programmable sequencer is prepared exclusively for landing gear.