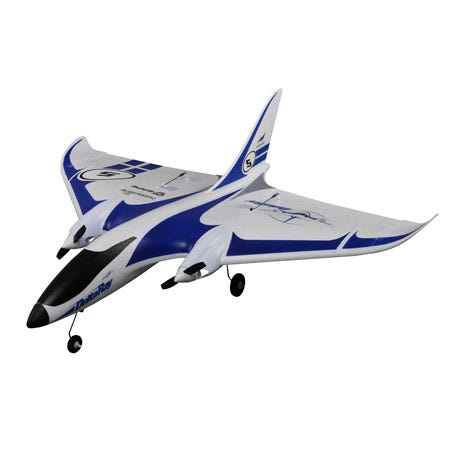 It's sleek, it's modern and, would you believe, it is a trainer plane! The brand new Delta Ray from HobbyZone is a very exciting RC plane for beginner pilots. Its appearance alone is impressive, but underpinning the Delta Ray is the innovative SAFE Technology. This gives you the flight assistance and envelope protection you need to have an easy-going flying experience.
One of the other benefits of the Delta's SAFE technology is the inclusion of a "panic mode". Should you lose control mid-air, you can activate panic mode with the push of a button on your transmitter. The Delta Ray will then return to level flight immediately. This is a very handy feature when you are learning how to fly for the first time. Because this is a ready-to-fly RC plane, everything you need can be found in the box. This includes the transmitter you need to operate the Delta Ray is included with your purchase. The transmitter is a full-range DX4e 2.4GHz DSMX radio from Spektrum. You will find this transmitter to be very easy-to-use. If you are looking for something more advanced though, this HobbyZone RC plane can be controlled with a DX6i transmitter.
An additional benefit with the Delta Ray is its impact-resistant Z-Foam construction. Z-Foam is very durable, so in the event of an accidental crash landing, this beginner's RC plane should be able to withstand the hit. The Delta Ray has full 4-channel control with differential thrust; allowing for a smooth performance in the air.
If you are a beginner pilot, a trainer RC plane is a great place to start. What differentiates the HobbyZone Delta Ray from the other trainers, though, is its bold appearance and cutting-edge technology. This is a very exciting new release at Modelflight and we look forward to hearing how first-time pilots go with the Delta Ray.
The Delta Ray is coming soon to Modelflight, so click here to find out more.