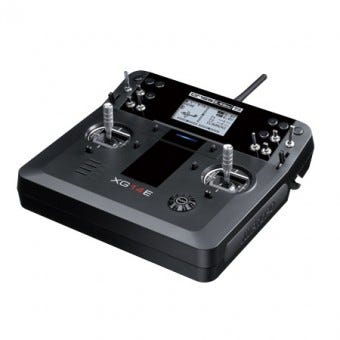 Recently on Modelflight's YouTube channel, Mike provided an update on some of the new releases that have are now available on our website. If you haven't seen the video yet, check it out below:
As you can see, there has been a lot of new arrivals the last few weeks and this blog post will discuss the products that Mike covered, beginning with the JR XG14E.
JR XG14E
This is a classic European-style transmitter. If you are a fan of tray radios, this new release from JR will have great appeal. In terms of functionality, it is very similar to the original high-tech JR XG14 transmitter. As Mike mentioned, there are also a wide range of option parts that you can use with the XG14e, such as palm rests, transmitter tray arms and a specially-designed transmitter case. If you prefer tray-type radios, the XG14e is an excellent choice; offering European styling with the high quality that JR is renowned for.
JR DS8411HV Servo
Another great release from JR is their DS8411HV servo. As Mike described, this is a high voltage version of one of the most popular JR servos we have had at Modelflight. It is a great little package, coming with dual ball bearings, metal gears and an incredible 17 kilos of torque! If you are the owner of a giant-scale model plane, the DS8411HV is a great investment that will deliver the performance you need.
Dualsky VRU Mini
This compact voltage regulator weighs a mere 20g and can be used at 5, 6, 6.4 or 7.4 volts, making it very versatile. This switch-mode option ensures that heat build-up is minimised. It comes in a full metal case and has a 4.5-amp output. It has very broad applications and will make for a good addition to your model.
Dualsky FC130 Flight Control System
Another great offering from Dualsky is this 3-axis flight control system. Weighing only 8g, this little unit serves as a stabiliser for your model, allowing you to maintain your direction in the air, particuarly during turbulence or other air current. This is a great choice for beginner pilots, but if you find that your aircraft in general can be unstable at times, this would be an excellent solution.
E-Flite Power 360
The final product Mike looked at was the E-Flite Power 360. This is one of the largest motors in E-Flite's Power series; the electric equivalent of a 50cc petrol engine. This is a great brushless motor for 2.2 to 2.4m model planes. It can run on a 12S LiPo system (usually two 6S LiPo batteries). As Mike suggested, the Dualsky 6250HED batteries would be a great choice for this motor. If you want electric power for your giant-scale model, the E-Flite Power 360 is definitely the way to go.
We hope this blog post (and Mike's video) gave you a good idea of the new products that are available at Modelflight. We will be sure to cover additional new releases as they come online, so stay tuned for more!