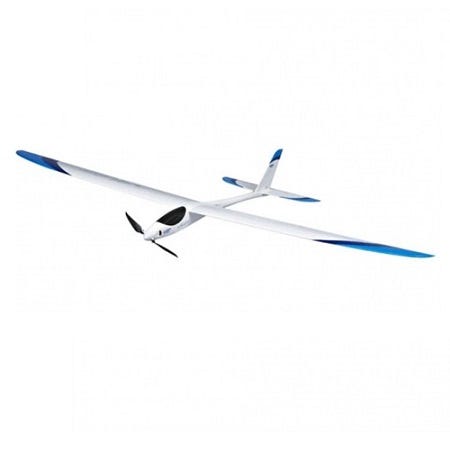 The last few weeks has seen some exciting additions to the range of model gliders at Modelflight. Today, we will be looking at three of these new gliders, beginning with the KA-3 scale vintage glider from VQ Models. This glider comes with a 3000mm wingspan and is constructed from laser-cut balsa and plywood. The KA-3 is covered in genuine ORATEX covering material. It features a fully-airfoiled V-tail (which can easily be removed with two screws). VQ Models have added a towing mechanism, which comes factory-ready, so you will be able to get this RC glider into the air easily. An electric spoiler is also included (this too comes factory-ready). Because the KA-3 comes almost-ready-to-fly, you will need to to supply your own radio, servo, receiver and servo extension leads. We have a list of suggested products here.
The second RC glider is the E-Hawk from Thunder Tiger. This is a great glider for beginners. It is constructed from a one-piece ABS fuselage and comes with a 2m wingspan. The E-Hawk has E-387 performance airfoil with 1 degree washout. While this model is almost-ready-to-fly, it does come with a brushless motor and ESC. You will need to supply your own radio, LiPo battery and other components for the E-Hawk, but we have suggested some suitable items on the product page.
The third and final glider is the Longshot 4 from Horejsi. This hand launch glider has a carbon and Kevlar gondola and the wing and tail surfaces have been made from extruded polystyrene, fibreglass and carbon. The Longshot has reinforced pipe stiffness that has been increased by about 50% and the tail has been reinforced with carbon. This allows the glider to quickly stabilise after launch. Similar to the previously mentioned model gliders, this Horejsi glider is almost-ready-to-fly, but there are some suggested completion products on the Longshot's product page.
We will keep you posted about all new RC gliders that arrive at Modelflight. In the meantime, be sure to check out our website to see some of the other gliders we have in stock. Happy flying!