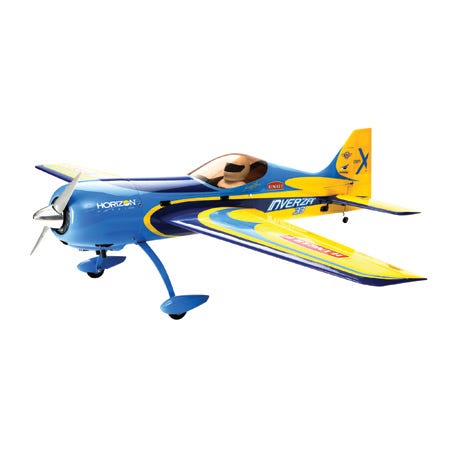 A bold
model plane
has just emerged from
Hangar 9
. Designed by Quique Somenzini, the
Inverza 33
comes pre-set and drilled to accomodate the
33GX engine
 from
Evolution Engines
, but can also work with a 180-class electric outrunner system. Whether you want to perform scale aerobatics or aggressive 3D, the Inverza RC plane is an excellent choice. Thanks to its large control surfaces and wing area, this Hangar 9 model plane is very stable and predictable, even when you are flying at a slow speed or hovering. The Inverza has been designed to minimise control coupling, whether your maneuver is upright, inverted or on a knife-edge. The Inverza is constructed from balsa and plywood; providing a great balance between strength and light weight. It is covered in genuine UltraCote, with a trim scheme provided by aircraft designer Mirco Pecorari. This stunning colour scheme gives the Inverza a significant presence on the ground and high visibility in the air.
This 3D model plane's two-piece wing connects with a carbon fibre wing tube. The ailerons and elevators come pre-hinged with a tight seal, so you can get up into the air faster. Hangar 9 have given the Inverza an oversized hatch, which features a tinted canopy, scale instrument detail and space to include a pilot figure of your choice. Some of the other great features of this RC plane include aluminium landing gear, a factory painted fibreglass cowl and matching wheel pants. If you are looking for your first 3D plane, look no further. The Inverza 33 offers amazing capability, and an appearance to match. It is coming soon to
Modelflight
, so make sure you visit our
Inverza 33
page today to find out more. Stay tuned to this blog for all the latest releases in the world of model planes.
Click here
to be notified about the arrival of the Inverza 33.