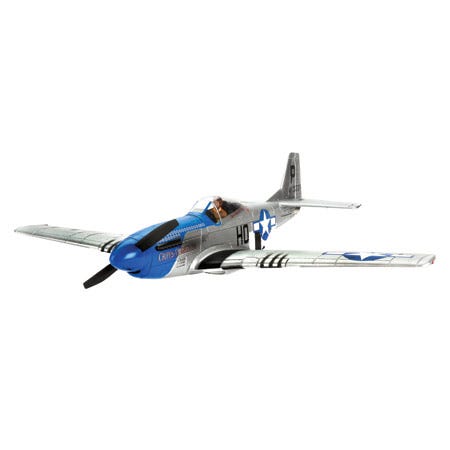 E-Flite have just made a great addition to their range of scale RC planes with the launch of their P-51D Mustang 280. This model aircraft accurately replicates the famed North American Mustang; completely painted with detailed markings of George Preddy's "Cripes A' Mighty 3rd". It comes with a custom propeller and a matching scale-shaped spinner installed. Constructed from durable, finely-moulded foam, the Mustang RC plane can easily be flown in a small field or park.
This BNF RC plane requires minimal assembly. All you will need to do is bolt the wing to
the fuselage, connect the 3S LiPo battery under the magnetic battery hatch and bind a DSM2/DSMX compatible transmitter. The P51-D Mustang Rc plane comes with an E-Flite 450mAh 11.1V 3S 30C LiPo battery with a JST connector. All you need to supply is a suitable radio and a battery charger.
Powered by a brushless 280-size 1800kV motor, this E-Flite model plane has the muscle to perform like war hero. This powere is coupled with high-speed digital servos that come pre-installed, along with a DSMX Nanolite 6-channel receiver from Spektrum. This E-Flite RC plane also comes with a static display stand, so you can mount the airplane for display in your home or office.
If you appreciate scale detail, the E-Flite P-51D Mustang is a worthy addition to your hangar. This warbird excels in both its appearance and performance. Capturing the spirit of the original fighter plane, the Mustang will be an exciting arrival at Modelflight.
Click here to be notifed when the E-Flite P-51D Mustang arrives.