We recently received some exciting products including the Arrma MEGA Typhon and the new E-flite Citation Longitude. In this blog post, we're going to highlight a few of our favourite arrivals – let's get into it!
Arrma Typhon MEGA 550 RC Buggy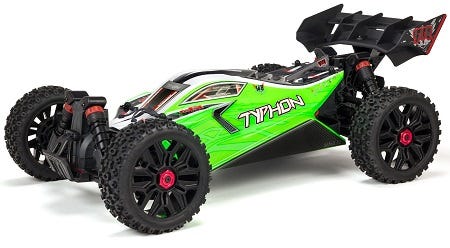 The Arrma Typhon MEGA 550 is a new product that is Ready-To-Run and an affordable way to get into RC. It is a 1/8th Scale 4WD buggy making it perfect for BMX tracks and parks – it can get over large obstacles, has more suspension travel and is a bit better at landing big jumps than a 1/10 scale car. It comes with a battery, charger, all the electronics and a transmitter, so all you need to do is charge the battery and get driving! Maybe even grab a spare battery to give you some extra run-time. The transmitter is the Spektrum STX2 that features throttle limiting switch which can limit the throttle between 50%, 75%, or 100% if you want full power. A great feature for beginners to experienced drivers.
Under the body of the car, there is an 8.4V NiMH battery pack that will give you good performance and durability. You can run NiMH batteries totally flat, so there is no risk of damaging the battery like a LiPo, so for kids or people that are new to the hobby, NiMH batteries are a great option. Included with the ARRMA Typhon MEGA 550 is an ARRMA brushed ESC and motor, with a nice high-torque metal-geared servo. The car itself is quite sturdy with similar construction to the 3S Typhon and other cars in the 3S 1/8 scale range. It is nice and simple, easy to work on and an extremely durable car that's going to stand up to pretty much any abuse you can throw at it.
E-Flite's Cessna Citation Longitude private jet replica
A brand-new arrival from E-flite is an officially-licensed ultra-micro replica of the Cessna Citation Longitude jet. This beautifully modelled 30mm twin EDF comes in a Bind-N-Fly version, and you will need to add an 800mAh 3S LiPo battery with a standard JST connector, a 6+ channel Spektrum transmitter (e.g. the Spektrum Dx8 or DX8e) and a compatible charger. The manual includes all the information you will need to set this up in your radio and then it's a matter of binding and flying – it's as simple as that!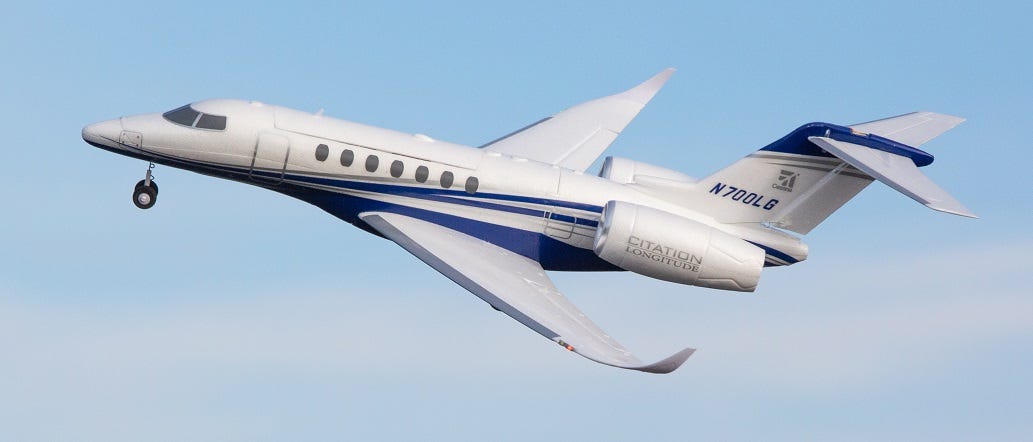 The E-flite UMX Citation Longitude comes fully pre-assembled in the box and has a superb scale outline, trim scheme and features LED navigation and landing lights. It features SAFE Select and AS3X technologies making it easy to fly. Pair these technologies with its convenient ultra-micro size and this RC plane is perfect for flying at footy ovals, soccer fields, large parks and empty paddocks.
ECX AMP Desert Buggy
Anyone who's looking to get into the world of RC and looking for the perfect beginner car, the ECX AMP is a fantastic option. This RC car is available in a couple of different versions and colours. We've received more stock of the DB version, which stands for desert buggy, but there is also an MT (monster truck) version and an assembly kit version, so depending on what you'd like, your taste and style, you can pick one to suit.

The ECX AMP Desert Buggy is a ready-to-run, 2WD RC car that features a brushed power system and performs well on all terrains including BMX tracks, parks and bitumen. Everything you need is included in the box – a battery, wall charger, transmitter and even the AA batteries for the transmitter. The run time on this RC buggy is about 10-12 minutes depending on how you drive, with a top speed of 25 – 30 km/h making it perfect for beginners to learn how to drive - it's not too slow where it won't be fun to drive, but not too fast either. The ECX AMP is also fully upgradeable. You can buy option shock absorbers, upgrade the diff to metal, as well as upgrade to other aluminium parts if you want to increase the durability or change the look.
F-18 Hornet from E-Flite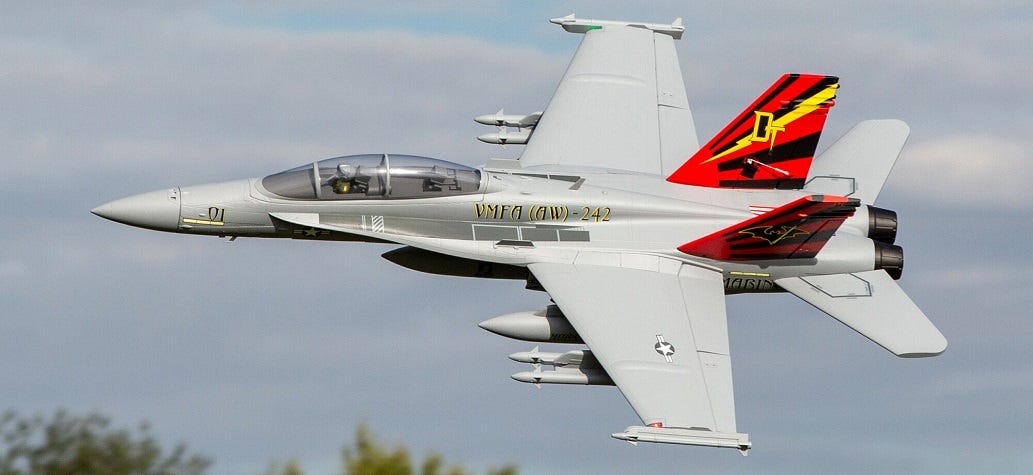 For the scale lovers and EDF fans out there, we have the F-18 Hornet from E-flite. It comes as a Bind-N-Fly, including the AS3X and SAFE Select receiver pre-installed and you will need to add a 6-7+ channel transmitter, 6S LiPo battery and a compatible charger. Spektrum's DX8e radio would be a great choice for the transmitter, as the F-18 Hornet features retracts and flaps, so you can run everything on an independent switch. However, a 6-channel radio would still be suitable. This Jet features a 12-blade EDF unit with a 100A ESC installed, combine that with the included in-runner brushless motor, and a 6S LiPo battery, and you have one powerful system! We wouldn't recommend this RC jet for beginners; it will take some experience to fly even with the SAFE technology installed as this model is high-performance. We would recommend this model for an experienced pilot.
Pro Boat Stealthwake RC boat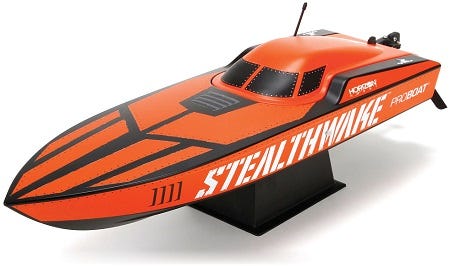 Pro Boat's Stealthwake 23-inch deep-V is a great entry-level boat. It is very durable and one you can take out to rivers and lakes, where there is some running water and have a bit of fun. Although you can run this RC boat in saltwater, we wouldn't recommend it as the maintenance is quite intensive. If you are going to run this RC boat in a saltwater environment, be prepared to do the maintenance required to make sure the boat has a long life, otherwise, you could find yourself having to replace parts quickly.
The Stealthwake comes factory assembled and with everything you need including a NiMH battery, wall charger and even a boat stand. All you need to do is charge your battery and go. If you're wanting to upgrade your Stealthwake down the line, the included ESC is 2-cell LiPO battery capable, so you can purchase a LiPo pack and compatible charger, and you'll get even more performance out of this fantastic RC boat.
We hope you have enjoyed looking at these arrivals from Arrma, ECX, E-flite and Pro Boat. If you have any questions about these products, please contact us and one of our sales representatives will be more than happy to assist.