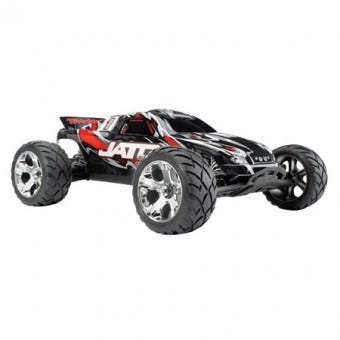 As you are probably aware,
RC cars
are tonnes of fun. Whether you driving on-road or off-road, these remote control models are really enjoyable.
Modelflight
is proud to offer a wide range of RC cars and today, we wanted to talk about some of the best remote control cars we have available. The cars we cover in this blog post will appeal to drivers of all skill levels and driving styles. Recently on
Modelflight's YouTube channel
, Matt put together the below video; reviewing some of the best RC cars on offer: As you can see in the video, there a wide range of cars to suit different drivers. Let's have a closer look at some of these vehicles.
RC Trucks 
electric RC truck
or a
nitro RC truck
, these heavy-duty vehicles are designed for some serious bashing and crashing. In the video, Matt talks about the
Ruckus monster truck
from
ECX
. This is a best 
RC truck for beginners
. It's very easy to control and with its adjustable oil-filled shocks, you will be able to leave the elements in their wake. This 1/10-scale truck comes ready-to-run with everything you need included in the box, including a
Spektrum DX2E transmitter
and waterproof
SR201 receiver
; an excellent
radio system
that gives you interference-free operation.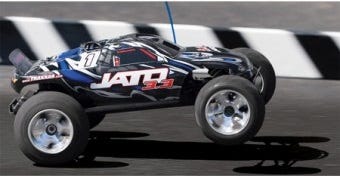 Matt also showed the
Jato Stadium Truck
from
Traxxas
. This is one super fast nitro truck. Capable of reaching speeds of 96.5km/h in 4.2 seconds, the 1/10-scale Jato is powered by a TRX 3.3 Racing Engine. This engine produces 60% more peak horsepower than Traxxas' original TRX 2.5 engine; allowing you to really perform at your peak. Traxxas have given the Jato Anaconda performance tyres, which really grip the surface. Similar to the Ruckus, this remote control truck comes ready-to-run with everything you need included in the box. With the kind of power on offer, though, we would only recommend the Jato for drivers with previous RC experience. It really is the best nitro RC truck. Two cars that also deserve a mention are the
Kalahari
and
Kemora
off-road RC cars from
Vaterra
. Both these vehicles have a mini 1/14 scale, but are more than capable of handling challenging terrains. They have tough 4WD chassis to withstand the elements and come ready-to-run with
Spektrum DX2L
transmitters and waterproof electronics. One of the things that makes these Vaterra RC trucks stand out is their scale detail. The Kalahari is modelled on the tough rally raid cars that take on the sandy tracks around the world. The Kemora was inspired by the rallycross cars that compete on the Kemora race course; one of the toughest in Scandanavia. Whichever one you choose, these are the best mini RC trucks and are true performers. You can see a review video of the Kalahari and Kemora below:
On-Road RC Cars
If you prefer the thrill of racing or drifting on the streets, there are some great models for you. In his video, Matt showed the
2012 Nissan GTR GT3 RC Car
from Vaterra. This is one stunning car. Featuring an officially-licensed Nissan GTR body, this 1/10-scale remote control car comes with a shaft-driven 4WD transmission, waterproof electronics and low-profile tyres on large diameter wheels. The GTR RC car is underpinned by Vaterra's V100-C chassis with a built-in front splitter and rear diffuser, similar to those seen on full-scale racing cars. While beginner drivers will find the neutral handling characteristics of this Nissan RC car to be easy to control, there are a range of tuning options available for more advanced drivers. If you like the sound of the GTR GT3, Vaterra also offer a range of other on-road RC cars, including the sleek
Nissan GTR
, a
2012 Chevrolet Camaro
 and a classic
1969 Camaro
. These Vaterra cars are the best RC cars for on-road racing. All of them have similar characteristics and come ready-to-run with everything you need included in the box. You can have a closer look at the Vaterra Camaros in the below review video: For fans of
RC drift cars
, you can't go past the 1/10-scale 
Sprint 2
 from
HPI
. This is a real performance-packed machine. Built on HPI's Sprint 2 platform, this remote control car is powered by a Thunderbolt 15T motor and a SC-15WP ESC. With its Bronze Rays/Volk TE37 wheels and Falken Azenis RT-615 drift tyres, the Sprint 2 was designed for tight cornerning and excellent handling. What's more, this car comes with a 2010 Chevrolet Camaro body; an imposing presence on the track. Just like Vaterra's RC cars, this HPI drift car comes ready-to-run, but you will need to supply your own
NiMH battery
and
charger
. The Sprint 2 is one of the best RC cars for drifting.
Buggies
In the buggy category, there are some amazing off-road RC cars to choose from. For the beginner driver, the
Boost RC buggy
from ECX has everything you need to hit the track. Ready-to-run with a Dynamite 20T motor and 15T ESC, the Boost is a zippy 1/10-scale buggy strengthened by a nylon composite chassis. It comes with a
Spektrum DX2E transmitter
 and a waterproof SR201 receiver. This radio system gives you a clear signal and great range as you speed across the track. Everything you need to get driving is included in the box. ECX have even added a 2.0A peak charger that comes pre-wired with high-current EC3 connectors. You can also choose a
red and white Boost buggy
or a
black and green Boost
. The Boost really is the best RC buggy for beginners.
If you are looking for something on a smaller scale, the
1/14th Mini 8IGHT
from
Losi
 is the best small RC buggy we have available. It is based on Losi's ROAR Championship-winning 8IGHT platform and is powered by a 4500Kv motor. Among its many features, the Mini 8IGHT comes with a
Spektrum SR300 receiver
, a 7.2V 1100mAh NiMH battery and 4WD shaft-driven drivetrain. Its this kind of setup that gives the 8IGHT the ability to power across the track with stellar performance. The Mini 8IGHT is a true star. Of course, for the professional RC car driver, nothing beats the best of the best. As shown in Matt's video, the
8IGHT 3.0
from
Team Losi Racing
rightfully claims this title. The best RC buggy for competitive drivers, the 8IGHT 3.0 is a 1/8-scale nitro buggy kit with all the features you need to be a strong contender in any competition. An evolution of the original TLR 8IGHT platform, the 8IGHT 3.0 was created under the guidance of some of racing's top drivers worldwide. It features improved suspension geometry, large bore shocks and a centre dog bone drive system. All of this translates into top-level performance. Because this RC car comes in kit form, you will require several components to complete it. Check out our page on the
TLR 8IGHT 3.0
for some suggested products. The TLR 8IGHT 3.0 is the champion's choice. If you are a fan of RC buggies, but also enjoy the thrill of a trail-blazing adventure, you will be interested in a recent release from Vaterra -
The Glamis Fear RC car
. This 1/8-scale remote control buggy comes with an innovative Viscous Torque Vectoring Differential, which prevents wheel spin on loose surfaces when you are cornering and running at full throttle. This level of actuation and consistent feel gives you the confidence to tackle a wide variety of terrains. The Glamis Fear comes ready-to-run with 3300Kv brushless power system, waterproof electronics and a 2.4GHz Spektrum radio system. If you would like to see more of this new RC buggy, check out our review and demo video below: We hope this blog post has shown you some of the best RC cars available. Whether you are a bush basher, professional racer, or street drifter, chances are Modelflight has something for you! If you have any questions about the RC cars we have covered in this blog post, please leave us a question below. You can also click on this link to
contact Modelflight
. For more information about our range of remote control cars, visit
modelflight.com.au/cars
today. Enjoy the drive!