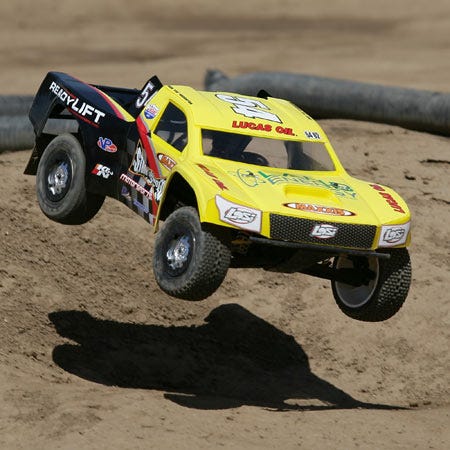 By Gary Katzer,
I've been very lucky in my career in that I have been able to see new products before they're actually announced to the general public. One of the products that was the hardest to not spill the beans on was the 
Losi XXX-SCT
. I had an opportunity to see most of the early CAD drawings in March of 2010 and was thrilled with all the extra details that were going into this project. This wasn't just a stretched XXX-T, quite the contrary. I knew from what I had seen the 
XXX-SCT
 was going to be a very special
short course truck
and had the potential to be the best-handling
Short Course Truck
out-of-the-box. After months of pestering Losi's Keith Whisler, asking him when it would be here, when I could drive one, when I could have one of my very own, I now have one sitting proudly on my workbench. Having seen this truck from the planning stages, the pre-production version and now the production truck, I am totally amped up to be able to hit the track with an 
XXX-SCT
 of my very own. Will it live up to my expectations? There's only one way to find out...