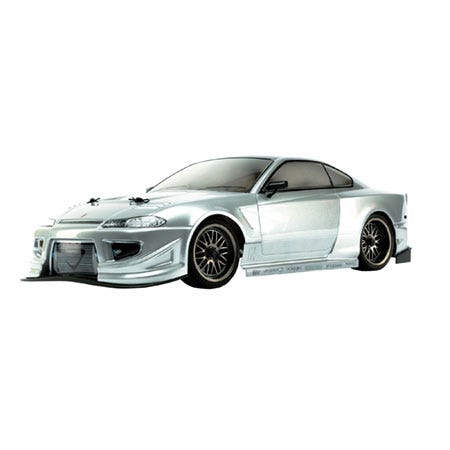 Vaterra made an exciting announcement today with the release of their brand new on-road RC car - the
2002 Nissan S15 Silvia
. This car is modelled on the same Silvias that are highly sought-after among the world's car tuners (and made famous by
The Fast and the Furious
movies). Consistent with this global image, the Silvia RC car features an officially-licensed Nissan body. This body features scale details such as side view mirros and headlight buckets. You will also receive an optional racing wing and front dive planes included with your purchase. This body is underpinned by Vaterra's reputable V100-C chassis, to give you both the look and performance characteristics for street domination. This chassis gives you a balanced, neutral handling car and its universal body mounts are compatible with most other 1/10-scale bodies. Vaterra have also included a built-in front splitter and rear diffuser, similar to the full-scale tuned Silvias that power through the streets. This remote control car has shaft-driven 4WD which gives you excellent traction on paved surfaces and excellent drift control when you are sliding around corners at full throttle. The differentials are sealed from the elements and can be tuned to suit your driving conditions. This Nisssan
RC car
also comes equipped with low-profile tyres on large-diameter 54mm wheels. These are complemented by brake and caliper details on the hub. You will notice how the rear tyres have more thickness than the front tyres, to give you better grip and more street cred.
on-road RC car
to recreate Fast and the Furious street racing in your own neighbourhood, the Vaterra Nissan Silvia is a must-have. It is coming soon to Modelflight, so visit our website today to find out more.
Click here
to be notified about the arrival of the Vaterra Nissan Silvia.