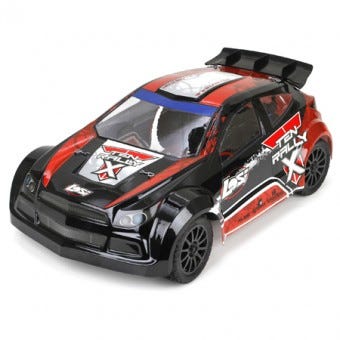 It was only a short time ago when we were thrilled to announce the Vaterra Helix with its
cutting-edge Active Vehicle Control (AVC) technology. Now this same technology is coming in a Losi RC car. The
TEN-Rally X
has just been released and we are very excited about what this 1/10-scale remote control car has to offer. As mentioned, at the core of this 4WD is the new AVC technology. This technology uses intuitive sensors to quickly adjust your steering and throttle output. With AVC, the Losi TEN-Rally X offers the control and stability you need so that your drifts become more dramatic and accelerations more fluid.
Active Vehicle Control (AVC) Technology
Let's have a closer look at AVC and how it works in the Losi Rally X RC car. AVC is a stabilisation system designed by
Spektrum RC
and there are three innovative features that make this system function:
Heading Hold
Heading Hold is designed to manage the steering output of the TEN Rally-X RC car. It automatically aligns the car's tyres to your chosen direction and, when centred, holds that direction regardless of the amount of traction or the ruggedness of the terrain. This allows you line up and hit the big jumps faster, confident in the car's complete control.
Throttle Management
With Throttle Management, this
RC rally car
can maintain maximum grip, even in the most challenging environments. By adjusting the vehicle's throttle output to minimise wheel slip, you can accelerate with total control. Irrespective of whether you are heading into a turn with too much speed or driving across a slippery surface where the traction is low, this Throttle Management helps you to maximise the traction when you need it the most.
Adjustable Sensitivity
The third feature with AVC is Adjustable Sensitivity. As the name implies, this allows you to adjust the amount of stability assistance AVC provides, depending on your skill level, driving style and terrain. Depending on the
Spektrum transmitter
you use, these adjustments can be made using programming functions or through a steering rate knob. If you would prefer, you can turn the AVC off completely for a more traditional driving experience where your abilities can really be tested. It's this AVC technology that really makes the Losi TEN-Rally X stand out from other
RC cars
. What's more, it comes ready-to-run with everything you need in the box. This includes a powerful brushless 4-pole motor, waterproof 130A ESC, Spektrum SRS4200 receiver (also waterproof) and a Spektrum DX2E transmitter with DSMR. We hope this post has given you an insight into this new release. If you have any questions about the TEN-Rally X, or any of our other remote control cars, feel free to leave us a comment below. The TEN-Rally X is coming soon to
Modelflight
, so visit our page today to find out about its arrival.
Click here
to be notifed about the arrival of the Losi TEN-Rally X.