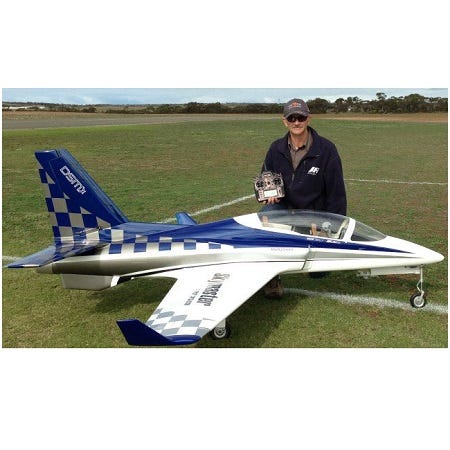 For the 20th year in a row,
Adelaide Model Aerosport
played host to
Jet Action
at Monarto Field and
Modelflight
was proud to be associated with this event. There was a large number of pilots from across Australia participating in the event and the crowd numbers were also positive. There were some very impressive models on show, including a Futura from Tomahawk Design, flown by Paul Martin. Several twins and Eurosport models were also at the event. We also noted several EDF models; not necessarily large ones, but big enough to put in solid performances.  One model that really captured our attention was the BVM King Cat, flown by Jason Starkey. We were able to capture some great event footage from Jet Action Monarto, which can be seen on
Modelflight's YouTube channel
. Check out our first video, which shows several model jets in action: In our next video, we filmed Mike flying the Skymaster Viper. This video also contains commentary from Mike as he gives you some insights about the flight: Our final video from the event shows Hamish flying the
JR E12 heli
. This is the Hiroki Ito Edition of the E12 and as you will see, it is one incredible heli: We hope you enjoyed watching these event videos as much as we enjoyed capturing them. There was a great atmosphere at Jet Action 2013. The conditions were ideal for jet flying and given that most of the models were turbine-powered, their performance was incredible. While there was a little bit of rain on Friday afternoon, there were plenty of undercover areas at Monarto field to escape the elements. The success of this event is a credit to Rick Davies and his team at Adelaide Model Aerosport and we thank them for what was an exciting weekend. Stay tuned for more event news from Modelflight.