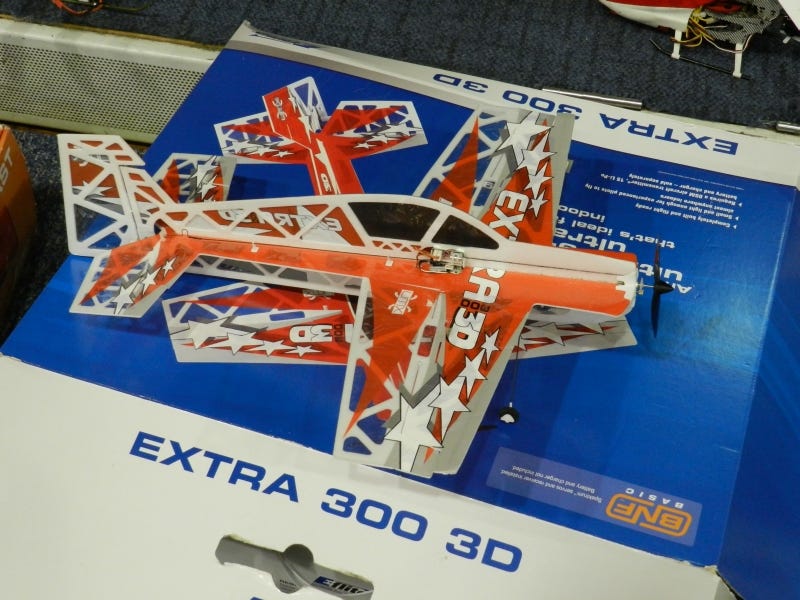 The break since our last gathering at Mile End seemed to have done little to lessen the enthusiasm of our indoor pilots as we made our way back to commence yet another year at the Netball Stadium. The hire rate has increased a little to $95 which means that the Southern Soaring League, who has, in the past achieved quite outstanding amounts from the "overflow" from the exhibitionists usual ten dollars per night, their income will decrease ever so lightly. For the indoor pilots, their fee of $10 for the two hours from 8.30p.m. to 10.30p.m. will remain the same, as will their flying times. As all spectators will again be admitted free, mothers-in-law will again be welcomed with open arms.Our flying times will remain as previously with one exception.
In March we will again create indoor havock, BUT IT WILL BE ON THE LAST THURSDAY IN THAT MONTH - the 29th
with the flying times the same for the entire year, in other words from 8.30p.m. to 10.30p.m. Please let me remind you all again that 10.30p.m. doesn't mean pack up and depart – it means at 10.28p.m. – pack up and depart – thank you. In the interim, from when I first began this story, much has been happening in other fields, well, sort of other fields. Firstly, our illustrious leader, whom as you all know is the Managing Director of
Modelflight
and O.M.P. (O'Reilly Model Products) Mike O'Reilly, together with his Business Manager, Jamie Nancarrow, who is the father of Carter, who just happens to be Michael O'Reilly and his lovely wife Janine's very first grand child, flew to Germany for the Annual World Toy Fair, the result of this, we hope, will create for us, some new and exciting flying machines in the not too distant future. With well below freezing temperatures – yes minus 26 some nights, having been back in Australia for a week now there is a possibility that their fingers are able to bend again. Back to the indoor action in late January where your humble writer is almost ashamed of his weak and uninformative report on that night and admitting that his lack of interest in the activities then, only saw him, through not really any fault of his, spending a short one hour when this addled brain took in little of the action. However I must say that I was entertained by the nephew of Mike Schneider, whom you all know is the Red Baron and who openly admits that he has done little towards this young gentleman's skills with a radio transmitter. He really is "A Natural" and his ability with many manoeuvres, the least, but most impressive of these being his art in hanging a "foamie" from its propeller with consummate ease. For the sake of this article will you please forgive me if I refer to him as "The Wee Baron?" In all the time that I have witnessed "The Wee Baron's" flying skill, I have not witnessed Mike doing anything other than look on with eyes wide open. Our usual fliers were doing their usual things – things that always excite and interest this scribe. Dear friends, we being English speaking (sort of) Australians have not been given sufficient superlatives to aptly describe the brilliance of Hamish Scott. On this first Indoor Night of 2012, we were most fortunate in seeing Hamish at his very best. It unfolded like this… [gallery] Michael arrived at the Netball Stadium this night with, tucked under his arm, one of his usually colorfull boxes which showed a most unusual helicopter which, according to the advertising on t he outside of the box, stated that is was a Blade, yes, yet another "Blade" model and this one was designated as an
mQX
which has, so the box says, a Stabilization System – AS3X. Its official name is "
Ultra Micro Quad-copter
." Okay so you have all worked it out and really don't need a picky – I will include one none-the-less – that being a "Quad" it must have four of something, and you are quite correct. It has a motor and propeller on the end of each of its four arms. This new model, retailing at a tissue short of $200, comes fully assembled with a Li-Po battery and Charger with the necessary AC adaptor. In other words, you open the box, ogle its beauty for a short time then gently ease it out of its foam inner lining protection and have some more looks. Weird? Yes but beautiful in its own unusual way. Michael, not wishing to damage this demonstration of the unusual, introduced us to its first official flight with a somewhat steady but well-controlled display of "lazing around the stadium" with all eyes witnessing this phenomina.  After a few minutes of this, he handed the transmitter to Hamish and, please bear in mind that he had not seen this model until that moment. In a most delightful display, this ultra-talented pilot turned the little quad inside out, flying all the tricky and breath-taking actions of any of his other larger helicopter demonstrations. We have seen the "quirky" Parrot being flown from an I-phone and that was something. THIS IS SOMET HING ELSE and again I thank Hamish Scott for this fascinating display. I am tipping that this will be another huge seller and one that should find you setting tracks for Brad or his staff at
Modelflight
's Goodwood Road shop. By the time you read this, the first shipment could be nearing its depletion, but give it a try and, happy quad-flying. Indoor flying for this month of February will again be on the third Thursday from 8.30p.m. to 10.30p.m. and I hope to see you all there – it could be "Quad-tastic!" Footnote: Should our lovely "Webmistress", Samantha include any other photos than the Quad, they have been shot through the lens of Michael O'Reilly for which I am most grateful. These have been words of wisdom from your friendly Phoenix.