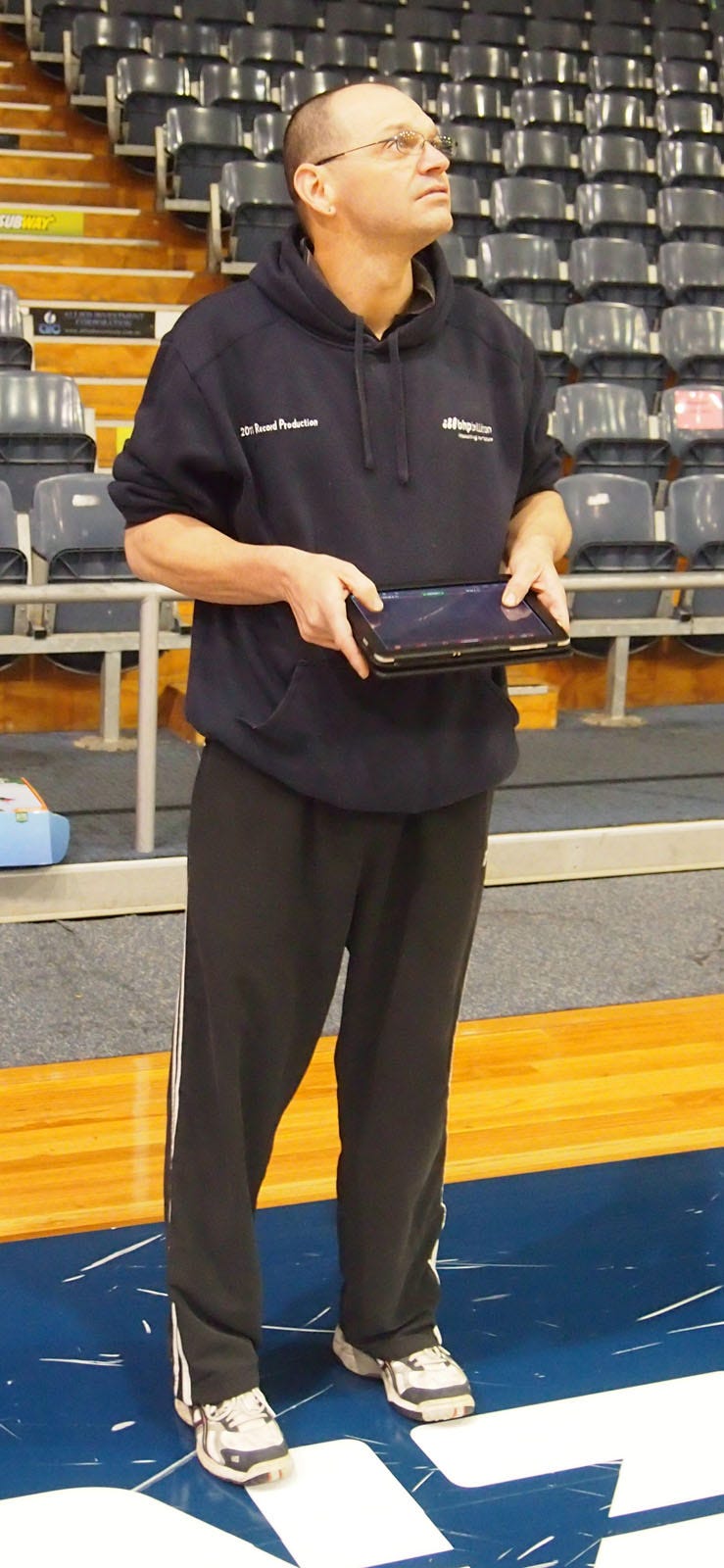 Whether it was the colder weather or the fact that it was "Mad May" I am at a loss for words, but there must have been a reason for a fairly quiet gathering for this Indoor Meeting. I believe, according to one of our usual fliers, that our friends out East only had 6 in attendance at their last Indoor night so perhaps it is a trend at present. 
It was an exciting night for your friendly Phoenix for I was to present my brand new McEwin built tenth scale hovercraft, The Griffon 2000 TDX.  to the public and my friends.
I have  not had it on the scales, but it is a quite heavy model and we, being Bob and I, discovered on its maiden flight, that the triple rudders were not strong enough to do their job efficiently and that they were inclined to flex when they should have been as stiff as the proverbial poker. It  was not a huge problem for Bob for a few minutes on his computercontrolled Router machine and a new set of rudders complete with gussets, was ready for painting. Thanks Bob. It was not only a pleasure but also quite exciting to watch,  this tenth scale machine take shape in his "super-outfitted" workshop.The Griffon (fullsize) aircraft are still under construction at their works in the U.K. and are still in operation world wide for duties in fire-rescue, and other forms of rescue where a conventional boat cannot traverse. Ice, snow, swamp land or grass being just a few of the surfaces over which it is very efficient in its operation. My first picture shows Bob McEwin "flying" the machine across the highly polished surface of the Netball Stadium.
It is a metre and a half in length and the next pix does show it coming to rest. Barring mishaps, it will be flying again at next month's Indoor which will be on June 20th when the usual indoor flying models will be in action from 8.30p.m. until 10.30p.m. at a cost to each flier of ten dollars. In fact folks, if you would just like to come along and have a look, there is no charge at all for spectators and you are all most welcome.At our April Indoor meeting at ETSA, John (not-the-Morris) Oxford thrilled all present with his brilliant display of top-level flying of his "foamie." I have included two photos of this very skilled model flier - the first of his model doing a tail stand mere inches from his face and the second, with his model out of sight, to let you see just who John Oxford is.
Those from the Constellation Model Flying Club will be saying, "Oh come on Phoenix - we know him cos he is a regular flier at our field." OK, I know that - NOW but I didnt know when he made his first appearance at ETSA, but now, on his second night, I will add that this gentleman thrills me, and anyone else who has the time to watch his displays. He is good.
Now dear readers, do you recall that some time ago we were greeted by a gentleman who sat down, like a spectator, and flew his aircraft from his I-phone? Let me refresh your memory a little. The aircraft, quite unusual also had an unusual name - The Parrot.  My next, and penultimate picture is of a gentleman who, although he was standing,  could well have relaxed on a seat for he was flying his
Quadcopter
from his I-Pad and said that he, too, could have walked out of the room, perhaps toiletting himself, and return to find the model in the exact same place, a metre or so off  the floor. Truly amazing.
The final picture, although I admit not one of my better pickies, depicts a quite large helicopter hovering in the centre of the arena. Apart from its very fine coloured illumination, when it first appeared last month, it was of a small concern because of its quite large overall size. It was not until it was realised that it was of the "twin-contra-rotating" type that we realised that it was a lot more harmless than its size related to us, and Mike did not hesitate in giving the pilot the go ahead.  It was not a decision that was regretted  for it was quite a placid model in the air and, due to its size, very attractive.
One mention should be made here of Tristan - one of our younger breed of fliers, but another who has enormous skill. His Gardian (when flying) and mentor, Mike Schneider is very proud of this young gentleman but it took some time for Tristan to convince Mike that, should Mike let him fly his delightful Piper Cub (small model) he promised not to try any acrobatics. It was still great to watch and proved to be of little concern for MIke. I knew that. In reading this story, dear friends, I hope that it has stirred your curiosity as to the models that are flown at the ETSA Park Stadium and, in closing, add a further invitation to you and friends to join us once again when we take communion on the 20th June at 8.30p.m.