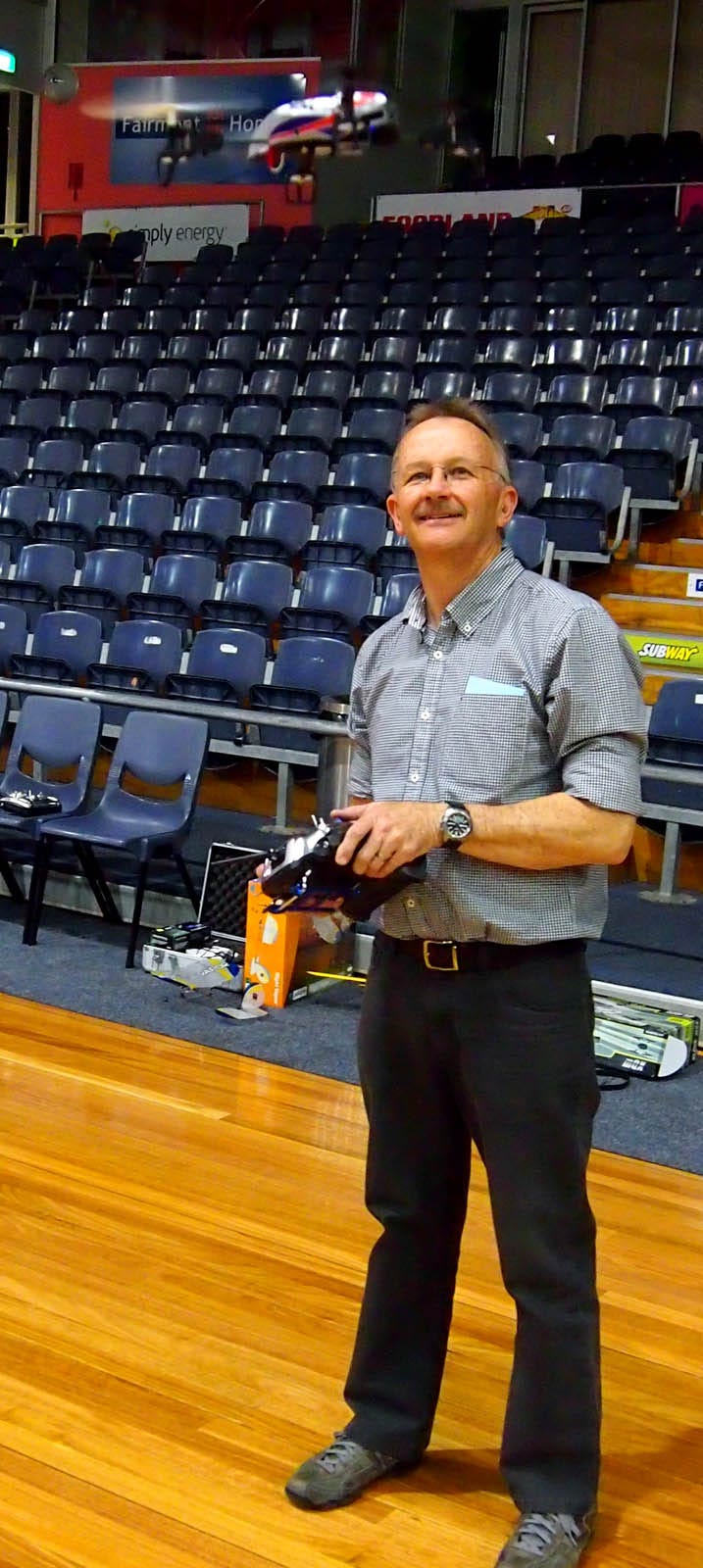 What began as a somewhat mediocre evening at Indoor Flying, quickly blossomed into a 'NIGHT TO REMEMBER!"  As we have two "Michaels" who are prominent on the third Thursday of each month, I shall call them Junior Michael and Senior Michael with the Senior being the Managing Director of Model Flight and the Junior, one of our most avid fliers. On this occasion, Junior Michael became the star of the show on the night in question, when his Micro Mustang, of all the objects with which he COULD HAVE become entwined, he selected a long piece of wire (2mm) that was hanging from the rafters. The said aircraft dangled by its propeller, which was wrapped several times around the wire. (See my first picture of the hapless aircraft.) Lots of recovery means were discussed by the flying group – put a table on top of another and stand on it. That suggestion, whilst offered and accepted in all sincerity, was cast aside because of the danger angle. Our intrepid Senior Staffer from Model Flight believes that the little plane can be poked down with the use of a netball net standard and my second pix does actually show Mike struggling under the weight of this quite large pole. Picture number three shows another group wrestling with the pole after its foam cover had been removed  and the person on the extreme left of the group, hanging onto the pole, is Mike Junior, the owner of the Mustang. [caption id="attachment_858" align="aligncenter" width="150"]
Mike with net[/caption] [caption id="attachment_853" align="aligncenter" width="150"]
Bare pole[/caption] Whilst the boys were operating in this manner, Senior Mike believes that he could use the cylindrical shaped length of foam as a poker. I tried vehemently to explain to him that I could not achieve that because when one attains my age, long poles are inclined to bend in the middle and my next picture shows Senior struggling with a long pole that has definitely "bent in the middle?"  The final shot of the dilemma, titled "Almost Got it" is the situation when the model had finally been enticed into the net. I might add that Junior Mike returned to flying the Mustang, minus its undercarriage and a few other blemishes, thanks to the ingenuity of the gang with the long pole. [caption id="attachment_854" align="aligncenter" width="150"]
Bend in the middle[/caption] [caption id="attachment_852" align="aligncenter" width="150"]
Almost got it.[/caption]
Some time ago we were introduced to a young Riverland gentleman by the name of Matthew Chapple and, even at that young age, he impressed all with his flying skills. It was most pleasing to see that he made a return visit on this night, bringing two models with him. The first, with which he exhibited enormous flying skill was one of the micro helicopters that are available these days and, in the right hands, are quite capable of giving an awe-inspiring demonstration. This Matthew did and one could not help but admire his control of this tiny heli, especially when flying inverted. His other aircraft was one of the popular foam models and, as Matthew only finished building this aircraft that afternoon, we witnessed its debut. Gollee! This young Riverlander had us all agog at the wonderful demonstrations that we saw that night from this aircraft. My  final picture shows Matthews aircraft standing on its tail, mere inches from his nose.
I must add that my lightweight Vapor (with lights) gave me some very satisfactory flights throughout the evening and, in fact, having lights it gave me an extra half hour's flying time before our good friend, Barney. the Duty Night Manager was able to switch the lights on, on our court. She explained that the enormous expense of running the lights at the stadium, made it necessary for her to put them on and off, only at the times that they are needed. She very kindly lets us grab a bit of early time if the "leedies" have finished their netball. This was one of those nights for I commenced flying at 7.30 and, as you are aware, our official flying times are from 8.30p.m. to 10.30p.m. when we pay a mere ten dollars for the priveledge. We will again take communion on Thursday night of the 15
th
November and, dear friends, I'll close with a wee secret, the result of which, I think will lift you up on your toes. If all goes to plan, we will witness the release of a new and exciting aircraft that I feel sure will have you running to your favourite Hobby Shop.  The model is still on the water but it is hoped that it will be here in time for its November release. You will just have to come to the Netball Stadium at Railway Terrace Mile End and witness this exciting news from the world of model flying. Take it all in from your friendly Phoenix (la Fenice).