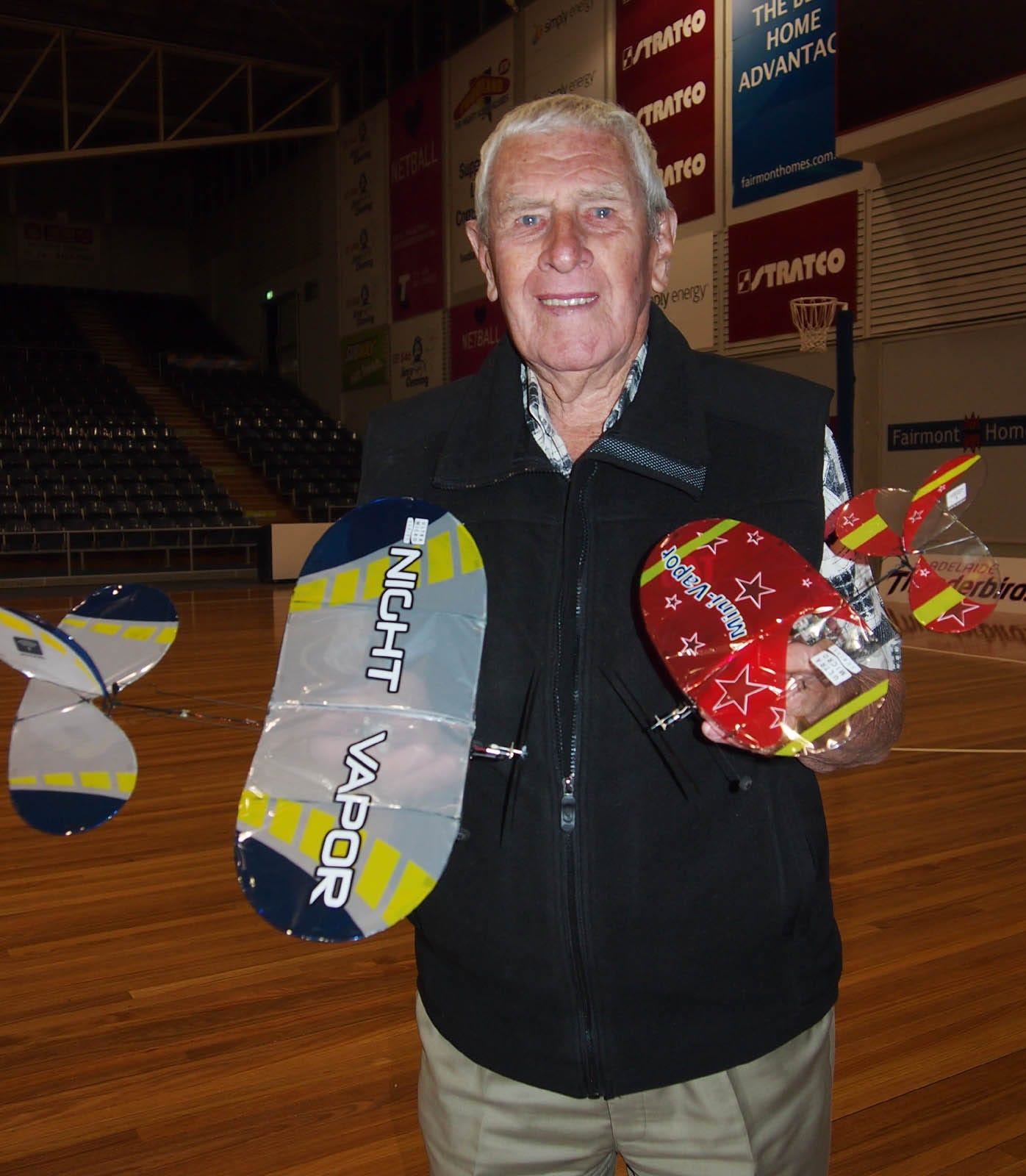 What a fascinating and interesting night was ahead for friends, both flying and spectators, who were able to make it to ETSA PARK for the November event.
There were new models, such as
helis
, Quads and fixed wing
aircraft
 and there were also people there who could almost be classed as "new models" because of the duration in time since we last saw them. My first photo shows two fliers who ably fitted this description, and I speak of Mike, the father, and Ryan, the son – Holmes, each in their own right, excellent fliers and it was with much pleasure that we welcomed their return to the fold.
I spoke volumes on the flying skills of the boy from the Riverland, Matthew Chapple,  last month  so I shall try and not go too far overboard  in this story but when he got down on his knees, settling his Foamie just inches from his nose in a  tail stand (that is his Foamie was in the tailstand, not his nose – sorry) I could not help but reach for the camera and quickly too. Brad Merryweather, whom you will see in a group shot later on and his deputy Klaus Rudloff put in an appearance and, whilst he didn't fly, Klaus did seem quite happy to sit, relax and watch the entertainment.
The following picture of the omni-present Chuck T. and Mike O'Reilly appear to be both flying the same aircraft, but they were flying the tiny little
Mini Vapor
, the latest from Horizon and with which I shall deal with a little more detail later.
Now if you are very clever, and are wearing your spectacles, you should pick Brad out of this shot and I must assure you that the vulgar pair of fingers were NOT spouting from his head, but that they belonged to one of our busiest fliers but who seemed, just at that moment to have nothing better to do. Naughty Wayne!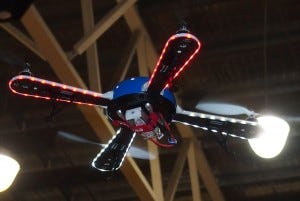 Each month, Mike O'Reilly makes it possible for us to see a new model, and as in this occasion, some weeks before they are released for public consumption.  Tonight we witnessed the very first flight of this most attractive Quad that was quite grand with lots and lots of fairy lights.  The Hornet 460 from Dualsky was very impressive!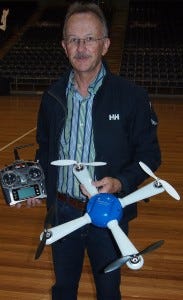 The next two pictures are of a home built Quad, also resplendent with its lighting and the next one is a quite proud Model Flight Managing Director with his production model. I just had to lie on the floor and get a shot from below Mike's aircraft which displayed its rather unusual illuminated cross.  Some might be reminded of the Ku Klux Klan.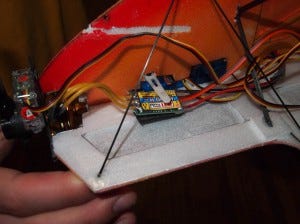 By this time in the evening's entertainment, a lot of interest was shown in Mat Chapple's variable pitch set up on one of his aircraft and, whilst you can't learn much from the photograph, you can see most of the important bits. I might add that Matthew treated this arrangement with a lot of T.L.C. It reminded of the time, quite some time ago when one of our leading indoor fliers of the day, Justin Galbraith also displayed a vari-pitch  on a foamie and this, actually, frightened the pants off him. I don't think we have seen him since that evening. I wonder if that will bring him back – sincerely hope so for he and his skills are missed.
Whilst I made a bit of a thing about Matthew's Vari-pitch model, I also got a close-up of the battery arrangement for Mike's big
quadcopter
. Plug! Plug!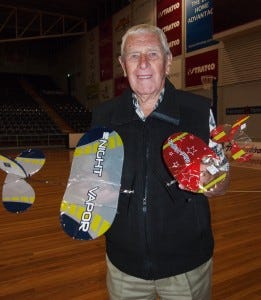 Now I do speak the truth when I say this next shot was a surprise find for me when I was sorting through the pix on my Olympus, for I thought Mike had used his camera rather than mine. It does serve a practical use for it displays the
Mini Vapor
and, whilst not released to the public yet, Michael  had two of them in an effort to raise interest in this fascinating little aircraft from Horizon Models. You will note that it is about half the size of the larger "Night Vapor" but you cannot realize that it is a very slow flier, quite capable of giving you enjoyable flying time within the confines of your lounge. I do not have any other details, other than to say that by the time you are reading this, the
Mini Vapor
will be available from
Model Flight
's Goodwood Road store and that you will be pleasantly surprised with the cost.    I am sure that you will find a description of it on their web page but, if not then I shall have a full story on it next month.
Dear friends, I have a special reason for leaving this next shot until the end of my story for, these days, or nights, Southern Soaring League has only had two representatives at Indoor Flying,  Mike and I and it was with much pleasure that we met Mike Seyfang from the S.S.L. I understand that he is a recent S.S.L. flier and that he flew, with quite  respectable results at their recent competition  at Milang.  He was certainly no slouch at his first showing at Indoor and his enjoyment was evident from his happy outlook in this picture. Perhaps he will speak with other S.S.L. Members and that some of them may return to ETSA Park. As I bring this episode to a close, please let me remind you that, rather than have any nights off, we DO fly on the third Thursday of each month, right throughout the year where we pay just ten dollars to fly from 8.30 to 10-30p.m. On the other hand, if you just wish to come and look, then it is a free night's entertainment for you and I look forward to catching up with you there. Sincerely The Phoenix.