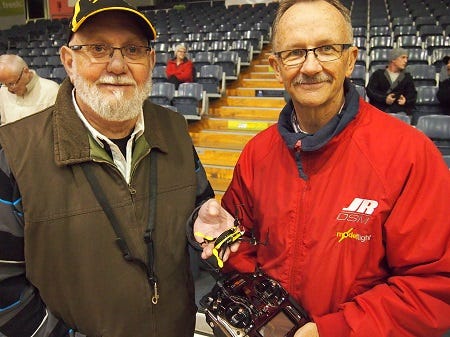 My first picture, on this occasion, is an opening shot of Mike and Wayne in deep conversation of, well, all things flying.  As Mike brought along the smallest yet seen, Blade Baby Quad (Blade n QX).  I shall call it that for now because I don't have a lot of history  on this delightful, yet tiny quad which, by the time you are reading this, will be on Model Flight's counter on Goodwood Road. I can tell you that it is yet another model from Horizon, the home of excellent, even though a little unusual flying objects, and, if you  are contented to purchase a BNF model, you will not have  to dig all that deep in your pockets cos you will, believe me, have quite a bit of change from a hundred dollars. Mike did give several  demonstration flights during the evening and it was, to say the least, impressive. My picture does show it nestling in its tiny box. I wish now to tell you of the enormous
progress that the father of the son is making with his Night Vapor. SSL member Mike Seyfang has been spending a lot of time giving his father instruction on flying this aircraft. The big news on this topic is that, dad, who has spent a lot of time on his Simulator, was seen to fly most of the  night, well, quite some distance from his son, and very impressively. It showed the enormous value of a flight simulator. I always think of Justin Galbraith when the subject is simulators. Justin was a brilliant helicopter, as well as fixed wing foamies, operator and quite often said that his aim was "to be smooth!" To achieve that, he spent considerable time on his simulator, and these are readily available from your Hobby Stores, particularly Model Flight, so go check them out.
A couple of months ago, I convinced Bob McEwin - I had to go and check on the spelling of Bob's surname cos he is a bit fussy about that. Evidently you can have an "E" or even an "A" after the "W" but it does some strange things to one's heritage if  one gets it wrong, and that is the last thing that I would want to do. Now, dear readers, back to convincing Bob that he should put his enormous building skills to the task of building a radio controlled Hovercraft.  Within a few days, believe me this is true, and some time spent moving from his office computer and then patching programmes through to his computer in his workshop, where his computer controlled router is set up, placing the necessary material, be it top quality ply or balsa, low and behold, this equipment spat out the necessary part and in perfect 1/10th scale.  I have included a picky of the machine in its vulgar dress of raw material (that is untreated ply and balsa - that was my job to do the finishing painting etc.) and also one of Michael flying the Griffon 2000TDX across the ultra-polished floor of the ETSA Park Stadium. Well my friends, I do hope that you have not found the story of the Griffon Hovercraft boring or tiring but, if you would like to see it in action, please join us at ETSA Park on Railway Terrace,  Mile End on 
August 15th
 'between the hours of 8.30p.m. and 10.30p.m. Please note that there is 
NO INDOOR flying in July
 because of a clash with Netball Finals (Go the Thunderbirds !) Furthermore, if you are just there to watch the action, which extends to fixed wing and helicopters, admission is completely free and you are most welcome. The Thunderbirds, the Australian champion netball team cannot have any air conditioning running, and as some of our models are very, very light, either can we so drag your woollies out and come and join us. Sincerely, The Phoenix.