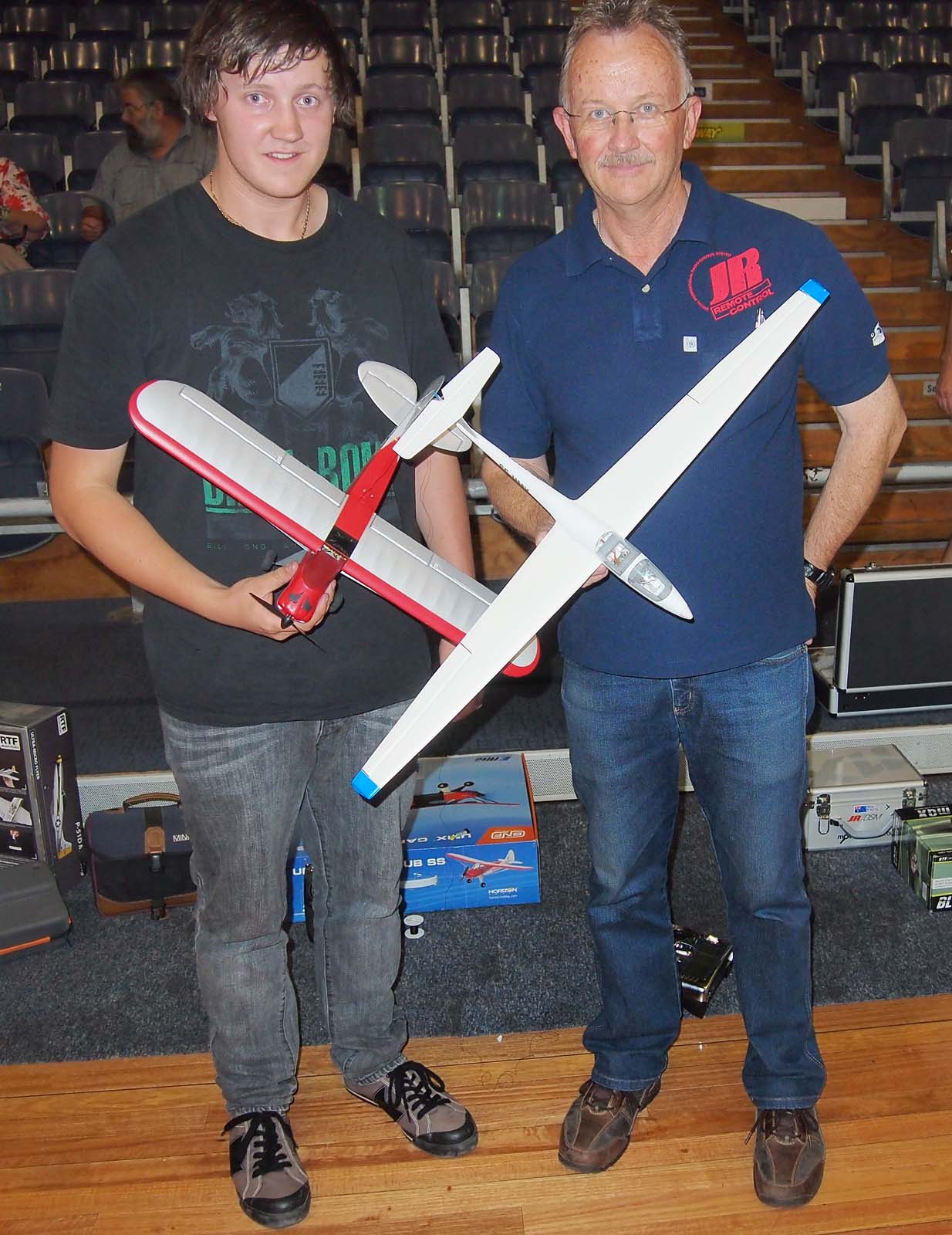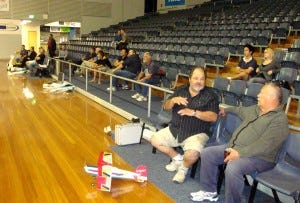 If flying numbers meant anything so early in the year, then we are in for a bumper crop which is, ofcourse, good news for The Southern Flying League, for we may help them purchase some items that they, perhaps, otherwise may not. Might I even venture to add that our name may even appear on a panel of their new extention to their clubrooms at Milang?  Well done SSL.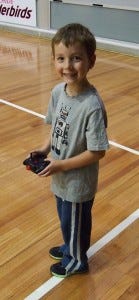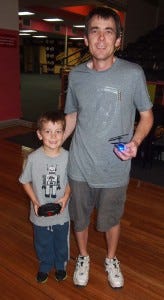 It was not really surprising to me, on reflection, that I was barely able to see one of our latest fliers across the highly polished floor of the stadium. This fine looking young gentleman, he is only 5 years of age, of shortish stature, although I did not measure him, a handsome face, even in its youth, that carried an infectious smile throughout the evening, has been blessed, through his parents with near perfect manners, When I took this first picture of this collection and thanked him, that smile looked up at me and said, "Your welcome!" Gosh, I was, what is the saying, gobsmacked. Well done Angus. I have also included a shot of the lad standing with his dad Andrew. With his skill in flying his contra-rotating helicopter, I have the feeling that he will be around flying sites for many years to come. Quadcopters seem to be the way to go in  model flying these days and on this evening, there were several in action – an action that is quite fascinating.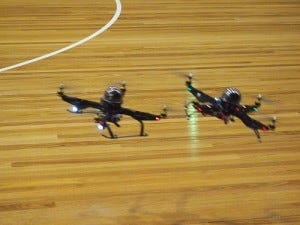 The picture of two together was snapped just seconds, or a second before they came together. It seemed a fairly heavy crash but neither were damaged and a short time later they were back in the air and hovering side by side for the next picky. These quads are available from several hobby sources and the two in my shots are from kits out of Taiwan. I didn't get any details regarding pricing etc. so I guess that if you are interested, then you'll just have to come along next month and see and ask for yourselves.  I have featured the locally available model in earlier articles so please let it suffice to say that our American friends at Horizon Models released a quadcopter, designated the Blade mQX quite a few months ago and these have been seen in numbers on each occasion that we have come together for indoor flying.
This may be the right time to remind you all that we  revert to our usual night of indoor flying for this month of April and for the rest of the year. By that, dear friends, I mean that we meet once more on the 3rd Thursday of each month which is the 19th for April and that our flying times and costs are just the same as previously. We fly from 8.30p.m. until 10.30p.m. and, if you wish to fly during that time, it will still cost you just ten dollars ($10)  - otherwise, to spectorate it is free to all. That's why we have so many dads and mums in attendance, even some grannies.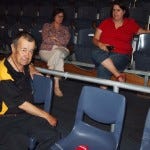 Please let me introduce in my next picture, Hamish Scotts grandies and, yes, even his Auntie. Our magnificent aerobatic helicopter pilot, Hamish, doesn't really require his gallery to help him perform but I thought it was great to see three rellies in attendance, and he once again, put on a great show with the brand new Blade 300X, from Horizon Hobbies in USA seen here being displayed by Mike O'Reilly, and seen in action for the first time in Australia.
The cost - $369-99 from Modelflight or any of your other favourite hobby shops. You will just have to await their
arrival for a little while yet but THEY WILL ARRIVE so please be patient.If you are on our sick list at present, apart from wishing you a speedy recovery, I also suggest that you are a "patient, patient."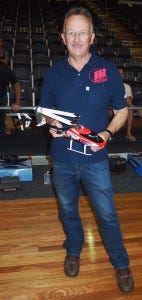 Now – here is a tale that almost ended up without a tail. A "first" was attempted on this night in the stadium. It was to be the very first, EVER, attempt at an arial tug launching indoors. You can swoon over my next picture of Hamish Scott, displaying the tug plane which was known as a Carbon Cub – an attractive little high wing mono that flew around the stadium to enable Hamish, the tug pilot, to get the feel of yet another brand new model and, on his left, is Mike O'Reilly showing the beautiful, all glass, T-tailed model and, here it was very remiss of yours truly, for I failed to get its name (E-flite ASK-21 UMX Sailplane), that would be towed aloft by the little Cub. Please be patient with me here for, my eyes had become quite damp in memory of this great event, and I had to feel for a tissue.  However, dear friends, I have a grip on myself again and will endeavour to relate the  action in a step by step manner, although it shant take up much of your time.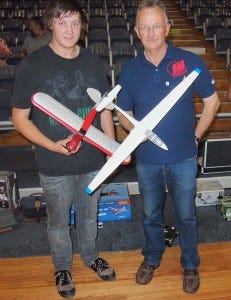 Everything is tiny and Mike had a little difficulty in attaching the tow line to his E-flite ASK-21 micro glider (sail-plane) so that, should it, by some miraculous happening be necessary to release the glider, then he just had to  remember which control on his JR radio would release the model and he could then return it to the floor. Dear readers, I have watched Mike fly model aeroplanes of all shapes and sizes for half a century, at least, and have long been of the opinion that, if one cared to attach a reasonably sized motor to a fence paling and handed him a radio – JR ofcourse – then he would fly it.
                                                           W R O N G!
The two aircraft were lined up and attached by this very light towline. All other fliers were requested to land and give our two intrepid fliers space for this ice-breaking event. Had we had a drum and drummer, I feel he would have felt the excitement of the few moments ahead and rolled and rolled his little drum. We had to do without the build up, other than that all attendees at the stadium this night held a time of complete silence, as such that a pin dropping would have deafened the drum rolls. Mike and Hamish were ready – discussing last minute instructions to each other on their flight plan. Hamish ran the motor of the little Cub and it slowly rolled along the floor with the glider in tow. Time for full throttle and it was at this stage that the little glider had been watching the angle of attack of the Concorde on approach and appeared to be quite happy to hang its tail down. A sudden landing by Hamish and a new set of batteries were placed in the Cub and and all was readied for a second attempt.At this time, I was reminded of Orvil Wright, I don't know why, but his first ever flight was of a greater duration than this attempt at arial towing. Not to worry, here we go again. More throttle this time and both models lifted off the floor and, for a fairly short time, looked a real picture and quite reflective of the real thing.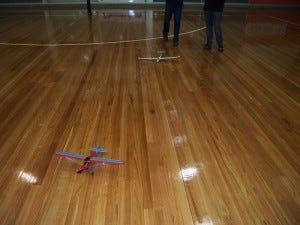 Unfortunately, there was only a short time of flight before Hamish needed to plan his left turn and Michael had to work out what he was going to do. The true reason may never really be known but, coming off  the tow line perfectly, for some unknown reason, also, the towed pilot turned to the right and, whammy, the flight ended for the glider when it suddenly came to rest at the foot of a goal post. No score!  Hamish did a few more laps in the little Cub before bringing it in to a perfect landing with Orvil – sorry, Michael, declaring that that was it. The whole incident didn't last as long as the first flight by the Wright Bros but one must remember that they made many attempts before they actually managed their record-established flight of  just a few minutes.
It is not known whether Hamish and Michael will persevere in this world-breaking event – I doubt it because each week more new models arrive from Horizon for our two brave pilots to test fly.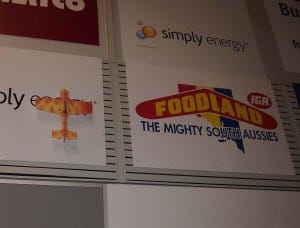 Keep your eyes wide open on this publication each month and, if it happens, I will make sure you are informed. In the meantime, remember that we will fly again on the 19th of April when the fearless courage and wonderful skill of Andy Hollitt will endeavour to retrieve a model that has been resting, out of sight, for several months. In March his model flew onto the vertical wall of the stadium and his amazing flying skill held it in this position for some time. Well folks ....
YOU AINT SEEN NUTTIN' YET.
This has been a report from your friendly Phoenix, or as the French would say – La Fenice'