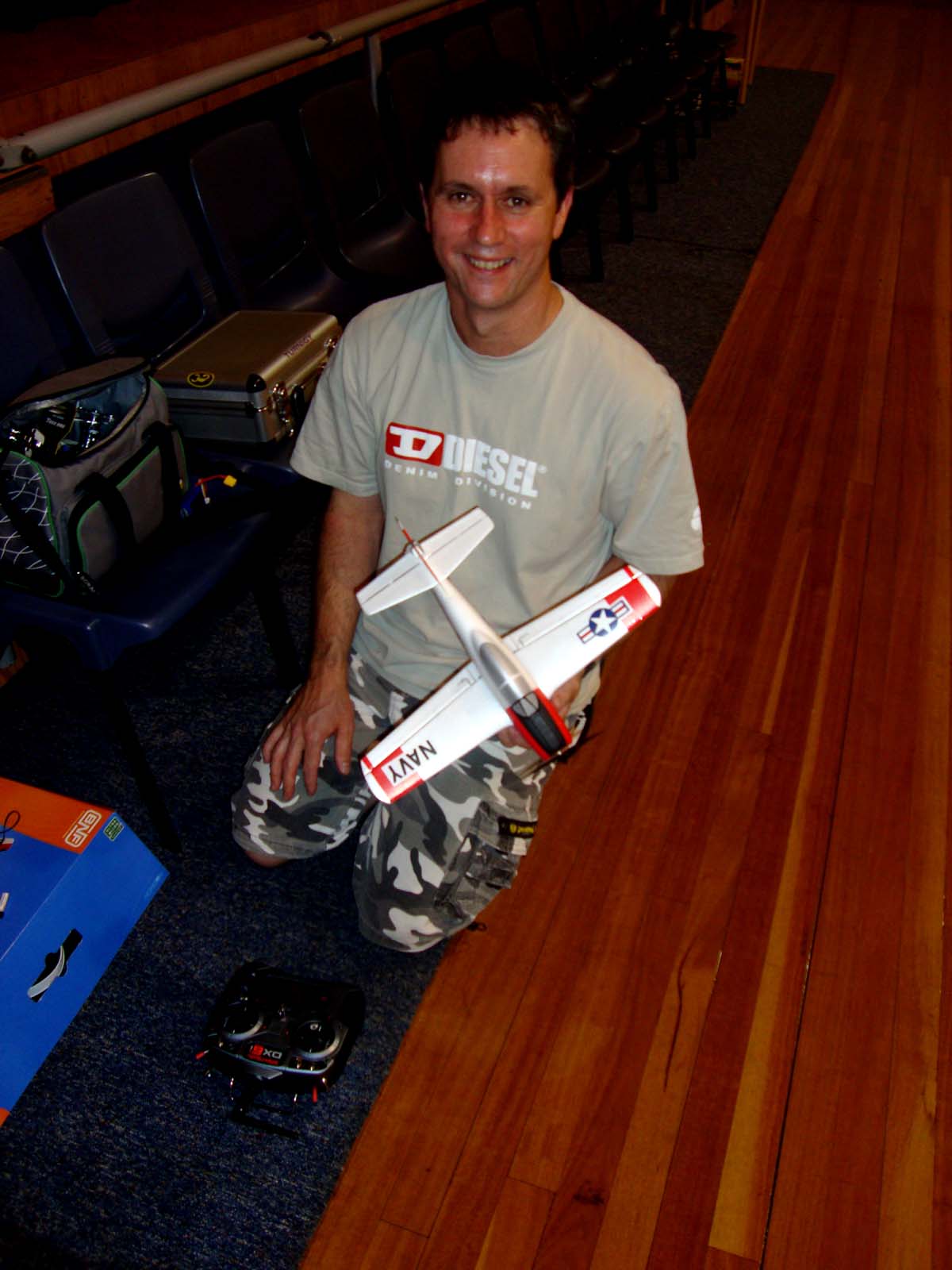 Commencing our indoor activities for January 2011 may have seen a group of fliers, perhaps slightly lower in numbers, but sky high in enthusiasm unite at the ETSA Park Netball Stadium, which this year has introduced a new Manager in Nadine Hewson. Goodness, in my earlier days a lady manager was known as the Manageress, but then, my mum would not have been seen shopping in trousers, nor my dad seen at work in shorts. We must all be grateful for history changing itself.
We welcomed David Wearing-Smith back after a forced break due to his flying full size and Andy Hollitt quickly put him in control of the delightful and very popular 
Blade 120SR
. Each night we see more and more of these great little single-rotor helicopters which have proved to be the next upward step from the numerous double rotored machines that have been flitting about like a pack of lost horseflies at most indoor venues. David had not flown a heli prior to this night and he was soon hovering Andy's machine like a professional and, whilst I didn't see him do it, it was reported that he was soon endeavouring to land on Andy's little helipad. My picture shows them quite happily calling time out for a few minutes. David is the one with the larger smile on the right. I was not of much value to the publicity side of our activities on this night for I was too busy introducing a pair (unmatched) of Go-carts, although the slippery floor and the slicks on the carts made them virtually uncontrollable and I was quite contented to hand the transmitters to a pair of my protégés, Mitchell and Matthew to enjoy themselves between flying their tiny 
Blade MCX
. I'm pleased to report that they made little more progress than did some of the grown-ups. I have included a picture of my two "Goeys" and there is a short story regarding the red one. When I was painting the red machine, I thought it a shame to colour the driver for, with his white driving suit and dark faced helmet, he reminded me of a quite popular Englishman and I quote from memory …… "some say that he has never driven a go-cart and that his family jewels are too large to fit in the driver's seat, but as for me, I just call him The Stig."
Back to the serious side. I took two 
"go-eys"
 to ETSA – the red one is the cheaper of the two by quite a large amount and is a product eminating from Hong Kong. The smaller one drives its power through a very neat differential and the entire model is a work of art which you will find on the shelves at Model Flight's Goodwood road store or 
online
. Andy, who drives consistently at Hobby Habit a couple of days each week, tried in vain to control my cart outside in the car park and was heard to say that he will endeavour to source some sensible tyres for it. I thought that the continual, lap after lap, hands free flights of the little 
Trojan
 were a sight to behold. I must apologise for not knowing the name of the pilot but he trimmed the Trojan so perfectly that it flew around the stadium with barely any deflection from its course for its entire performance.
He is seen in my final picture, nursing this ever-so successful little model which, of course is yet another flying machine that you will find on the shelves at Model Flight. We are back for another year at the 
ETSA Park Netball Stadium on Railway Avenue, Mile End
, flying the same night, the third Thursday of each month right through to Christmas (Oh dear, I didn't mean to frighten you by mentioning Christmas – we have only just waved goodbye to the last one and put some straw around the place on which to lay our eggs for Easter) with the usual flying time of 8.30pm to 10.30pm. We would truly love to see you come along and its still free if your wish is to be a spectator. If you fly it will only cost you ten dollars.