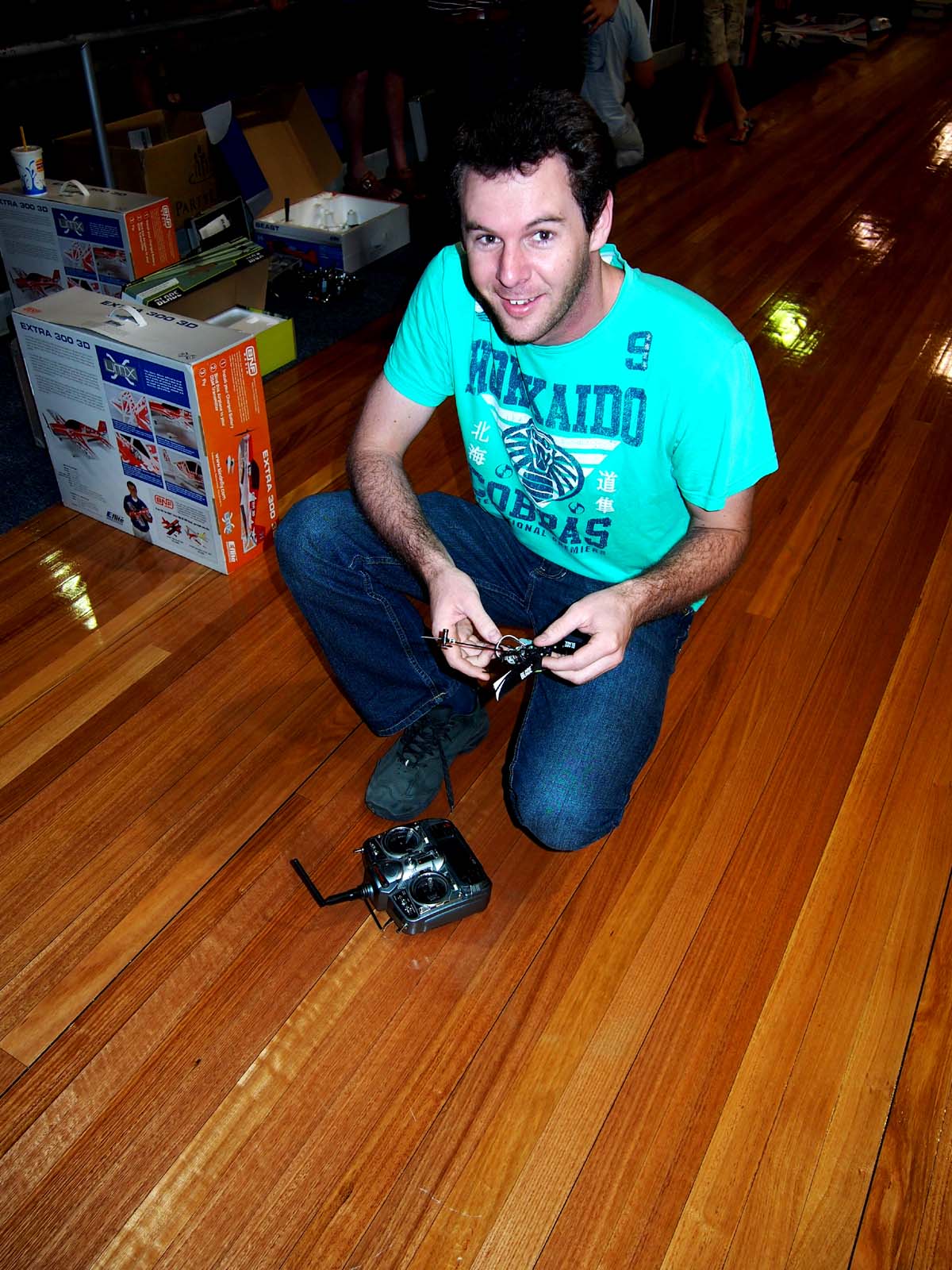 Those magnificent flying men who did not wish to stay home on a balmy night on the 16
th
of February, were found throwing their favourite indoor model towards the brilliant lighting of ETSA Park's netball stadium, resulting in another great monthly outing. I shall get in early and remind you all that due to a previous booking of the stadium, we
will be flying on the LAST Thursday night next month (March) 29th for just this one month
. Following that we will again join for enjoyable fellowship on the third Thursday of each month right through and including December.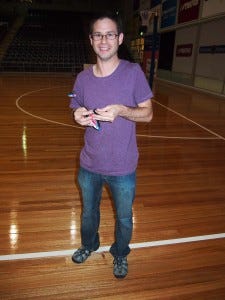 In tonight's story on our activities, I  begin with a picture of young Michael who is one of the keenest participants at ETSA, arriving each and every night with a great armfull of model boxes and, yes, they do all contain a model. His flying displays are always great, be it with a fixed wing or a helicopter and he is always most welcome. If we were in the habit of greeting some of our older fliers with open arms, this would have been the perfect occasion to show that familiarity, for showing a rare appearance after some long absence was Steve Nelson. Steve has his own seat  up front in the Commercial aircraft, flying with Cathay Pacific, whose headquarters are in Hong Kong to flying in a lighter way in an ultra-light of his own construction. He is a great indoor competitor and it was a pleasure for all of us to see him return. We hope he is able much more frequently as 2012 rolls along.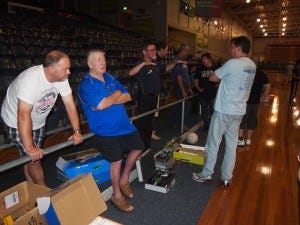 Bill (but if you are out on a Veteran Car Run, William) Kent is no stranger to ETSA Park, quite often just to help others master their flying ability. In my next pix he can be seen speaking with hands, as well as tongue, as he explains yet another situation to any who may wish to listen. Many fliers have William to thank for their flying time with models of various shapes and sizes, with his specialty being helicopters. If I can be so forward as to refer to Steve Nelson as an "Old Timer" there is one other who surprised many by his return to ETSA this month, in the form of Craig Jones whom also, I may be permitted to refer to as an "Old Timer." Craig, when flying regularly could quite comfortably be described as one of our all time great performers. I do not recall just how long it is since he joined us at ETSA Park but, quite seriously, I doubt that much of his skill would be missing. Great to see you Craig and, even though you had a model in your car, I trust that next time we will see it in the air. A person of Craig's flying caliber, leaving his model at home would be very similar to leaving his pants on their hanger.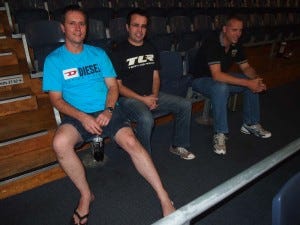 I don't quite know what Ian Smedman's problem was on this night but, even t hough his camera smile was broad, his flying was on the narrow side, preferring to sit, as the pix shows, and just chat.
        Matthew Waye can always be relied upon to make his flying performance highly interesting, regardless of his model and on this night, he seemed to satisfy himself with one of the almost brand new Blade mQX of which I spoke so favourably last month. Although Model Flight has found them, as tipped, to be a good seller, there was only a mere handful in action this month. They are a fascinating little Quad-copter with an RRP of a whisker shy of $200-00 and  this, for what you get in the box – such as a Li-po battery and charger, being a BNF model, all you do is open the attractive box, gently ease the Quad-copter out, charge the inflight pack as well as your transmitter – AND FLY! What fun you can have, even while sitting down if you prefer.   This was ably demonstrated by Matty. Another to show just how much fun one can have with a baby quad was Hamish Scott. Ofcourse there are few others in this country who can quite have the enormous fun that is available to Hamish's skills, and even  though I spoke of this in last month's story, any story about the flying skill of Hamish Scott are far from boring.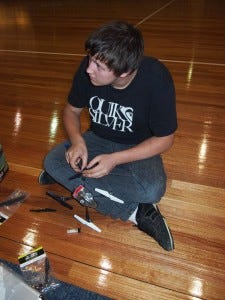 He is shown in my picture, picking the correct pitch propellers to replace a couple of slightly damaged props from an earlier demonstration. He could be forgiven for having a slight mishap earlier for he was overjoyed with his new employment, having been accepted for a Scholarship with the study venue being Adelaide Airport. As he says, "That's cool."  The only thing NOT cool in his world is when speaking of his excitement with his new position. Good luck Hamish.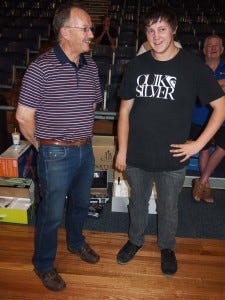 I also told you last month of Mike O'Reilly's freezing trip to the other side of the globe to the World Toy Fair in Germany and, it was obvious to me that when I took the next picky of the  two of them, Hamish was an eager listener to some of  the thrilling demonstrations that Mike saw at the fair. I think the little jet model would be, in the words of Hamish – "COOL." Well dear readers, if you are able to join us on the 29
th
of March at our usual venue, I think that, even though the efficient air conditioner will be operating, there is little doubt that you will all find it warm rather than cool. See you then, dear friends – still only ten dollars, even though the monthly rent has been increased this year and even repeating those nasty figures, I can quite safely report that the S.S.L. who has always benefited from our collections, will continue to do so, even with the small rise in our costs. I, The Phoenix, looks forward to once again taking communion with you at ETSA Park in March – remember, the 29
th
, for one night only.